C-motech Mangrove 7-inch WinMo Snapdragon tablet debuts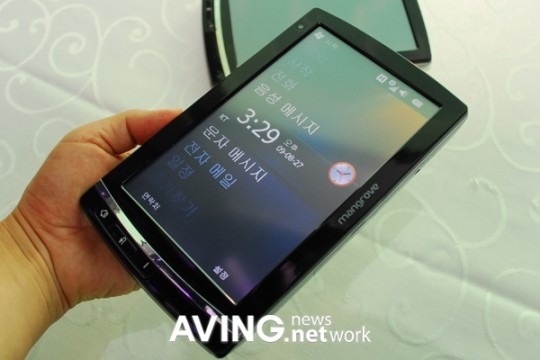 With Windows 7 fast approaching and Android development growing, we've seen more compact touchscreen MIDs and tablets arriving on the scene every week.  Still, it's pretty unusual to see Windows Mobile running on anything larger than 5-inches, so we're mildly surprised to see C-motech's Mangrove 7-inch tablet, running Windows Mobile 6.5 on a 1GHz Qualcomm Snapdragon CPU.
The extra size of the tablet – which works in both portrait and landscape modes – means C-motech have been able to fit in WiFi, 3G and WiMAX, together with a pair of USB ports along with the usual microSD card slot and headset port.  From the photos it's clear that WinMo 6.5 simply gets bigger on the larger-than-normal display, but that should add up to happier web-browsing.
C-motech more typically seem to make 3G and 4G modems, so their wireless abilities aren't in doubt.  Still, we're not sure people will go for Windows Mobile 6.5 compared to some of the more fashionable smartphone options, such as Android.  No word on when the Mangrove might be released, nor how much it could cost.
[via jkkmobile]