Quanta Android Smartbook hands-on plus Qualcomm tablet prototype [Video]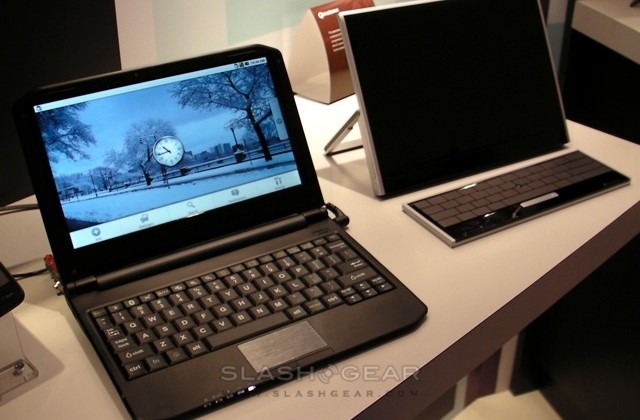 We were hoping Qualcomm might whip out Lenovo's upcoming Smartbook at today's event, but unfortunately the diminutive all-day ultraportable is still being nursed for an official CES reveal.  Instead, the company had Quanta's functional Android Smartbook prototype and a non-working Smartbook/Tablet concept out for us to play with.Video demo after the cut
The Quanta machine looks ostensibly like a regular netbook, but it's considerably thinner – helped by the fact that it's based on Qualcomm's Snapdragon chipset and thus requires no active cooling fan.  Its display isn't a touchscreen – we left fingerprints all over it trying to find out – but Quanta have reworked the keyboard to offer one-touch access to not only the homescreen (which still offers three customisable panes) but the slide-out programs menu, key apps like the browser, and individual control over WiFi, 3G and Bluetooth.
This particular model didn't have a SIM card inserted, but we booted up the WiFi connection and managed to do a little surfing.  In terms of speed, it's as nippy as a netbook is, and moving up and down the webpage is actually better with the arrow keys since it automatically jumps from link to link.  Slightly less impressive was keyboard flex, with not only the QWERTY itself bouncing and twisting during typing, but – as you can see in the video – the whole base of the Smartbook bending under the weight of the screen when held at the palmrest.  Still, this is a prototype after all; Qualcomm say Lenovo's will be thinner again, with more pronounced curves at the corners.
As for the concept Smartbook/Tablet hybrid, Qualcomm have demonstrated it before but say they've been surprised by the ongoing positive feedback.  The idea is to have a touchscreen display panel with integrated stand that can be used with a wireless keyboard/mouse peripheral on the desktop, with that keyboard slotting into a nook on the back for in-hand use.  Like the Quanta machine, it would offer all-day battery life and WiFi, Bluetooth and 3G connectivity.
Quanta Android Smartbook prototype:
[vms 6d44dd73c7041e0aa0f1]