Bugatti's Veyron replacement gets spine-tinglingly vocal
Bugatti may have put the Veyron out to pasture, but the supercar company hasn't been idle, with a new video teasing its upcoming model and in particular how it will sound. The short video contains the usual hyperbole about "the endless hunt for speed" and how your (insanely expensive) Bugatti will push you "forward by pure instinct," but more importantly it gives us a brief snippet of the sort of aural pleasure delivered by what's expected to be an 8.0-liter W-16 engine.
That powerplant is believed to be an upgraded version of the engine in the outgoing Veyron, still among the world's most powerful despite the car's age. Reports back in May suggested the 16-cylinder monster would have around 1,500 HP.
That would be good for a top speed in the region of 288 mph, and a 0-60 mph time of just two seconds.
"In the endless hunt for speed, the horizon beckons. I go beyond reality. Pushed forward by pure instinct. Every inch of the race sets me free. I chase the day, the night, the new dawn. Imagine the impossible." Bugatti
As for the styling, we're unofficially told to expect something akin to the Veyron though with more angles, evidence of the sort of aerodynamic-led design that's required to keep a hypercar on the ground at speed, not to mention its engine and brakes sufficiently cooled. A CAR artists' impression envisaged something like this: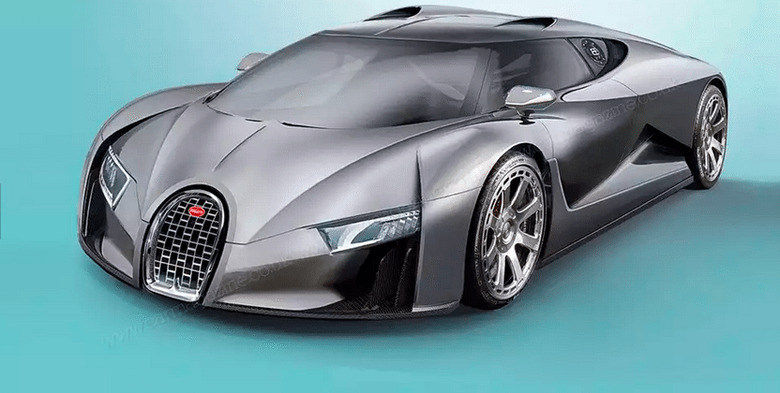 Another possibility is that Bugatti owner VW will put some of its hybrid technology into the car. Only this week, stablemate Audi confirmed it was working with Samsung and LG on high-performance batteries for an upcoming all-electric SUV with around 300 miles of range.
If there's one thing that's clear, mind, it's that this new supercar – tipped to launch as the Bugatti Chiron – is no all-electric cruiser, judging by all the angry howling.