Bot & Dolly "Box" is next-level video experiment in projection-mapping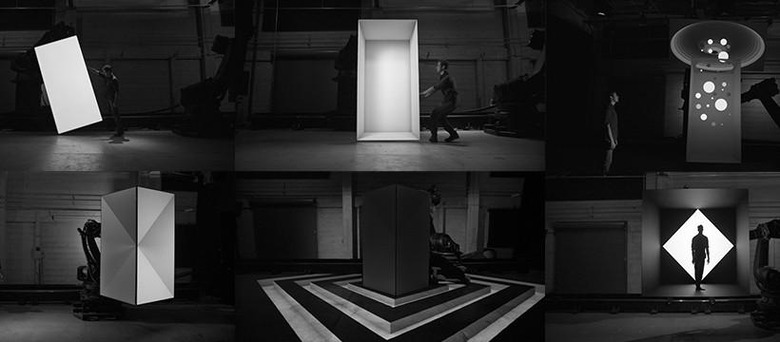 This week the team at Bot & Dolly – a group that works with 3D objects and video to experiment with art and live performance – have created a new experiment with live projection on moving objects. This project is known as "Box", and works with projection-mapping – projecting images on to spots that are mapped and tracked as the projector seeks them from afar. The result is a video demonstration you the don't have to be technically aware of to enjoy.
Projection mapping is a technology that allows the projection of light – like a video projector at a movie in a theater – to appear on objects in odd spaces. These objects can be 3D, this sort of method appearing as early as then 1969 premiere of Disney's Haunted Mansion ride. Techniques have become a whole lot more advanced since then, as seen in the Box video you're about to witness.
The video demonstration in Box has no special effects added after filming. This means that everything you see, you could just as easily have seen in real life, if you were standing there in the room while this video was being captured.
This demonstration works with large scale robotics and a dash of software engineering as well. You'll see some rather sizable robotic arms controlling a couple of screens throughout the demonstration – these are similar to what we saw at Google I/O 2012 in a massive 3D object called the Kinetisphere. There it was a massive Nexus Q on an arm. Here it's a couple of flat areas on which projectors can project.
The group suggests via Engadget's Myriam Joire that they captured the full scene with a 4K camera mounted on a Kuka robot (the third of three in the scene). If this scene reminds you of Tron, you'll be interested to know that its Design Director was none other than Bradley G Munkowitz himself.