Google Nexus Q Review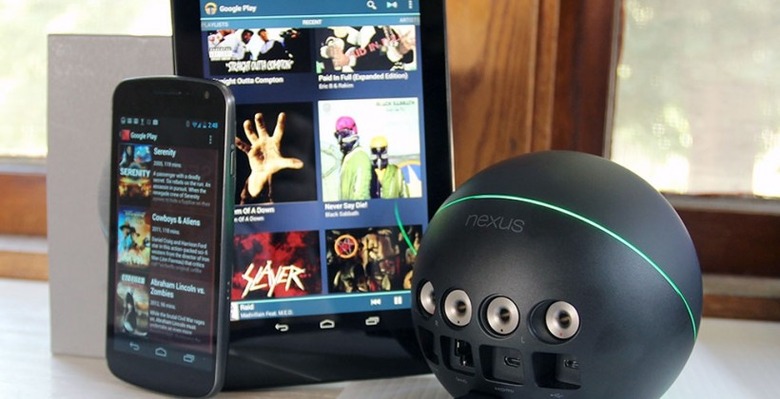 Hardware
It's a two-pound beast, if you're thinking about carrying it around, but since it's designed to remain stationary – it doesn't really matter how much it weighs. It's also a sphere, or nearly a sphere, this allowing the Nexus Q to look and feel completely unique in a tech world saturated with rectangles and squares in the living room. The Nexus Q has a ring of LED lights around its center, this lovely display of color showing you the status of the device as well as indicating when its being touched.
The top half of the Nexus Q currently works as both a volume knob and a power on/off button, while the center hole near the top also acts as a light sensor – this and touch-responsiveness across the whole top half allow you to mute the device. The bottom has a rubbery stopper so that you're not rolling about, and the back of the device has all manner of connection ports.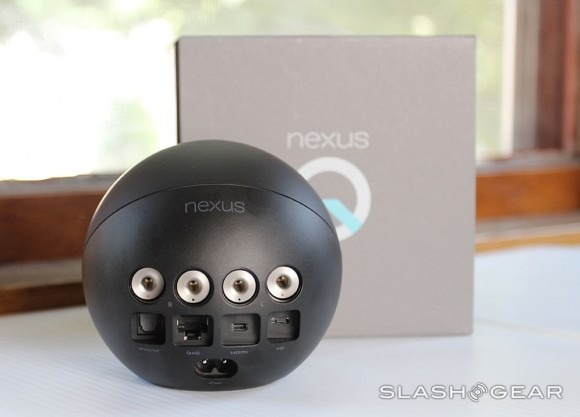 You'll see on the back that you've got two ports for right and two for left for your audio, you've got an optical out port, Ethernet port, microHDMI port, and microUSB port. Below all of that you've got a power port which connects with the cord you're given in the box. This unit also ships with a microHDMI to full-sized HDMI converter cord so you can use the whole thing right out of the box.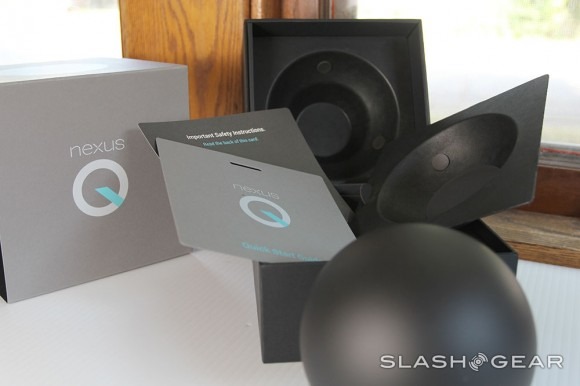 This device cannot be used on its own.
To activate the device – and to control it – you've got to download the Nexus Q app from the Google Play store with a device running Android 4.1 Jelly Bean. This minimum software requirement is sure to change rather quickly as it actually says that only Android 2.3 Gingerbread is required in the app's description in the store, but for now, you'll need a Galaxy Nexus (with the software upgrade) or a Nexus 7 tablet – which we've also reviewed in full here.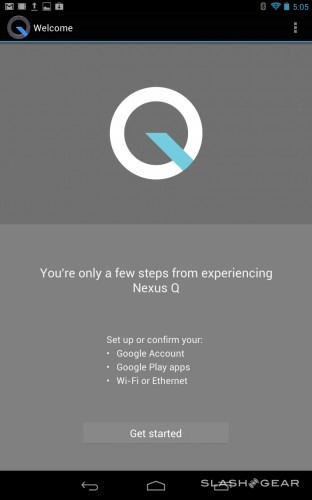 Actually connecting your Android smartphone or tablet to your Nexus Q is simple – it just requires that you have your Wi-fi connection's password and that you enter it once (or twice if you've never set up your own device's connection to the Wi-fi in your home). From there, you've got a near-instant connection between the Nexus Q and your Android device for playing YouTube, Google Play Music, and Google Play Movies – these are the only three apps that work with the Nexus Q at the moment (unless you want to hack.)
Software
There is no software – so to speak – unless you hack past the basic settings that the device comes with. What you use this device for, then, is a conduit between your Android device and your stereo or television. If you've got the Nexus Q hooked up to your television and are letting it sit without playing music or video, you'll get a simple sleep screen with a collection of blue orbs spinning around one another in an organic pattern (as seen very briefly in the hands-on video above.)
If you do play some music from your Android smartphone or tablet, you'll get a visualizer showing some spectacular colors and shapes representing the sound. If you play a video, you'll get the video up on the screen – same goes for YouTube videos. The Nexus Q certainly does not mirror your device's display – instead it shows a stream of media from your smartphone or tablet that's controlled by your smartphone or tablet.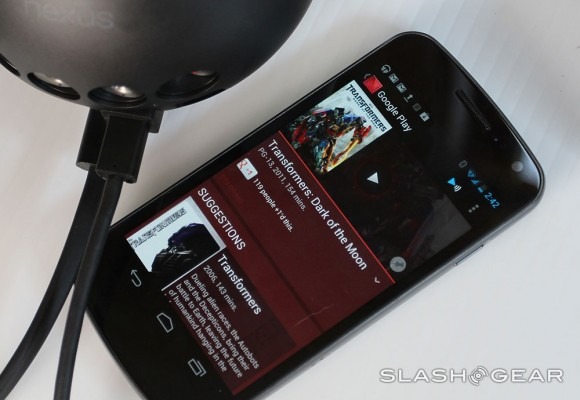 We've had an amazing experience with connection speed and playback with the applications that work with the Nexux Q thus far. Audio sounds fabulous in every way, be it through your HDMI connection alone or through the audio ports provided. The video, on the other hand, doesn't appear to be tuned quite as well as it could be just yet.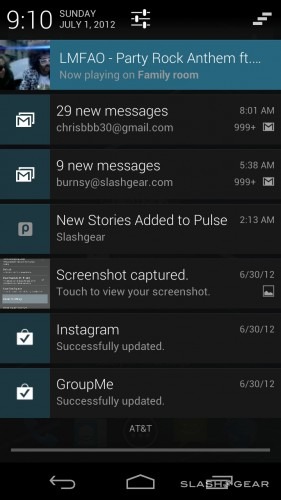 Above: While you've got something playing via your smartphone or tablet, your Notifications window lets you know – this notification then links back to the player it associates with.
The word "murky" comes to mind with video playback – but just a bit. The blacks are just a bit too overzealous in taking over the screen while the other colors seem to be quite ready to take a dip. Playing streaming video worked perfectly well, with no hiccups other than when our actual web connection failed – with no fault of Google's at play. Playing video from our device's own memory worked similarly well, with a slightly too-dark image but perfectly quick playback speed.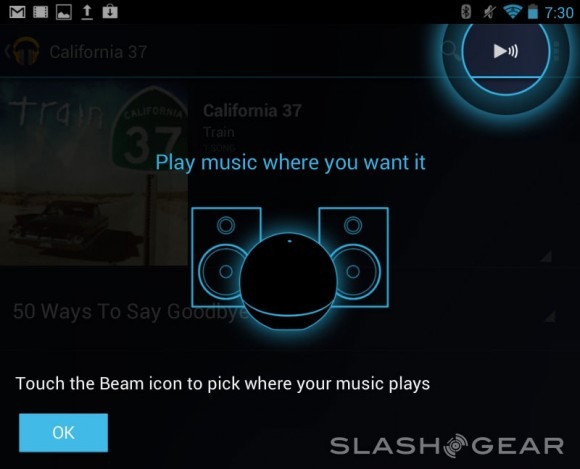 The software is fairly straightforward when it comes to working on your device, with a little Play icon appearing at the top of YouTube, Google Movies, and Google Music once the Nexus Q software was installed – tapping once makes your interface Blue and active, tapping again turns it Gray and no longer connects to the Nexus Q.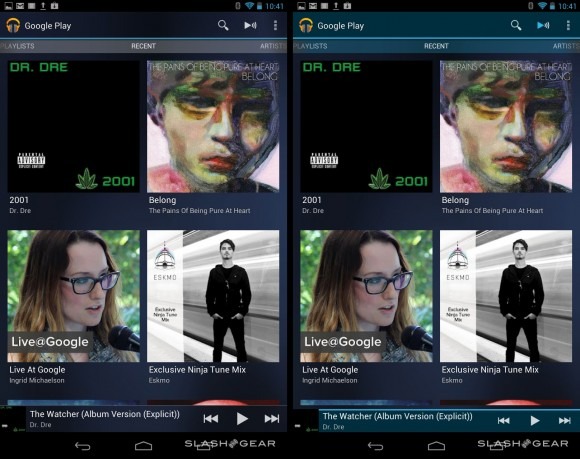 Adding more than one device to one Nexus Q is a bit more of a challenge, as once the Galaxy Nexus was connected to the Q it took a couple tries to make the Nexus 7 connect as well, but it's nothing a tiny bit of troubleshooting didn't fix.
Wrap-Up
The Nexus Q is an absolutely gorgeous looking device, and one that'll be sought after long after it's been left for dead by Google in the future. But know this: that's a long, long time away from now. Google will hopefully take the capabilities of this system and embrace them wholly, because the Nexus Q is exactly what Google needs to bring the public's perception of Android to the nexus level. With this device you've got an Apple TV for nearly every single Android device on the market, and since it is a Nexus device, Google has in so many words encouraged us to hack it.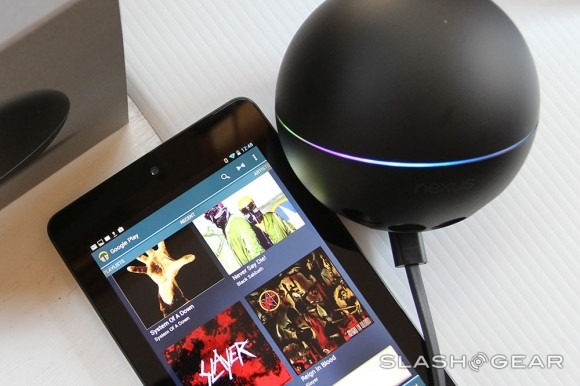 Once the floodgates open, the Nexus Q will be capable of so very many things that it'll be on every developer's holiday season wish list without a doubt. The device feels great physically, only has a few software-related issues here before its big launch, and will be ready to entertain for many years to come. Will people buy it at $299? That's a different story entirely. Is it worth $299 from our perspective? If you're the sort of person who spent $199 on your smartphone and $499 on your tablet when you bought them both in the past year, then yes, the Nexus Q is worth every penny.