BMW Concept 8 Series exclusive first drive: Borrowing a priceless prototype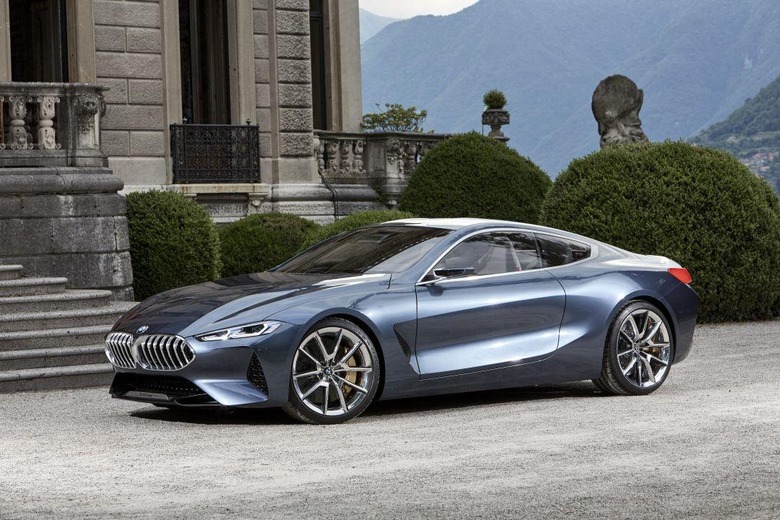 I've seen countless concept or prototype cars at auto shows and press junkets over the years. Rarely does anyone ever get to drive them, because concept cars are, well, only concepts. One of kind and invariably hand-built, they're obscenely expensive, too. Their primary purpose in life is to showcase new styling and new technology. Think of them as eye candy aimed to grab attention, from everyone and especially away from the competition.
I confess, I've also long harbored a deep desire to just jump in and drive off into the sunset with one of these handmade concepts. Spoiler alert: that's almost exactly what I did.
BMW's Concept 8 Series is no exception to my felonious lusts, except that it's exceptional in every respect when it was unveiled at this year's Concorso d'Eleganza Villa d'Este at Lake Como, Italy. BMW couldn't have picked a more prestigious and exclusive venue for the unveiling. There are only three major concours worth mentioning, with d'Eleganza sharing the spotlight with the Pebble Beach Concours d'Elegance and Amelia Island Concours d'Elegance. If you're feeling particularly generous, the Goodwood Festival of Speed could nudge that total up to four.
Among the best of the best, then, this is the most exclusive and traditional heritage event for classic cars and motorcycles. What made this event unique beyond others is that, it in addition to bringing the rarest of the rare vintage cars together, there's also a place for concepts, one-offs, and prototypes.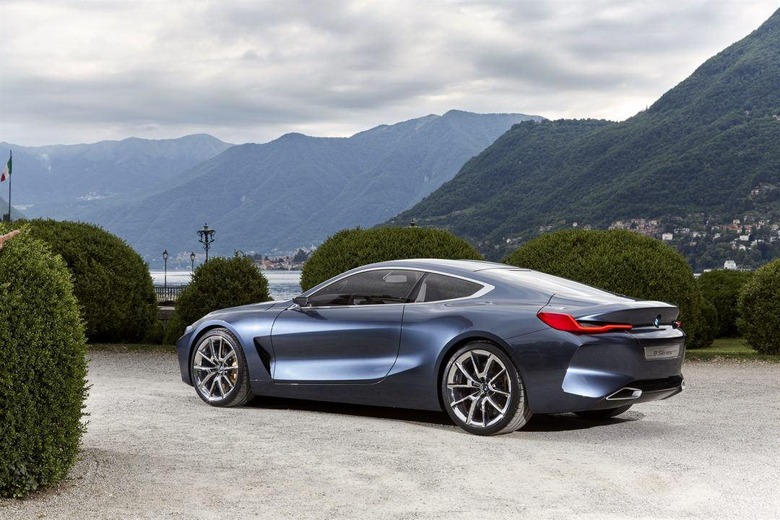 BMW Group had more than its fair share of those for 2017. Its motorcycle division unveiled the Motorrad Link, its vision of the future of mobility, while Rolls-Royce brought along its bespoke Sweptail. That was specially crafted for one particularly well-off customer with the patience to wait nearly four years for it to be built.
For me, though, the star of the line-up was the Concept 8 Series. Why is it so special? Think of it as the purest example of sportiness and luxury from a BMW coupe. More importantly, much of what we see here, both inside and out, will translate over to the 2018 BMW 8 Series Coupe, expected to go on sale next year.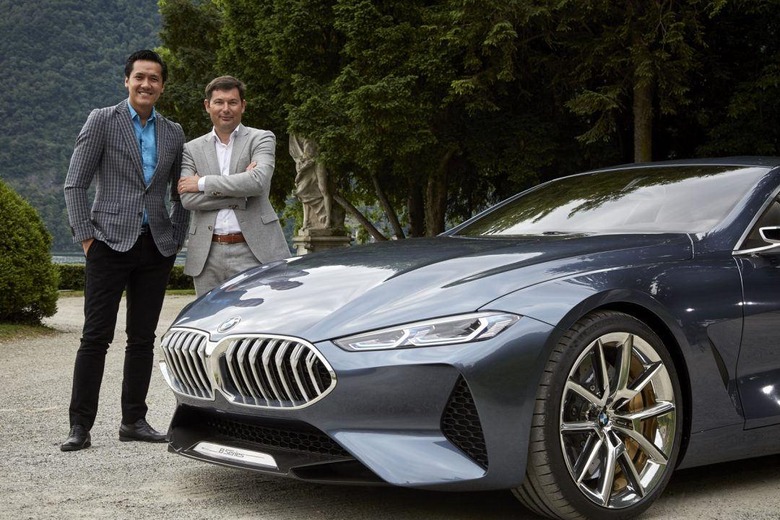 After spending a fair amount of time with Marc Giard, head of BMW Design Concept Cars, I broke it to him that it was time to vacate the driver's seat, because I was jumping in for a quick spin around the grounds of Villa Erba. For a moment he appeared genuinely shocked – I can only imagine the thoughts running through his mind went something along the lines of "wait, what, no, oh no you're not; there's no way you're driving my baby around!" – but thankfully for me what came out of his mouth was an enthusiastic "good for you!"
Once behind the wheel, I was reminded of the other uncomfortable truth about concept cars: they're not everything they might appear to be. Still, I couldn't help but lose myself to the sense of being one with the Concept 8 Series: the focus is on you, the driver, and everything is designed to cater to your every need. It starts from the steering wheel itself, thick-rimmed and punctured with hand-polished aluminum spokes "arrowing" forward towards the hub that are unique and purposeful.
The top and bottom of the wheel are relatively flat, while the wheel overall is on the smaller size, making it easier to negotiate through tight turns. Wrapping my fingers around the leather-encased rim and caressing my fingers over the red-anodized shift paddles was enough to get my heart racing (even if the knowledge of the undisclosed, but almost certainly huge, price tag for the car wasn't already at the back of my mind). How much of that beautiful detailing makes it from the concept and into production remains to be seen.
The dashboard, however, showcases the seventh-gen iDrive and is relatively close to production. During BMW's Future Summit in Munich, I got a few quick glances of the new display in front of the driver and, from that sneak-peek, it's looking great. There are two primary modes, each adjusting how you consume details like engine speed, the speedometer, and navigation guidance. Engage sport mode, for instance, and the digital cluster puts the speedo dead center, flanked by a pair of vertical rev-counters.
There's a cohesiveness between the Concept 8 Series' external and internal design which suggests BMW's designers went the extra mile over a typical show car. That goes right down to the materials inside out out, like carbon-fiber. The exclusive sport seats, for instance, are wrapped up in a carbon-fiber shell and cuddle your body snugly and comfortably, while also speaking volumes about the performance of the car. They wrap around you the same way a custom Italian suit hangs perfectly on your body, but again, there's no guarantee they'll make it through to the production car.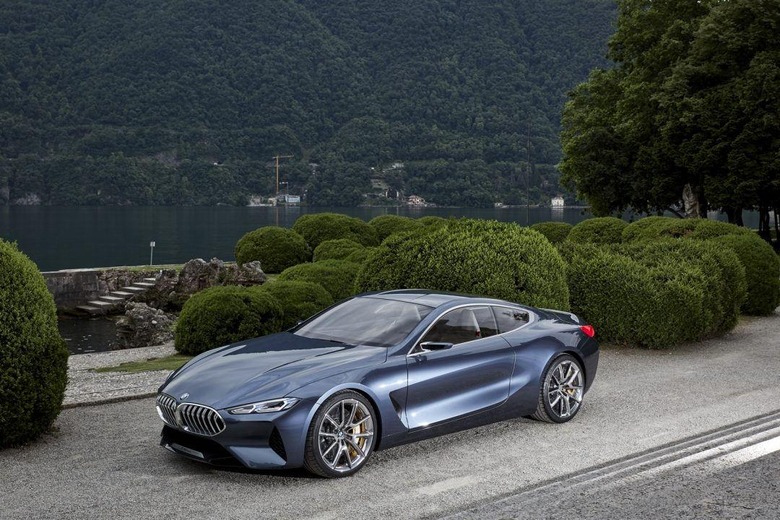 Finally, I know what you're really curious about: what's it like to actually drive the Concept 8 Series? Unfortunately I'd be lying to you if I said it was superb, and then go on and on about the driving dynamics and the raw power of engine.
Horsepower and torque? I have no idea, and BMW isn't talking specifics yet. How epic would it be if BMW endowed the new 8 with the same V12 as the 760i xDrive, only with a manual gearbox? Of course, we already know that's not happening, because the modern-day 8 Series will only come with an automatic transmission.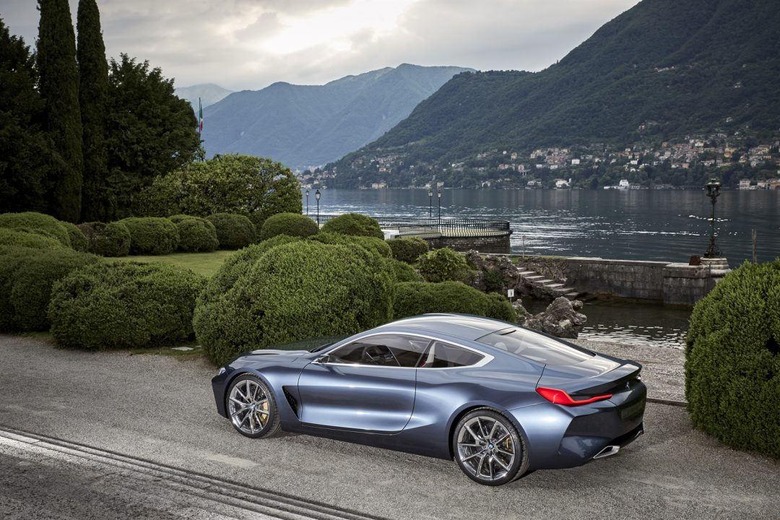 If BMW continues to follow the recent trend of offering up a wide variety of engine options in each series, then we can expect to see the lion share of sales for six- and eight-cylinders, all the way up to the 4.4-liter twin turbo V8, with optional xDrive all-wheel-drive. Let's go crazy here and predict that the already-confirmed BMW M8 might be like to drive, powered by a 6.6-liter 12-cylinder engine. Watch out, Mercedes-AMG, BMW is putting your AMG S63 Coupe on notice. That being said, potentially just as likely that we'll see a hybrid version of some kind, courtesy of BMW's flexible CLAR architecture.
How does it handle? Well, at speeds between idle and 15mph, it wasn't quite the thrilling experience one might expect from the "Ultimate Driving Machine." Even the ignition start button isn't functional; I couldn't help but giggle at the more mundane way in which the concept car was started up.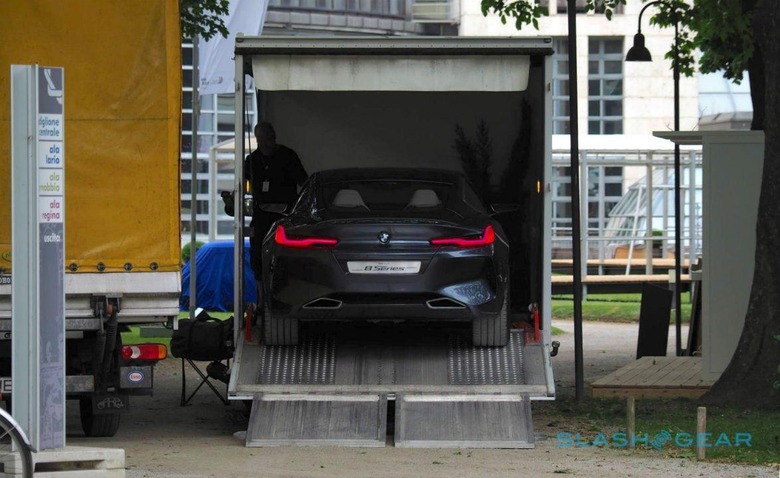 Still, that's par for the course when you're dealing with a precious – and precocious – concept car, and one which was quickly whisked away as soon as I relinquished my place behind the wheel. Even if I only got to cruise ahead of the sunset, rather than race off into it, the quick squirt around the gorgeous grounds of Villa Verba was enough to stoke my anticipation for the BMW 8 Series next year. The time is ripe for a big, luxury Baviarian GT, and even just a little taste has me eager to see what BMW's engineers have in store.