2017 Mercedes-AMG S63 Cabriolet Review: Interstellar luxury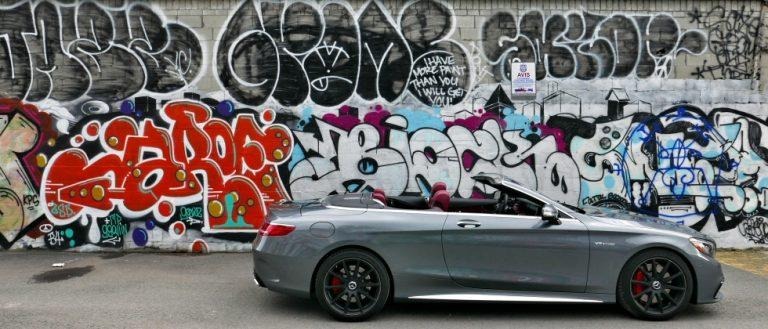 There's more than one way to manifest as a master of the universe, but few show off your upper echelon status with more class and style than slipping behind the wheel of the 2017 Mercedes-AMG S63 cabriolet. Truly, this is the chariot of those who are tired of the ostentatious display brought on by drop-top Ferraris, Bentleys, and Lamborghinis, a megabuck mirage that steals its way to the front of the valet line without drawing daggers from the 99 percent at every stoplight.
That's not to say that the Mercedes-AMG S63 cabriolet goes unnoticed. Far from it – it's hard to miss a full-size topless cruiser like this one, particularly when it sports Swarovski crystals in the headlights like the model I drove for a week. Rather, it's a different kind of attention than what one would receive in a more nouveau riche carriage. The clean, imposing lines of the Silver Star-wearing convertible communicate a silent social contract between the driver and passersby: this car might cost as much as your house, but we don't have to talk about it – and I'm certainly not going to drop the keys on the table the next time we meet up for dinner.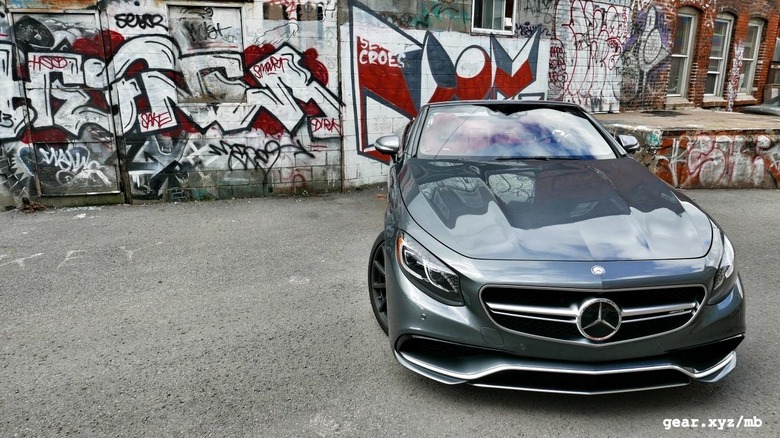 That kind of self-assured, at ease demeanor is backed up by a level of performance typically expected from one of the more extroverted rides mentioned in the opening paragraph. Yes, we all know that AMG models are fast, but there's little to prepare you for the physics distortion field that sits under the hood of the S63 when you've got the hammer down. A car this heavy – tipping the scales at just under 5,000 lbs – really shouldn't be able to engage the hyperdrive this close to planetary gravity well, but suddenly there you are, pushing the needle past 150 miles per hour, when a few seconds beforehand all you wanted to do was get out from behind that damn minivan that's been floating along at 10 under for the last five miles.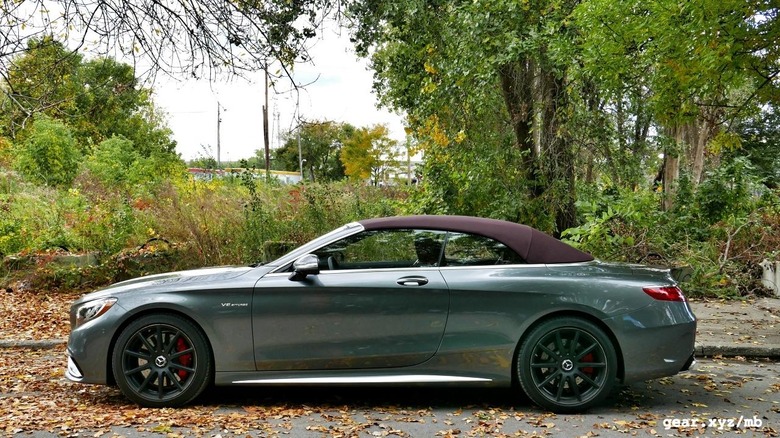 How does a car like the 2017 Mercedes-AMG S63 cabriolet happen? It starts with equal parts flagship coupe (the two-door S-Class), a Sawzall (to remove the roof), and the kind of anti-social engine builders at Affalterbach who see nothing wrong with hand-assembling a twin-turbo V8 capable of producing 577 horsepower and 664 lb-ft of torque.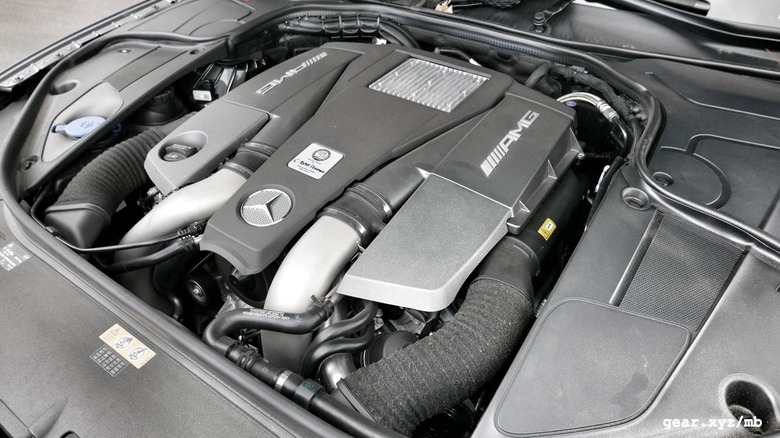 It's a formula you won't find from any other German luxury marque. You can't walk into a BMW showroom and drive home in a two-door 7 Series. Audi doesn't offer an A9, let alone anything the size of the S63 cabriolet with a roof that goes down. The car is a singular entry torn from the pages of the Robb Report and flung in the face of pricier fare from England, where enormous open-top automobiles have been a way of life for Bentley and Rolls-Royce since before the war.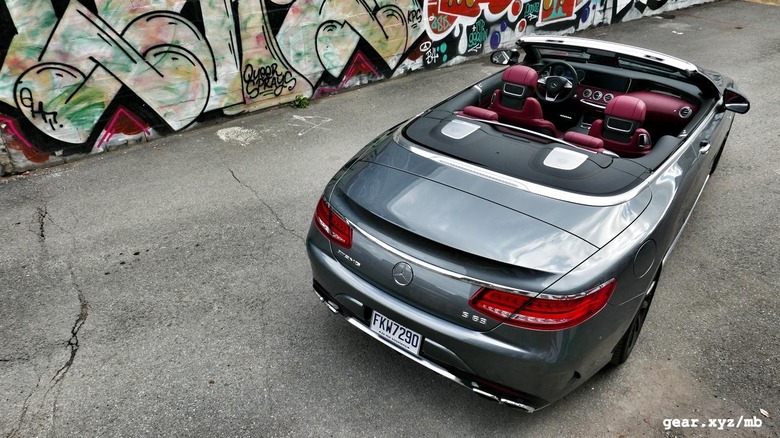 You might point out that both of those brands hew to their German masters these days, and you would be correct, but in terms of how their various models are positioned, there's nothing Teutonic to be found on either menu – and then there's the price. While the Mercedes-AMG might start at a lofty $176,400, that's still well below the cost of entry of anything wearing the winged B that lets the wind mess up your expertly-coiffed hair.
The S-Class cabriolet therefore stands alone, and the AMG editions (for you can also command a similarly-turbocharged V12 under the hood) represent the very tip of an exquisitely muscle spear. It's fitting, then, that the experience the car provides (past its previously-explored social impact) is equally unique. Whereas other large convertibles such as the BMW M6 at least pay lip service to the concept of occasional track use, the Mercedes-AMG S63 cabriolet instead proposes interstellar travel by way of its endless highway acceleration (at least until you hit the 155-mph limiter).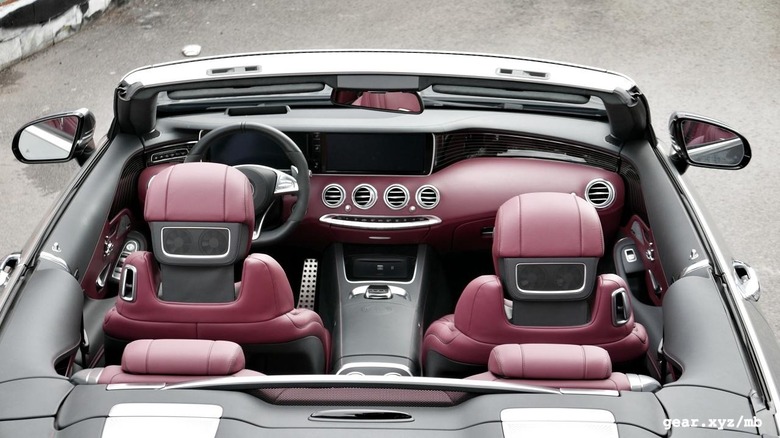 Drive across the continent and set an unofficial Cannonball record? Yes, please. Hit that apex hard after clawing its way out of corner 3 at your local roundy-round? No, thank you. While the all-wheel drive system keeps traction under control at all times, the S63's only real weak spot – its seven-speed automatic transmission – prefers to be finessed rather than hustled, especially when taking off from a stop.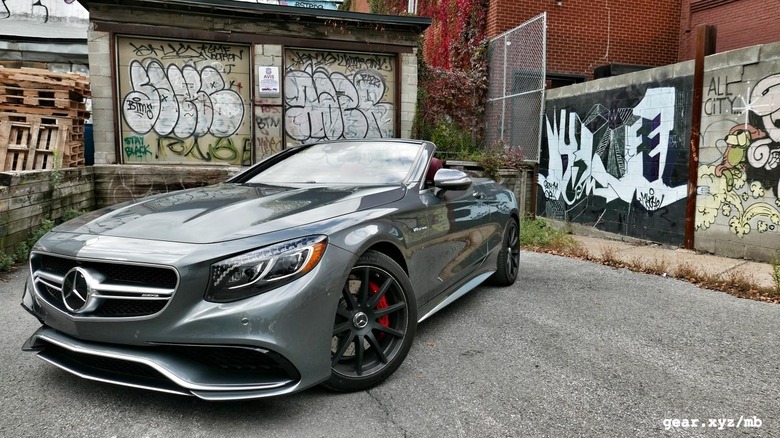 Even with the adaptive air suspension system set to Sport, this is not a car that deigns to acknowledge the existence of pylons or pit lanes. Instead, it prefers wide open spaces, mad dashes to the horizon (with a 0-60 run of 3.9 seconds on the spec sheet), and cross-border desert runs under the glittery night sky, Airscarf blasting, Aircap deployed, and all occupants cozied up inside an interior that has been hand-crafted to exceed your expectations of quality and comfort. Not only that, but Mercedes-Benz has unleashed its full suite of autonomous technologies inside the car, including self-steering and stop-and-go cruise control settings that remove much of the burden of long-distance jaunts.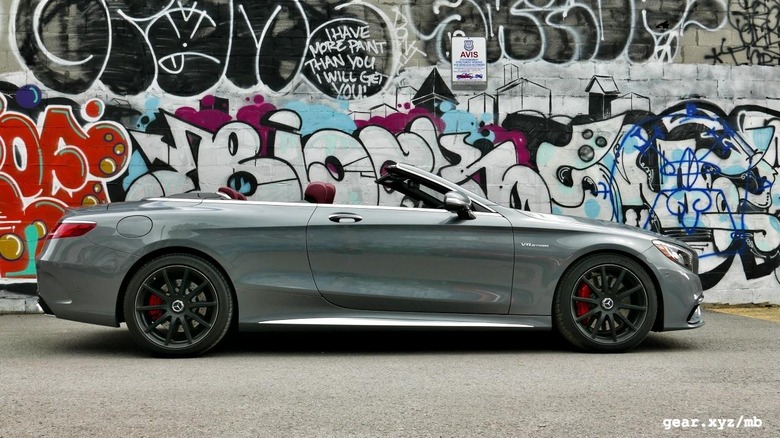 Until humankind finally slips the surly bonds of near-Earth orbit and truly assumes its place amongst the cosmos, the 2017 Mercedes-AMG S63 cabriolet is about as close as you'll ever get to a personal starship. Hopefully, someone from Stuttgart will make the call to Elon and let him know that AMG will be waiting for him when SpaceX finally makes it to Mars.