BlackBerry Z30 5-inch BB10 phone leaks in Z10 and Q5 comparison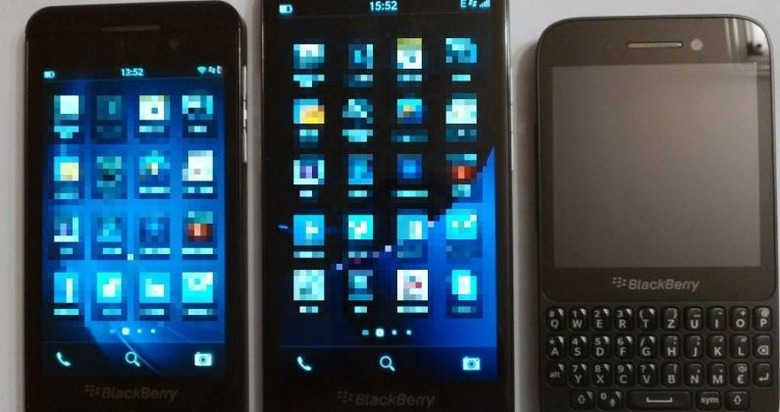 BlackBerry's incoming 5-inch supersized BlackBerry 10 smartphone will launch as the Z30, it's claimed, with new images showing the unannounced handset looming largely over its smaller siblings. The Super AMOLED phone – expected to be made official later this year – has cropped up in a new set of comparison shots at CrackBerry, having formerly been known by its A10 codename.
According to previous leaks, the Z30 will pair its Super AMOLED display with an unspecified dualcore processor and 2GB of RAM. It'll be running BlackBerry 10.2, though with a new new tweaks expected, such as speedier access to commonly-changed settings in a new menu.
The extra screen space will also be used for a fifth row of icons in the app launcher pane, at least going by the blurred-out leaked image. That's instead of simply spreading out the current 4x4 grid on the Z10, as would be the case on a larger Android device.
Whether the market is clamoring for a large BlackBerry 10 phone remains to be seen, however. BlackBerry is yet to detail sales of devices running the new platform, only reporting overall BlacKBerry handset shipments – including BB10 and BB7 – of 6.8m units in the last financial quarter.
Arguably of more use would be a true budget QWERTY BlackBerry 10 phone, to take over from the dwindling supply of BlackBerry 7 phones catering for the low-end of the market. The company has previously confirmed that there will be one further BB7 handset this year, but the BlackBerry Q5 hasn't been priced to take those entry-level users who might previously have been tempted by BBM on a cheap BB7 phone.