Six BlackBerry phones at a time says Heins, with one more BB7 to come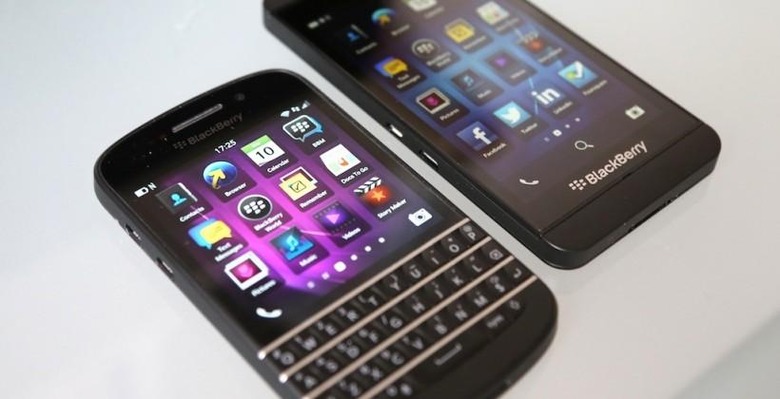 BlackBerry aims to have no more than six different products on the market at any one time, CEO Thorsten Heins has said, potentially limiting BlackBerry 10's roll-out as it tries to keep enterprise users of the older OS content. Speaking on BlackBerry's financial results call, after announcing an $84m loss in the most recent quarter, Heins described the new platform as being "still in the early stages of transition"; BlackBerry sold 6.8m devices overall in financial year Q1 2014, though did not break that figure down into BlackBerry 7 versus BlackBerry 10 models. The company has at least one more BlackBerry 7 device in the pipeline for this year.
In fact, BlackBerry is arguably caught in a tricky position, attempting to satisfy both its existing clients while also coax them – and new customers – into adopting BlackBerry 10. Corporate users are still asking for BlackBerry OS 7 phones, BlackBerry UK told SlashGear earlier this week, because of their existing investment in both BlackBerry Exchange Server (BES) and OS 7 devices.
Switching to BlackBerry 10, in contrast, requires new software on the server side, and of course there's no way to upgrade an OS 7 phone to the new platform. Given the number of devices usually deployed in large enterprise can exceed several thousand, that's an expensive thing to consider.
However, there are several trials of BlackBerry 10 ongoing, Heins pointed out, with 60-percent of Fortune 500 companies having ordered, downloaded, or installed BlackBerry Enterprise Server 10. Around 90-percent of the Fortune 500 use BlackBerry devices, the company has said, with a number of 1,500+ BlackBerry 10 device deployments in recent months.
According to Heins, focusing too greatly on hardware means you'll miss the bigger picture. BlackBerry is more than a device company, the CEO insists; according to the figures announced today, hardware sales accounted for 71-percent of revenue, with the remainder from software and services.
Still, there's no avoiding the fallow period. BlackBerry predicted more losses in Q2 2014, and Heins said during the call that financial year 2014 will be one of investment ahead of expected growth in 2015.