Blackberry PlayBook's long-awaited email client spotted in new screenshots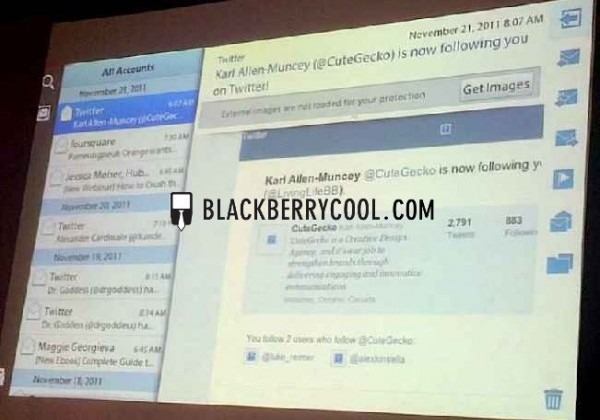 To the bafflement of many, the Blackberry Playbook launched without a native email, calender or contact manager, leaving long-time Blackberry users who depended upon the phones' famous email features puzzled. It's been a long time coming, but it appears that the built-in email client will finally appear soon. At the latest Blackberry Innovation forum, RIM showed off screenshots of the apps, due in an update to the Playbook's software in February of 2012.
The apps and interface will seem pretty familiar to anyone who's used similar applications on the iPad or any of the myriad Android Honeycomb tablets. The now-standard split-screen interface makes an appearance in the email app, though the Calender seems to be able to display a traditional grid and an agenda at once. Contacts are closely integrated with Gist, a contact management service for professionals. Naturally all three apps work within the Playbook's WebOS-style interface.
Is this enough to save the PlayBook? Hard to say. Best Buy at least doesn't seem particularly confident, as the tablet has been marked down to less than $200 for the base model. The PlayBook has failed to make a dent in the tablet market against the iPad juggernaut and increasingly popular Android alternatives at multiple price points. RIM isn't giving up, though: the upcoming PlayBook update will also include an easy Android app converter, opening up the slim app options a bit.
[via BlackBerryCool]