BlackBerry Curve 9380 due on TELUS by holidays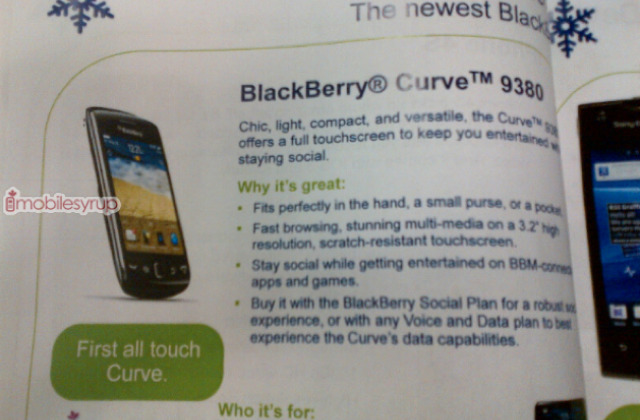 The BlackBerry Curve 9380 has shown up in the wild again, this time promised on Canadian CDMA carrier TELUS with a release in time for the holidays. RIM teased the smartphone itself last month, revealing a 3.2-inch 480 x 360 display – on what TELUS describes as the "first all touch Curve" RIM has made in the brochure MobileSyrup spotted – while previous leaks have indicated the device will have an 800MHz processor.
There's also been talk of a 5-megapixel camera capable of 720p HD video recording. OS is BlackBerry 7, complete with the usual array of BBM support and push-email. The user-experience is likely to be much akin to the Torch 9850/9860 we reviewed earlier this year, though probably slower thanks to the reduced CPU speed, and more cramped due to the smaller, lower-resolution screen.
As you can see just before the TELUS brochure cuts off, the target audience is young people and first-time smartphone owners, a group RIM is obviously hoping will be more price-conscious than they are discriminating over specs and features. The likelihood is that this all-touch Curve will arrive in other markets by Christmas as well, though we'll have to wait for RIM to make that official before we know for sure.
[via BlackBerry Rocks]