RIM teases Blackberry 9380 Curve Touch and 9790 Bellagio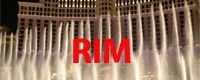 RIM has started to tease a pair of new handsets that are in the works. The two new devices are the Blackberry 9380 and the 9790. The first details about the new smartphone duo surfaced Friday in a post on the Inside Blackberry Developers blog with the intent to get devs to get the apps ready for the new devices.
The 9380 is thought to be called the Curve Touch 9380. It will sport a 3.2-inch display with 480 x 360 pixels in portrait view. It will not have a keyboard packing in a touchscreen only. The other handset is thought to be called the 9970 Bellagio. That is certainly an odd name since many are familiar with the famous hotel in Las Vegas called the Bellagio.
The 9790 is expected to have the same screen resolution as the 9380 with a smaller size at 2.44-inches. That smaller size means that the Bellagio will pack in the standard QWERTY keyboard as well. We have no indication of the other features, when the two new devices will land, or how much they will cost. If RIM wants apps ready, the smartphones must be close to launch.
[via ZDNet]