BlackBerry condemns questionable BBM for Android app reviews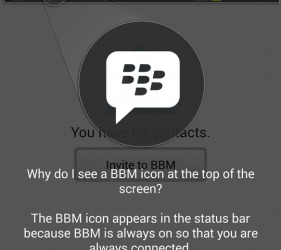 This was a big week for BlackBerry as it launched the BBM apps for Android and iPhone users. The apps proved to be impressively popular reaching 10 million downloads in the first 24 hours. A bit of controversy has cropped up over a number of suspicious reviews on the Google template website for the recently launched BBM for Android application.
A number of the suspicious reviews give the application a five-star rating. There are also some suspicious reviews giving the application a one star rating according the BlackBerry. BlackBerry has now stepped forward and stated that it takes no responsibility for any of the questionable reviews and does not condone any of those reviews.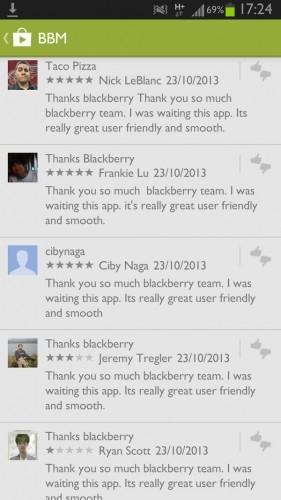 A BlackBerry spokesperson said:
We have been made aware of a number of potentially fake reviews of BBM for Android on Google Play, with ratings anywhere from one to five stars," . "We have no knowledge of how these reviews were created or populated. We do not approve of or condone such activities. There are also many genuinely great and useful reviews from our new BBM users on Google Play. We would like to encourage our fans and users to continue to provide true assessments of the BBM experience through the proper channels.
The thing that tipped that the reviews might be fake is that some are written in what is described as very poor English. Those reviews appear as if they could have been posted by spammers or bots. A closer look at the reviews also found that some of them appear to have the same text copied over and over.
One of the images above shows a few of these suspicious reviews. BlackBerry does point out that there are many legitimate reviews that are very positive, along with a number that are also negative. The BBM for Android application has racked up over 180,000 reviews so far. If you want to know more about the application, check out our hands-on with the BBM Android and iOS apps.
SOURCE: TheNextWeb