BBM for Android and iPhone release today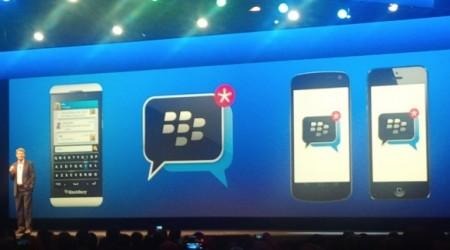 BBM for Android and iPhone will take a second-attempt at launching today, with BlackBerry's instant messaging service hitting the Google Play and iOS App Store, though even if you can download it, you won't necessarily be able to use it. After the botched launch last month, this time around there'll be a two-stage process to getting BBM, BlackBerry says, with a waiting list in the app for service.
After downloading BBM – it'll also be in select Samsung Apps stores – there'll be a registration page. Would-be users can put in their email address and be alerted when they'll actually be allowed to use BBM itself; there's no timeline for how many new sign-ups BlackBerry expects to have activated each day.
Those that signed up to BlackBerry's pre-interest list will get service immediately, however. The company says that amounts to around six million people; "we are focused on moving millions of customers through the line as fast as possible" is the closest BlackBerry will get to promising when everybody else might have it.
What remains to be seen is whether broader access to BlackBerry Messenger will do much to stem BlackBerry's shrinking user figures. Arguably the time to open BBM up to third-party platforms was 2-3 years ago; now, with BlackBerry 10 struggling to gain traction in the face of Android, iOS, and even Windows Phone, launching it for rival OSes arguably only gives more of a reason for existing BlackBerry users to jump ship when they next upgrade.
According to the company, around a million Android users ended up using the unofficial BBM release for the platform, and more than a million sideloaded the APK to their device.
Meanwhile, BlackBerry continues to be the subject of numerous acquisition rumors, after the company confirmed it was hunting a buyer. Doubts as to the likelihood of an initial deal with Fairfax Financial Holdings going through have left the way clear for reported interest from Cerberus, not to mention Lenovo, and even co-founder Mike Lazaridis.