BlackBerry 2014 Roadmap Shows A Device For Every Class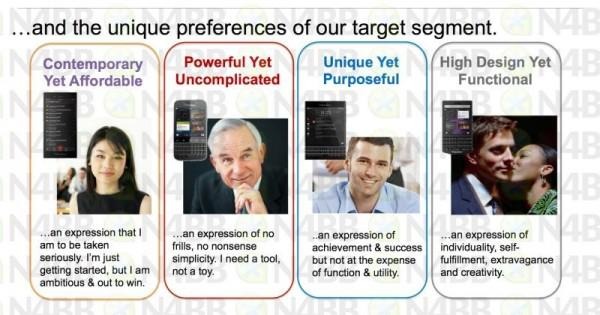 There is practically only 4 months left before 2014 ends and BlackBerry seems ready to end the year with a bang. Leaked slides of the company's 2014 roadmap reveal device launch targets as well as how the company plans to market its smartphones based on particular user groups it has in mind.
Until recently, BlackBerry seemed like a company without a vision, taken by surprise by the rise of iOS and Android even in its own enterprise turf. The company has sought to redirect itself, go back to its roots, and refocus on its core market, as can be seen in the slide above. Whether that strategy will be enough to pull the company up, only time will tell.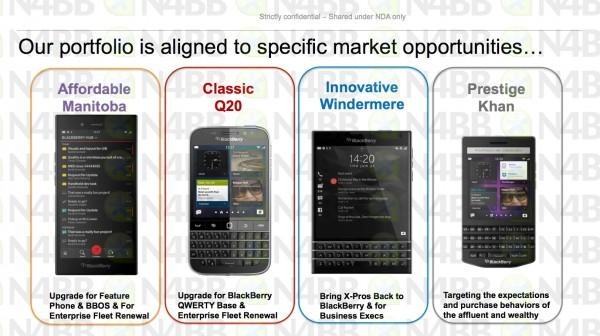 The BlackBerry Z3, codenamed "Manitoba" which we first saw last February, seems to be addressed to BlackBerry's younger and newer generation of users, those that came late to the party and are more familiar with touch-only smartphones. It is also targeted at a more budget-conscious market. But to differentiate itself from the growing number of such smartphones, BlackBerry is trying to go back to one of its most popular features, a physical QWERTY keyboard, with the "Classic" BlackBerry Q20. As expected, this is targeted at a more business-minded class of users that do not really care for the fanciness of mainstream commercial devices. But for those who want even more enterprise power, BlackBerry has prepared the much leaked "Windermere" Passport, a device that is clearly all about serious business. And those from the more affluent crowd, there is the BlackBerry "Prestige" Khan, a.k.a. Porsche Design P'9983, with an exorbitant price tag and a strange mix of hardware specs.
Based on the charts, the Passport and the Khan are scheduled to launch in Q3 this year, which gives BlackBerry just about a month to iron out. Strangely, the Q20, leaked months ago, isn't indicated in the timeline. The slide also indicates the release of Blend together with the Passport. Blend is software said to allow users to access BBM, emails, and whatnot from your computer or mobile device. The latest BlackBerry OS 10.3 release is also scheduled to rollout together with the new devices. The good news for owners of "in life" devices, OS 10.3.1 will be released in Q4 2014 and will be made available for them as well.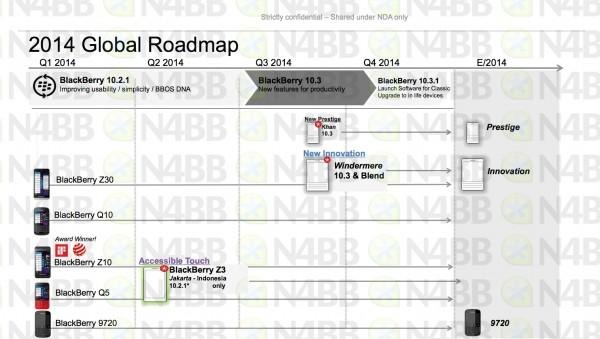 These slides paint a more coherent picture of BlackBerry's market strategy, which may inspire some hope and confidence in the enterprise's former darling. The question now is whether it's too little too late for the company, with the likes of Apple and Google now each eying a large piece of that enterprise pie.
VIA: N4BB