Bell Mobility MiFi 2372 on sale today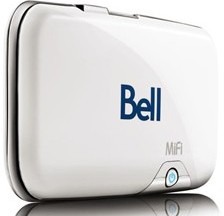 Dear Canada, you've been very patient but your MiFi wait is over.  Having announced back in October that the Novatel Wireless MiFi 2372 "intelligent mobile hotspot" was coming to Bell Mobility in November 2009, the carrier has waited until the very end of the month to put the 3G-sharing battery powered router on sale.  However, on sale it is, and as of today Canadians looking to share a single 3G HSDPA/HSUPA connection between up to five WiFi devices can do so for $99.95 with a new, three year agreement.
Alternatively the MiFi 2372 is available contract-free from Bell Mobility for $249.95.  The device is functionally identical to the MiFi 2352 we reviewed earlier this year, and includes a microSD card slot for sharing the content of up to 16GB cards between any wirelessly-connected device.
Press Release:
Bell introduces the award winning Novatel Wireless MiFi 2372 Intelligent Mobile Hotspot

Bell Mobility clients first in Canada to enjoy completely mobile Wi-Fi access

Bell today announced the launch of the award winning MiFi™ 2372 Intelligent Mobile Hotspot from Novatel Wireless (Nasdaq: NVTL). The MiFi 2372 operates on Bell's new HSPA network and offers simultaneous Wi-Fi connectivity for up to five devices or users.

"Bell Mobility continues to introduce innovative wireless devices that increase productivity by delivering fast and reliable mobile Internet access," said Adel Bazerghi, Senior Vice President of Products at Bell Mobility. "We're excited to be the first wireless provider to introduce Canadians to the Novatel Wireless MiFi 2372 Intelligent Mobile Hotspot and the convenience of portable Wi-Fi access."

"We're pleased to partner with Bell Mobility to launch the first commercial MiFi 2372 platform in North America," said Rob Hadley, chief marketing officer for Novatel Wireless. "With the MiFi 2372 Intelligent Mobile Hotspot, Bell Mobility is providing its clients with unrivaled high speed Internet access virtually anywhere they work or play."

The MiFi Mobile Intelligent Hotspot platform has won several awards in 2009, including the CTIA Hot for the Holidays Award and the Plus X Award in Technology for Innovation & Ease of Use, and was ranked #2 on the list of BestTravel Gadgets of 2009 by Time Magazine.

Compatible with Windows, Mac and Linux operating systems, the MiFi 2372 delivers download speeds up to 7.2 megabits per second with enhanced performance for simultaneous uploads/downloads and large file transfers. It supports up to five simultaneous users located within 30 feet of the device.

Compact and simple to use, the MiFi 2372 also offers optimized functionality for video streaming and online gaming and includes a microSD slot for expandable memory of up to 16 gigabytes.

The Novatel Wireless MiFi 2372 Intelligent Mobile Hotspot is available nationally for as little as $99.95 on a three year contract or for $249.95 without a contract. Please visit bell.ca/mobility for more information.