BeBook Mini & BeBook 2 With 3G Get Video Demo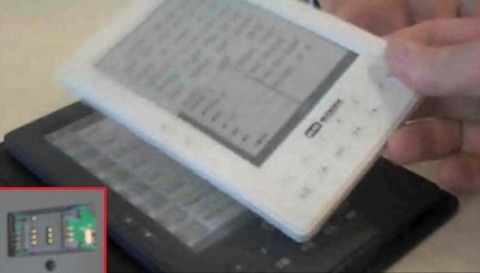 The BeBook Mini 5-inch ebook reader has been caught on video in an interview with the company's CEO, together with the BeBook 2.  As well as the smaller E Ink device, the 3G connectivity in the upcoming BeBook 2 was discussed; the company is apparently in negotiations with European carriers, and is expecting to offer the device in France and Germany with inclusive 3G connectivity (as with the Amazon Kindle in the US).
Video after the cut
Also revealed was that the current BeBook models already have hardware support for WiFi SD cards, and that the company will release software to take advantage of that in the summer.  The BeBook 2 will have 3G and WiFi built in, with a user-accessible SIM card slot for the 3G modem.
Unfortunately the video is in Dutch (unfortunate, that is, unless you only speak Dutch, in which case hurrah, it's in Dutch!) but it's still useful to get a hands-on impression of the Mini.  The BeBook Mini is expected to be priced at around €199 ($271) while the BeBook 2 is expected to come in at between €350 and €400 ($476-544).
[via MobileRead]