Beats Solo Pro Review - Active noise cancellation with an Apple core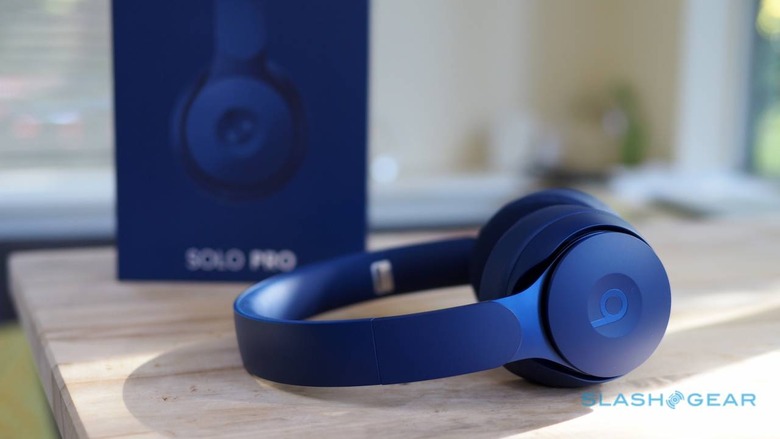 We're suddenly in a golden age for active noise cancelling headphones, and the Beats Solo Pro are aiming to oust the Bose from your bag with some Apple razzle-dazzle. The latest iteration of Beats' wildly successful headphones range, the Solo Pro were redesigned from scratch with Apple's H1 chipset at the heart, and a fully-automatic noise-cancelling system to keep the outside world at bay. Read on for the full review.
I'm going to be honest, I've never really liked the Beats headphones aesthetic. The monstrously popular Beats Solo 2, in particular, always looked and felt a little plasticky and shiny to me, like cheap knock-offs. Happily the Beats Solo Pro are far more refined.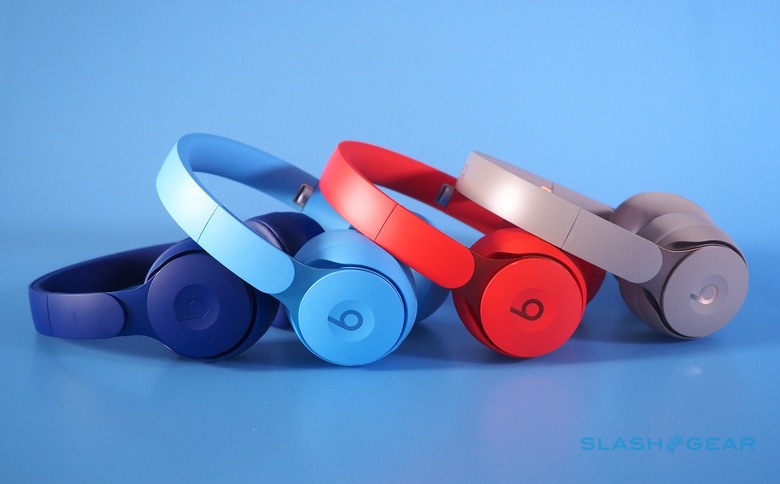 The plastic feels denser and higher quality, while the metal expanders for each earcup slide smoothly and feel nicely over-engineered. Beats' own branding, too, is a little more subtle: a pale blue against the dark blue of this particular pair. There are six color options to choose between. Even the way they fold up – automatically powering off and on as you do so – has a reassuring clunk to it.
Physical controls are straightforward. The outside of the right earcup is one big button: a single tap toggles between play/pause or answers/ends a call. Double-tapping it skips ahead a track; triple-tapping skips back. Pushing on the upper or lower portions controls volume, which is a lot easier than the touchpad swipes you'll need to do on some headphones.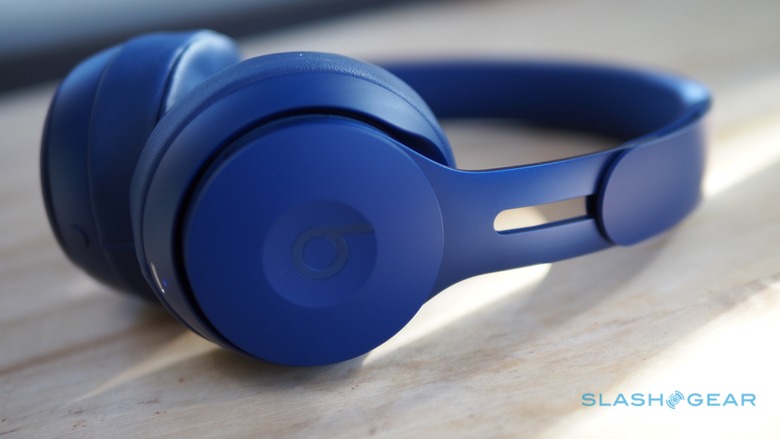 Active noise cancellation gets a dedicated button on the underside of the left earcup. It's slightly raised to help your finger find it, but I do wish it was a little larger. A short press toggles between ANC and Transparency modes; holding it down turns the system off altogether. If you want Siri, the "Hey Siri" wake-word is supported; if you're using the Solo Pro with an Android device, holding down the multifunction button triggers the Google Assistant.
Charging is via Lightning port, and Beats includes a black Lightning to USB Type-A cable in the box. I'd have preferred USB-C, but with Apple writing the checks I understand why it wasn't. With the company's Fast Fuel system, ten minutes plugged in should be enough for three hours of music with ANC turned on. Total battery life is 22 hours with ANC or 40 hours without, and I found those estimates to be accurate.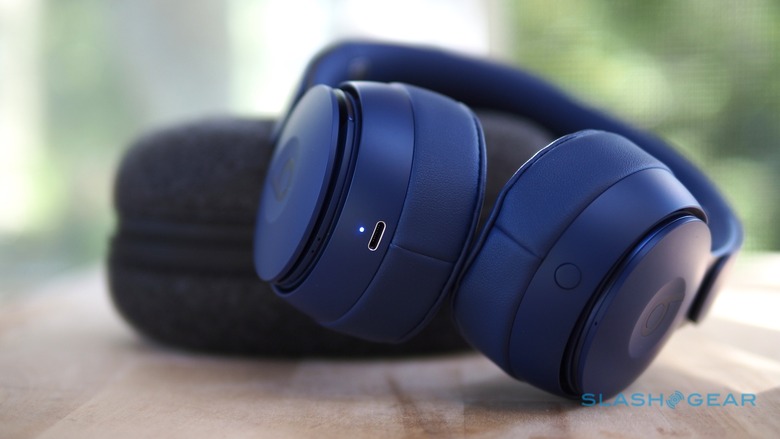 Beats Solo Pro comfort and fit
My primary use for noise-cancelling headphones is generally when flying, and that often means extended periods wearing them pretty much constantly. I'm hyper-attuned to fit, therefore: if the headphones squeeze your head, that's only going to get more frustrating over time, and offset any increase in comfort from the ANC itself.
On that front, the Beats Solos Pro are a little tight for my liking. The headband is very flexible – you can even twist it without breaking it – but it really does clamp the earcups to the sides of your head. The shape of the Solo Pro's cushions emphasizes that fit, too: they're thicker and more padded than the Solo 3 pads, but not much broader, and so they sit on top of each ear rather than around it.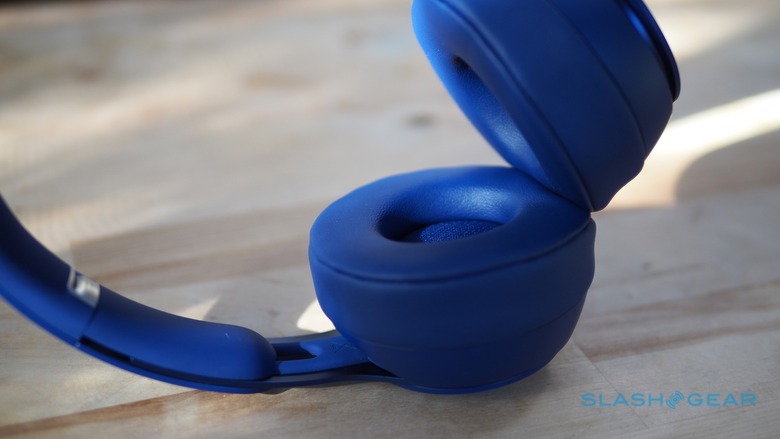 I understand why a tight fit is important: after all, an active noise cancellation system isn't much good if gaps between the cushion and your head allow ambient noise in. The Solo Pros also do a good job of sealing the gap where the arm of my glasses needs to pass through, which can be a big issue for those of us without perfect eyesight but who also want ANC.
Other headphones, though, have significantly larger earcup cushions. Those on Sony's WH-1000XM3, for example, completely enclose my ears when I'm wearing them, forming the seal around the periphery of the ear instead of against it. The result is less pressure applied directly to my ears, and as such I could wear the Sony headphones for longer without really noticing them, compared to the Beats.
It's worth noting that I do have a somewhat larger head than many, though it's not outlandishly so. I do like the Beats' sweat resistance, and how you can lean against something – like the inner wall of a plane when you're in the window seat – without easily unsettling them. Sadly there's no auto-pause when you do remove them.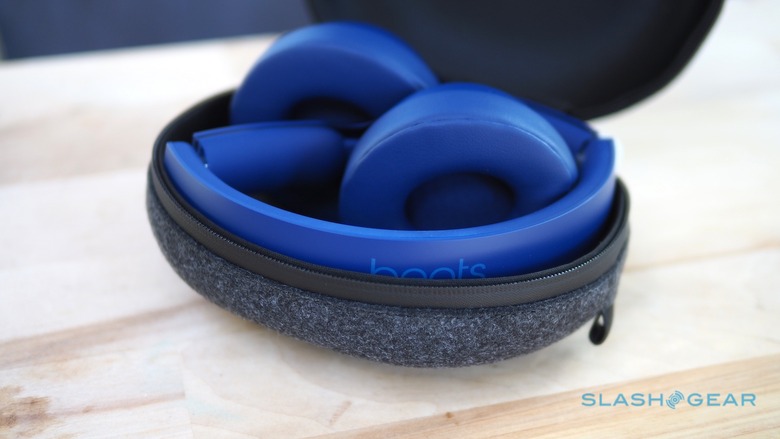 Beats includes a simple soft case, which is made from recycled materials, to carry the Solo Pros. It's enough to keep them from getting scratched in your bag, but definitely isn't going to prevent the headphones from getting crushed. There's also no pocket inside or outside for things like the charging cable, though you do get a carabiner to attach the case to another bag.
Beats Solo Pro sound quality and "Pure ANC" noise-cancellation
Once upon a time, you were buying into a very particular audio style with a pair of Beats headphones. Lots and lots of bass was the recipe of choice. Since then things have evolved, and as a result the Solo Pro are much more suited to a broader range of musical styles.
There's a welcome clarity to the audio. Yes, there's no shortage of bass, but it doesn't overwhelm the treble and mids. I suspect the fact that, with active noise cancellation holding ambient noise at bay, you can have the overall music volume lower without missing out on detail helps there too.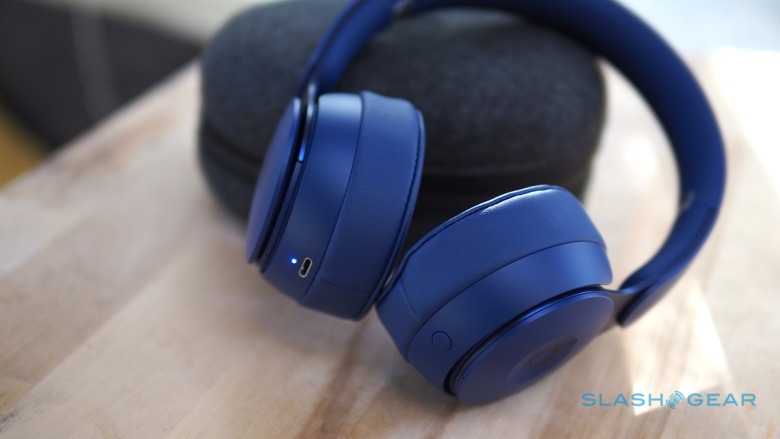 I'm all over the place with my musical tastes, but the Solo Pro held up both with vocal-heavy musicals at one end and thick, heavy electronica at the other. With external noise cancelled out, tracks have a broad soundstage to occupy, and the Beats coax that out nicely. Whereas once upon a time you bought Beats headphones for a certain type of music, the Solo Pro are happy to jam along with whatever style you're into – even if it's wide-ranging.
It's worth trying the Solo Pro out in an Apple Store before you buy them, partly because of the fit but also because there's no way to adjust the EQ. If you don't like Beats' tuning, you should look elsewhere for your headphones. Beats does have an Android app, but that's just for managing pairing and handling firmware updates; there's no equalizer or different musical profiles, as many other headphones offer.
Similarly, there's no way to adjust the level of active noise cancellation, beyond switching between full ANC and Transparency mode. In the case of the Sony's, for example, you can slide between full isolation and a more ambient mix, or have the headphones automatically adjust according to your environment. Beats, though, takes on all those decisions itself.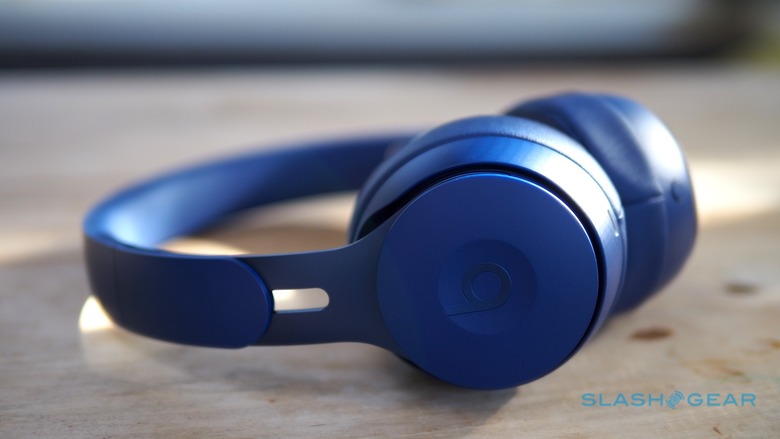 That's not to say it's not a clever system. Microphones on the outside of the headphones track ambient sound, and then calculate the inverse waveform to remove that from what you hear. Further microphones on the inside of the earcups, meanwhile, monitor what you're actually hearing compared to the original track's waveform, and then adjust the ANC algorithm thousands of times a second to make sure you're not missing out on detail in your music.
It works great in busy urban streets or with droning background noise like on planes. To my ears, Sony's ANC still has an edge, but either is going to be transformational if you're moving from regular, non-noise cancelling headphones.
Where the Beats do shine is in Transparency mode. Effectively that provides a mixture of ANC and ambient sound, so that you can still be somewhat aware of what's going on in the world around you. It's useful for not getting run down in the street because you didn't hear a car coming, or allowing coworkers to get your attention in the office.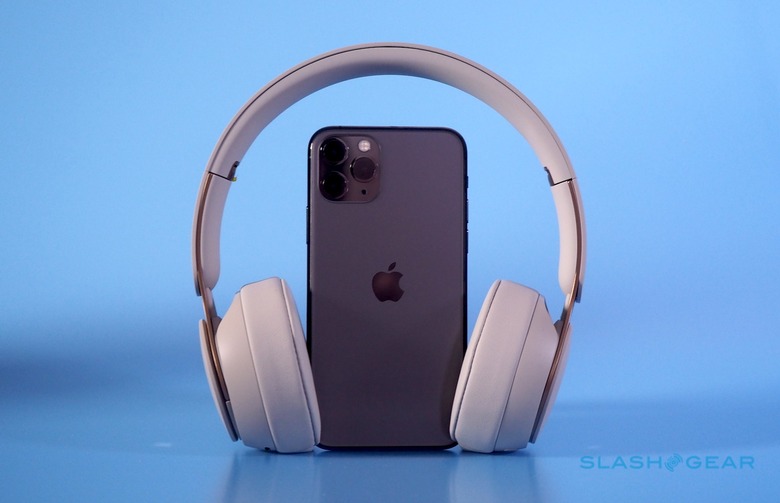 Other ANC headphones have such a mode, but Beats' stands out as being particularly well tuned. There's no tinniness or lag to voices, nor distracting echo; even my own voice sounded relatively normal, British accent notwithstanding. That's all the more important since, as with full ANC, there's no way to manually adjust the balance in Transparency mode.
Beats Solo Pro - the downsides
With the Solo Pro, Beats goes wireless-only. Previous headphones from the company had a 3.5mm headphone jack, but these don't. It means that, if you want to plug the Solo Pro into an in-flight entertainment system, you'll need something like Apple's $35 Lighting to 3.5mm Audio Cable. Other headphones include an old-school cable in the box.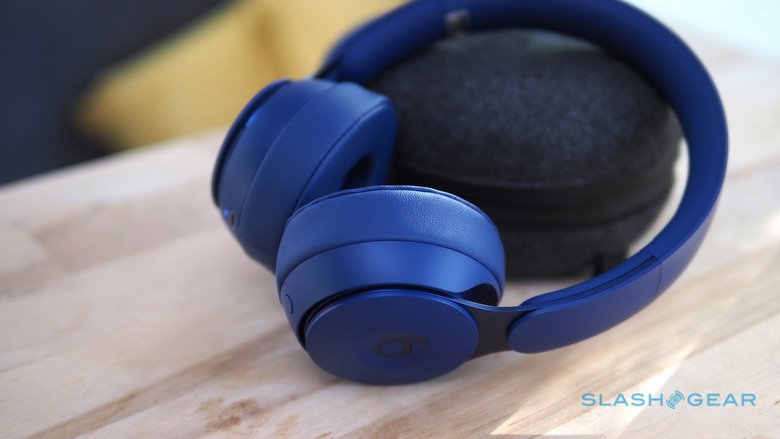 Android users, meanwhile, may feel like slightly second-class citizens, though only because Apple users have it so good. With the Apple H1 chip onboard – just like the new AirPods Pro – the Solo Pro pairing process is incredibly easy. Open them up to turn them on, hold them near your iPhone, and a dialog pops up to connect them. After that, the pairing is shared with any other device signed into the same Apple ID.
Beats also supports Apple Audio Sharing, a new feature that arrived in iOS 13. Bring a second pair of H1- or W1-equipped headphones near your device, and you can wirelessly share what you're listening to with them.
Beats Solo Pro Verdict
Headphones are a very personal purchase, and that seems doubly-so with the Beats Solo Pro. As well as the fit and comfort factor, there's the fact that for both sound quality and active noise cancellation it's Beats' way or the highway. That seems a very "Apple-y" way of doing things and while it means ease of use is right up there, those who like to tinker with the settings are probably better off looking at other options.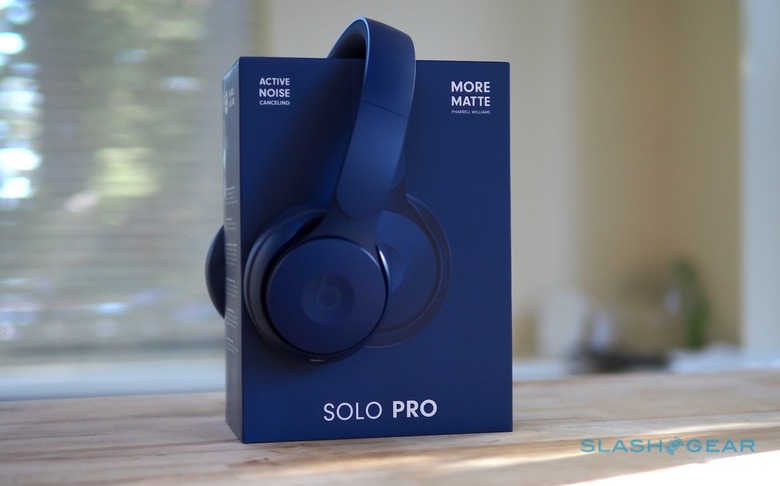 At $299.95 they're not cheap headphones, though they do undercut the Sony WH-1000XM3 by fifty bucks (until, of course, you take into account the $35 cable that frequent fliers are going to want). Still, if the fit is right for you, though, and the sound profile suits, there's a lot to like about the Beats Solo Pro. The active noise cancellation is solid and the Transparency mode excellent; musical performance is impressively genre-agnostic. Throw in sleek design and solid battery life and there's a lot to like here, particularly if you're deep in the Apple ecosystem.