Audi's e-tron SUV just scooped Tesla to a top EV safety award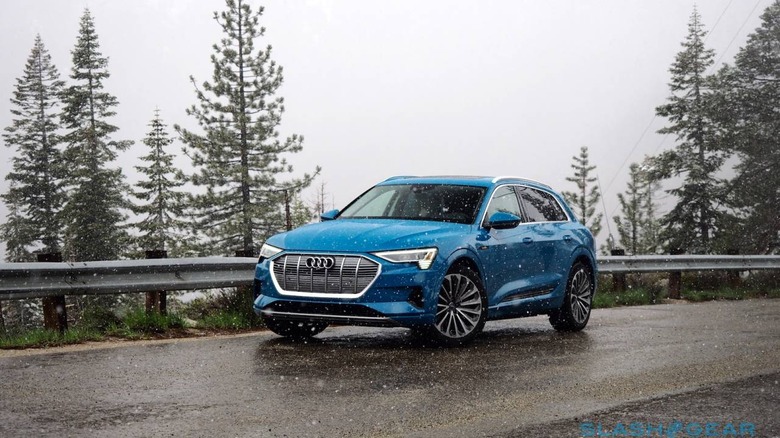 Audi's e-tron SUV may not have been the first all-electric luxury car to US roads, but it can claim to be the first such vehicle to get a 2019 IIHS Top Safety Pick+ rating. The new fully battery-electric SUV has managed to scoop rivals like the Tesla Model X and Mercedes-Benz EQC to the independent safety test's top score.
Unsurprisingly, Audi is pretty darn pleased about that. The e-tron scored "Good" in the IIHS' driver-side small overlap front, passenger-side small overlap front, moderate overlap front, side, roof strength, and head restraint tests.
Meanwhile, its front crash prevention system came in with a "Superior" result in testing. Audi pre sense front is included as standard, using a front camera to trigger the automatic emergency braking. The automaker claims it can trigger the brakes at speeds of up to 52 mph when a pedestrian or bicyclist is spotted, and bring the e-tron to a full stop from speeds under 25 mph.
Sure enough, the IIHS found that Audi's tech avoided a collision in the 25 mph test, as well as reducing impact speed by 11 mph on average in the 12 mph test. Finally, Audi's standard LED headlamps with high-beam assist check off the IIHS' requirements for a "Good" rating.
Part of Audi's scoop, of course, is down to a relative dearth of testing of its natural rivals. The 2020 Mercedes-Benz EQC is yet to officially make it to US dealership forecourts, though we've already seen what it's like from behind the wheel in European guise. Jaguar's I-PACE EV is yet to be put through its paces by the IIHS.
It's Tesla, though, that stands out as the e-tron's obvious competition – and is conspicuously absent from the IIHS's reporting. So far the organization has only tested the Model 3 and Model S, but with mixed results. The Model S was criticized for its headlamps and performance in the small overlap front driver-side test, scoring Poor and Acceptable, respectively. That was back in 2017.
As for the Model 3, the IIHS testing in 2018 didn't cover the full suite of crash assessments. It's unclear when that will change. Similarly uncertain is when the Tesla Model X, the automaker's largest car, will be tested.
For Audi, it's some good news in what has been a mixed roll-out for the 2019 e-tron SUV. Reviewers – ourselves included – praised the car's comfortable drive and stylish appearance, but come June Audi was forced to recall approximately 540 cars already delivered to customers for a possible battery issue. That recall was triggered out of a surfeit of caution, Audi said at the time.
So, this nod of approval from the IIHS' 2019 testing process gives Audi something positive on safety to crow about instead. Sales of the EV kicked off earlier in the year, with Audi reporting that it has sold 2,513 of the 2019 e-tron SUV by the end of July.