Audi e-tron recall affects US EVs: What you need to know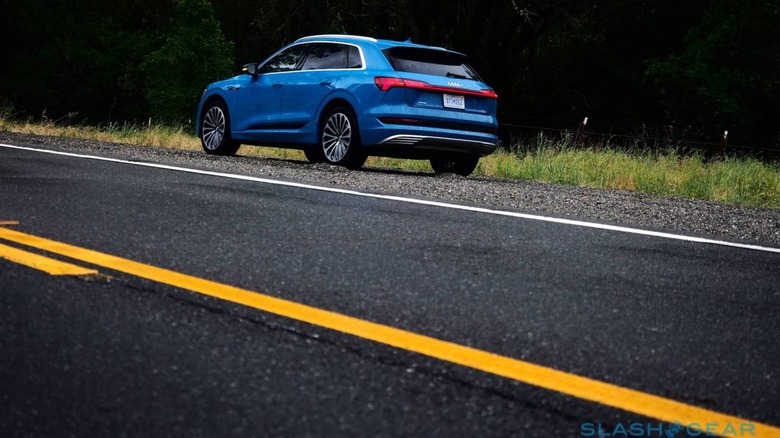 The road to electrification seldom goes smoothly, and Audi is getting its first taste of that with an proactive safety recall for some of its 2019 e-tron electric SUVs. Approximately 540 cars already delivered to buyers are being affected, the automaker confirmed today, over a possible issue that could affect the battery. However, Audi says, no actual incidents have been reported worldwide.
The issue is around a potentially faulty seal in the wiring harness between the charge plug and the battery. The e-tron uses a liquid-cooled battery consisting of 36 modules, each of which contains twelve 60 Ah cells, and fixed into a frame which acts as a crumple zone in case of a crash.
Since EV batteries can get very hot, particularly when being charged at fast rates such as the 150 kW maximum that the e-tron supports, active cooling is required. In Audi's case, the roughly 22 liters of coolant in 132 feet of tubing involved is designed to be physically separated from the battery cells. That way, in the case of an accident, the coolant should flow away from the cells.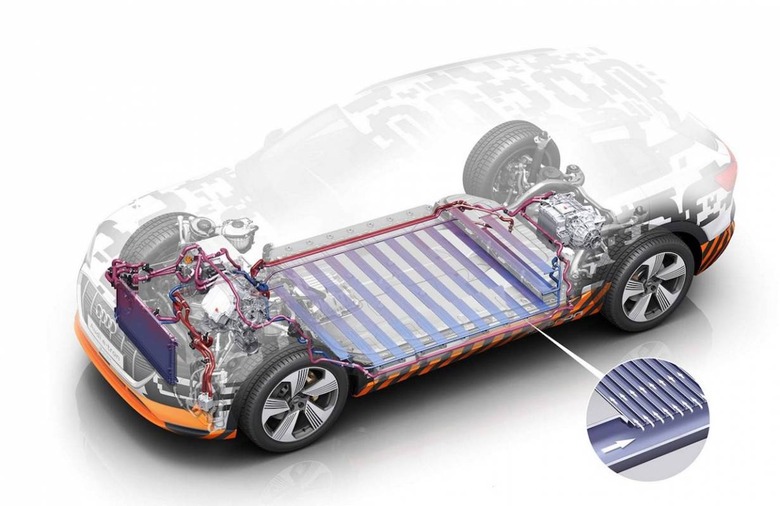 Deliveries of the 2019 e-tron only began recently, but Audi has identified an early potential issue in one of the seals. That grommet could possibly break, the automaker says, and thus allow moisture into the battery compartment. Such an event "could lead to a short circuit or in extreme cases to a thermal event," Audi observes, since coolant meeting electricity can cause a fire or overheating.
Approximately 540 vehicles already delivered to customers in the US are impacted by the recall, along with a number of e-tron that were yet to be delivered. The total amount is 1,644. Audi has delivered approximately 1,109 e-tron in the US so far. The remainder, an Audi spokesperson tells SlashGear, are unaffected and available for sale. It's unclear how many e-tron sold outside of the US are affected at this stage; the automaker tells us that there have been five incidents reported globally where the yellow "battery fault" light turns on due to moisture entering the wiring assembly.
Audi began contacting e-tron owners affected by the recall midway through last week, the spokesperson confirmed to us, and the official NHTSA recall is expected to be issued early this week. Drivers can choose to continue to use their e-tron until the repair is ready, which is expected to be in August 2019. However if they see a yellow battery warning light on their dashboard, they should pull the car over and park it in the open, contact roadside assistance to have it moved to a dealership, and not plug it in to charge.
Alternatively, Audi is offering affected e-tron owners a loaner vehicle as they wait, together with pick-up and delivery of their car and the temporary replacement. They'll also get a cash card for $800 to cover any gas fees incurred. Audi Care will be offered, too, or reimbursed if the owner already purchased it. Audi's full statement is below.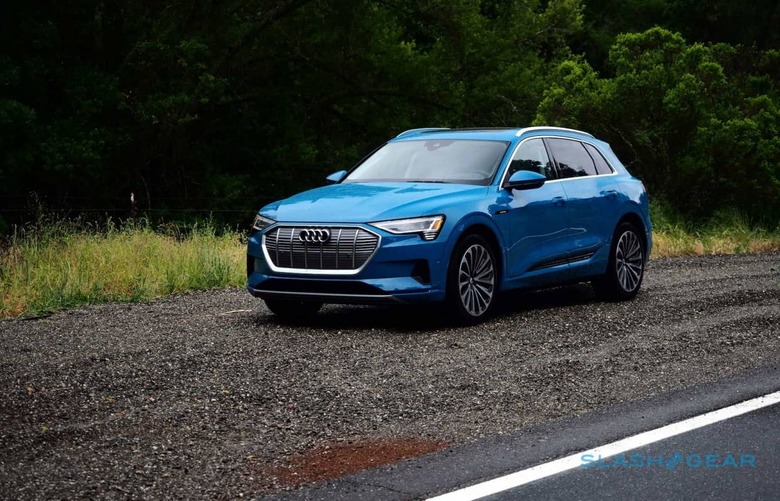 While a recall so early in the e-tron's lifespan is embarrassing, Audi is undoubtedly taking the right route here. Even if no incidents have been reported, had the seal later failed the fallout from overheating cars – or worse – could have destroyed confidence in the automaker's EVs. After all, we've seen what happened when issues went unaddressed with other electric vehicle firms, and how that can undermine enthusiasm not only for that company's cars but electrification in general.
Addressing the recall head-on, and early in the e-tron's release, meanwhile, could in fact boost confidence rather than reduce it. Owners are likely to be frustrated, certainly, but it's an opportunity for Audi to demonstrate how quickly its dealer network can swing into action and deal with the new technology. That has been a lingering concern across potential buyers of most EVs, as the industry shifts away from internal combustion to broader electrification.
It's worth noting that the e-tron is not actually based on VW Group's upcoming MEB, or "Modular Electric Drive Matrix," platform. Instead, it uses a customized version of the MLB platform – which also underpins the Audi Q5 SUV, for example – as the automaker group prepares for the launch of models based on the new architecture.
Audi's full statement:
"Audi of America takes the safety of its customers and the quality of our vehicles very seriously. In order to ensure the highest levels of safety and quality for our customers, we have issued a voluntary recall affecting approximately 540 e-tron vehicles that have been delivered to customers and 1,644 in total. The recall is in response to a potentially faulty seal that may allow moisture to enter the battery compartment which could lead to a short circuit or in extreme cases to a thermal event. We are applying an abundance of caution as no such incidents have been reported globally. The recall repair is expected to become available in August 2019.

Customers are being contacted directly to inform them of the recall and our dealer network is fully engaged to deliver the best customer-service possible. We regret any inconvenience caused to our customers and reservation holders as we work with all parties toward a positive outcome in the weeks ahead. Audi e-tron vehicles unaffected by the recall remain available for delivery and our reservation system remains open to receive customer reservations" Audi spokesperson
[Article updated to clarify the location of the seal affected]