Audi TT Gets Chocolate Makeover In Belgium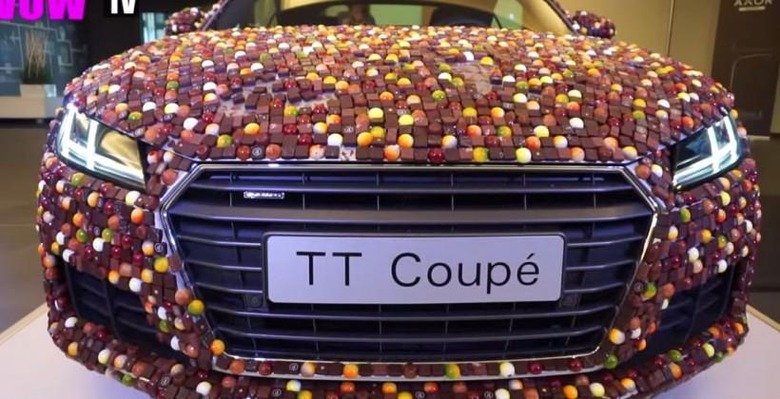 The third-generation Audi TT, already an attention-grabbing model, is officially the sweetest car in the world, at least the version that was recently covered with thousands of pieces of shiny, swirly chocolates. The sugar-bound car surfaced last week in Kortrijk, Belgium, where the model was hawked at a lifestyle and design exhibition to curious individuals and broadcast on WOW TV as a showcasing event. Why cover the car in thousands of pieces of chocolate? Perhaps the better question is, why not?
According to WOW TV, "The proof of the pudding is in the eating. That is why Audi showcased their third-generation Audi TT as the sweetest car ever. For the occasion, Belgian pastry baker and chocolatier Joost Arijs [along with] a devoted team covered the car with 27,000 delicious chocolates."
Audi introduced its third-generation TT earlier this year at the Geneva Motor Show, having previously teased it with illustrations and such. The car has many bragging points, as you'd expect, which Audi detailed alongside its chocolate-covered body in the video above.
The auto maker has been busy lately, rolling out its newest models while dropping updates on its automation efforts. Back in September, Audi was announced as the first maker to receive an automated driving permit in California, and it has since debuted its 2015 TT and TTS Roadsters, as well as other models. We have more news and first-drive experiences for you in our Audi portal.
SOURCE: Autoblog