Audi AI:ME Teases An Autonomous Curated Cocoon For The Mean City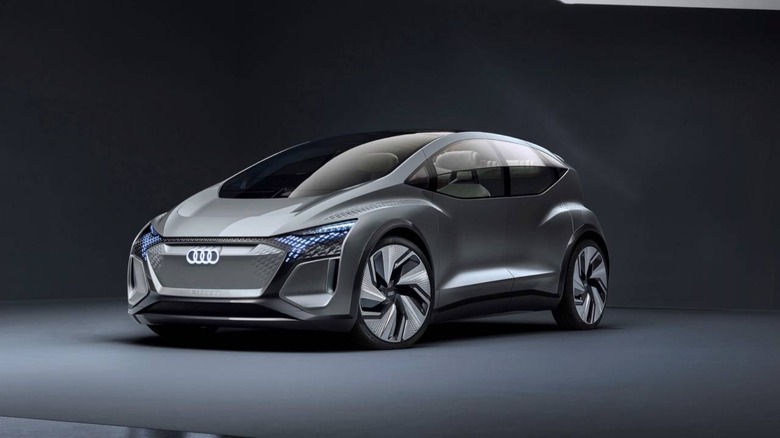 Congested city driving is something most of us would prefer to avoid, and the Audi AI:ME concept offers one vision of how we might go about that. A new Level 4 autonomous concept car developed for Auto Shanghai 2019, it's a smaller, more personal vision of how tomorrow's Audi might handle jam-packed roads and impatient passengers.
The AI:ME is clearly an Audi, but another twist on one. The Singleframe grille is the most distinctive part of the fascia, though a closer look shows there's something going on with the concept's headlamps, too. Audi sees them as providing not only illumination but communication.
For instance, different colors and patterns of light could give pedestrians and other road users indicators of how the Level 4 autonomous systems are going to react next. LED lighting has been mounted higher than usual, so as to be more readily visible to cyclists and other city occupants. Projection systems could display ad-hoc crossings and other graphics on the road.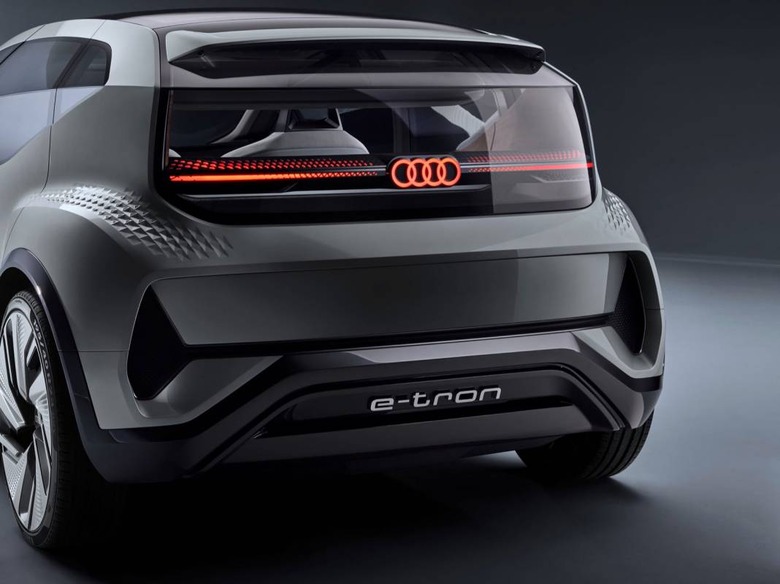 Meanwhile, AI:ME would be watching as well. If the car spotted a vehicle pulled over with its hazard lights flashing, for example, it could decide to amplify that by projecting brighter flashes itself.
Big looks, compact body
At first glance, it's difficult to get a sense of perspective with the AI:ME. It's easy to assume that it's a much larger car, though in fact it's actually a compact. At a little over 14 feet long and six wide, it's considerably shorter than an Audi A4.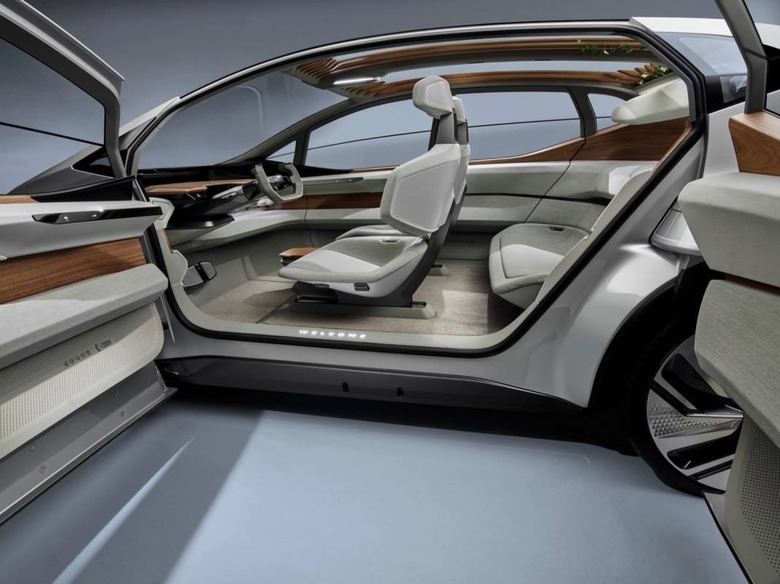 By pushing the wheels to the corners, though, and giving the AI:ME upright rear glass, the wheelbase of over nine feet is actually almost the same as that A4. By making the concept rear-wheel drive only, rather than the e-quattro we've seen of Audi's e-tron, that also minimizes the drivetrain's intrusion into the cabin.
Audi borrowed the axles, suspension components, and other parts from its compact production cars, then crafted a body from steel, aluminum, and plastics to keep the weight low. 23-inch wheels help with that skewed sense of perspective. The electric motor drives the rear wheels, delivering 125 kW or 170 horsepower.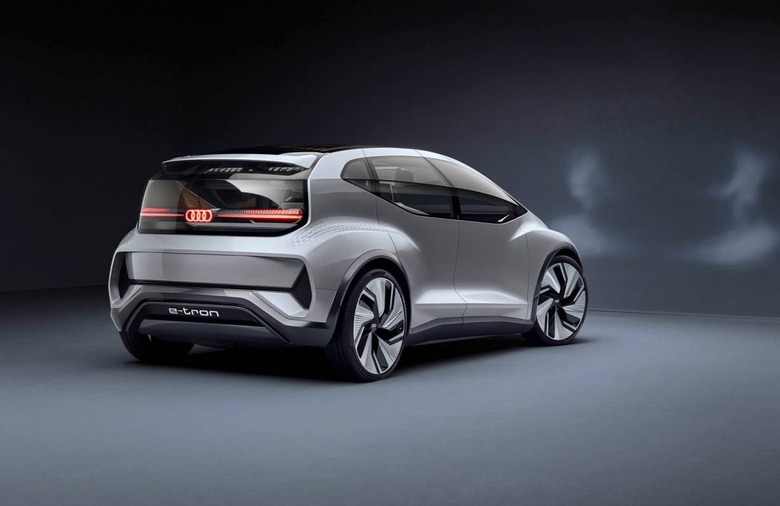 That's no huge amount, compared to some of the concept EVs we've seen recently, and neither does the AI:ME have a vast battery. 65 kWh is fairly conservative, in fact. The reason Audi sees it as being sufficient, though, is because it has a very specific intention in mind for the car.
A resolute city-dweller
The AI:ME is urban transportation. "This means that extreme acceleration values and top highway speeds are just as obsolete as high cornering speeds and ranges that are suitable for driving long distances," Audi argues. More important, the automaker counters, are efficiency in the 12-44 mph range, most likely for city use, and highly-efficient power recuperation when braking.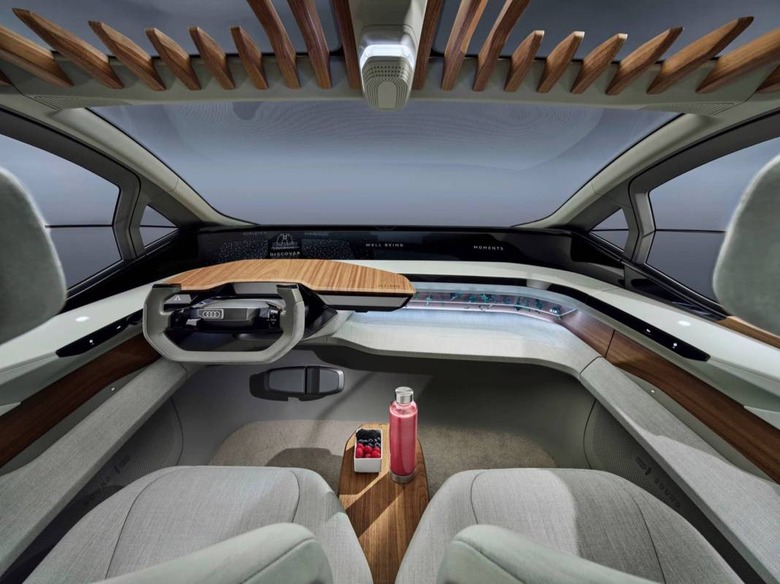 Occupants would be able to drive the AI:ME. There's a steering wheel, dashboard, and pedals, after all. However Audi clearly envisages it driving itself much of the time: then, the controls retract away.
As with other recent driverless vehicle concepts we've seen, there's a focus on the big question of what, exactly, do you do with your time when you're in the car but not actively operating it. Audi says it approached the AI:ME from an inside-out perspective, exploring the context of the cabin first and then designing the exterior around that.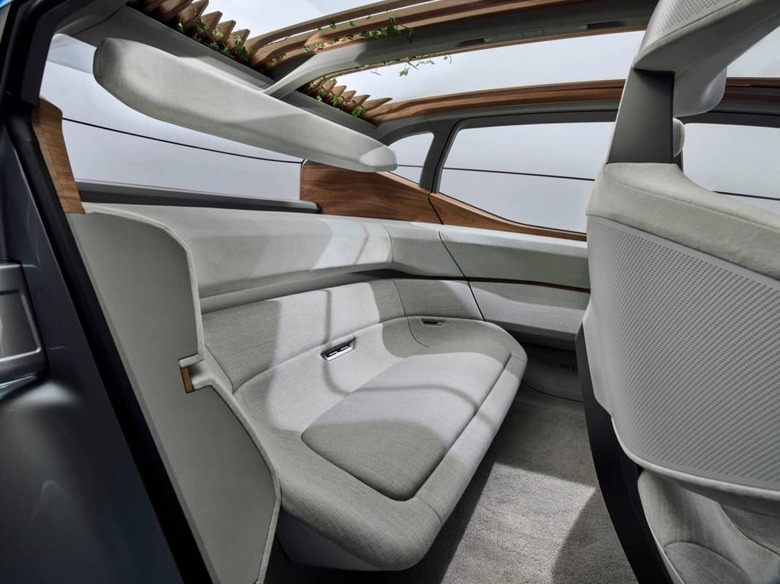 The front seats are more like lounge chairs, with retractable ottoman foot supports when the pedals aren't in use. The rear bench, which seats two, is akin to a sofa, and curves into the sides of the vehicle. Counter-hinged "suicide" doors offer a bigger point of entry (as well as looking good on an auto show stage).
Inside there's lashings of technology. Audi sees voice and eye control as being central to how passengers will interact with the car, along with touch-sensitive surfaces embedded into the interior trim. A 3D OLED monitor spans the width of the windshield: it uses eye-tracking cameras to monitor where the operator is looking, and navigate through the infotainment menus accordingly.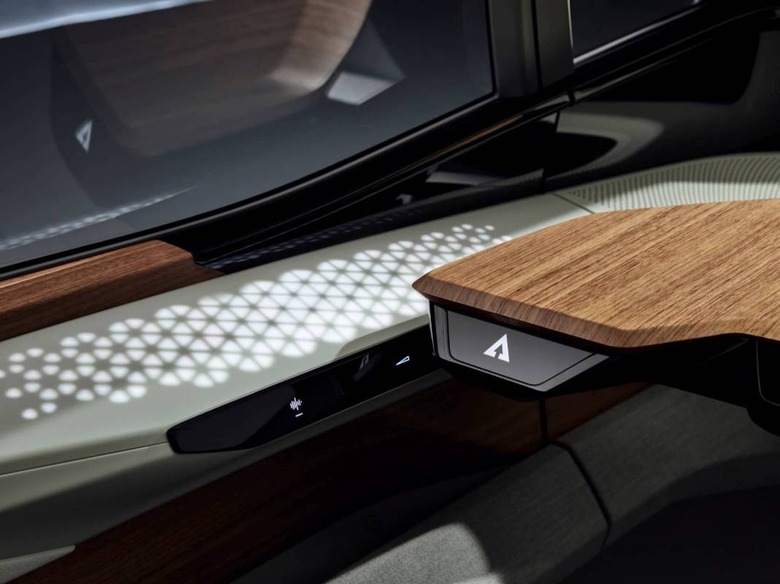 Different ways to use your time
Audi has a few ideas as to what you might want to do instead of paying attention to the world outside. There's Audi Holoride, for example, its virtual reality headset experience that maps in-VR activities to the physical movement of the vehicle. Alternatively you could rely on the active noise cancelation feature to dampen exterior noise, and either sleep or listen to music.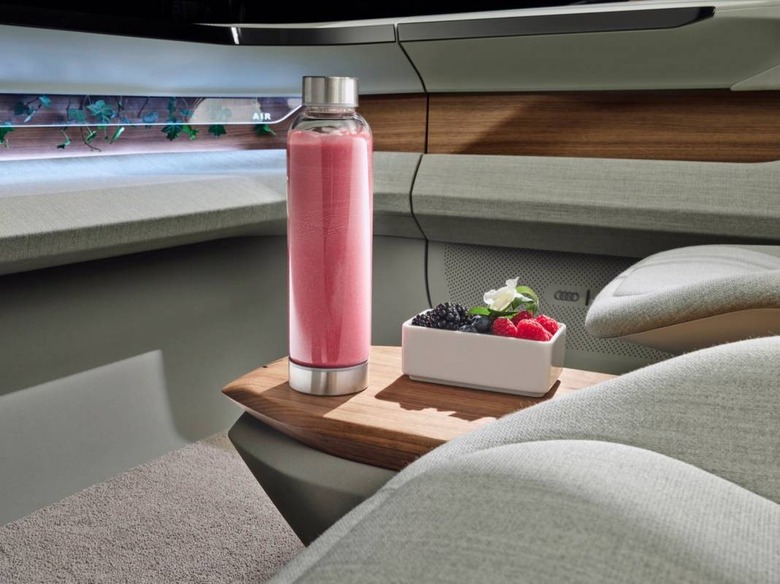 If you're a gardener, you could even give the AI:ME a good pruning. Audi has filled the wooden-slatted roof with real plants, a nod to the environmental credentials of EVs. There's recycled materials like fabrics and trim, along with wood, and composite mineral Corian. Electrochromatic windows can adjust their tint at the touch of a button.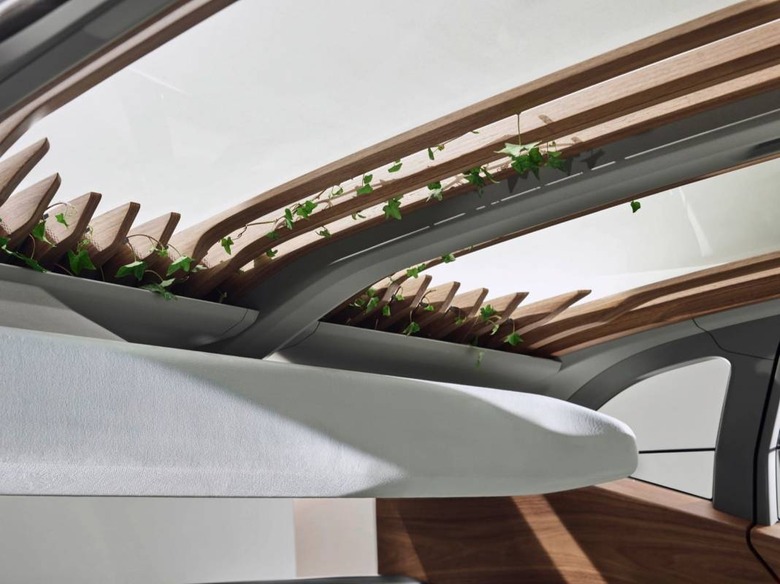 Ask, and you shall receive
Audi's developing vision of autonomy is one of access, not necessarily ownership. The AIcon and the PB 18 performance EV were each positioned as tools for a specific time and purpose, rather than necessarily being everyday vehicles. Rather than, say, leasing a single Audi, you'd instead have access to a fleet of tailored options.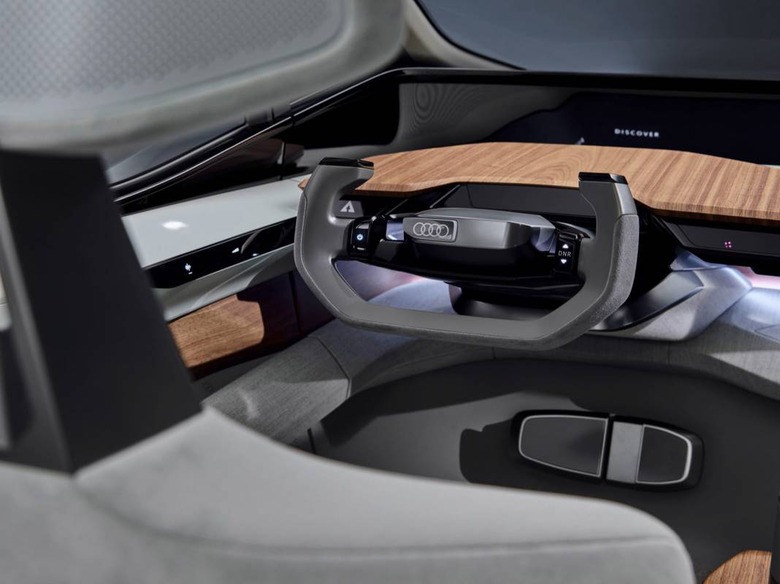 The AI:ME fits into that ecosystem. With "Audi on Demand" and the customization potential of the myAudi system, users could order the car of their choice through their phone. It would arrive where they wanted it, at the time they needed it, and come preloaded with their favorite settings, multimedia, and more. The seats would be at their preferred angle; their internet bookmarks would be ready to go.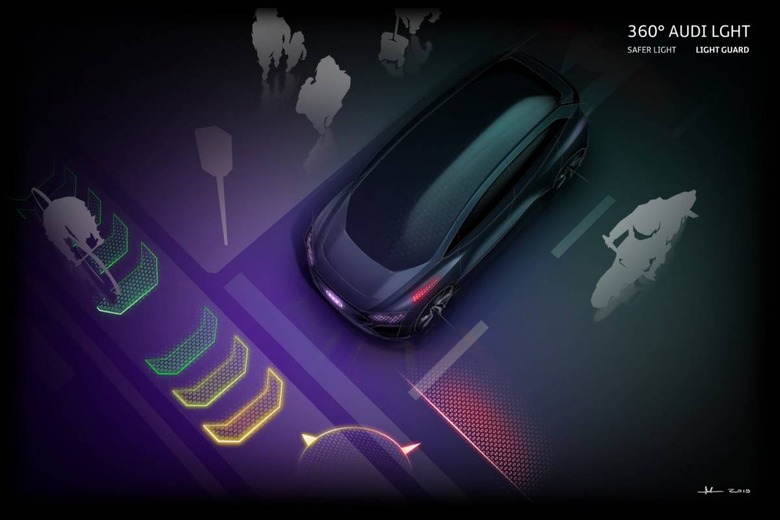 The car becomes an extension of the home, in fact. For instance, Audi suggests users could request it make a stop at their preferred restaurant or takeout spot, to pick up an order of food, and then eat it while on the move. Magnets built into the cabin could hold cups and plates in place, while the smoothness of ride allowed for by continuous car-to-car communication should help keep your dinner on the crockery and out of your lap.
For now, though, a design Audi should make use of
Level 4 autonomous driving – no matter what some might say – is still a long way from being practical for public deployment. An Audi AI:ME in fully-autonomous mode, roaming the roads and picking up on-demand passengers, isn't likely to happen any time soon. However that doesn't mean the car needs to remain a concept.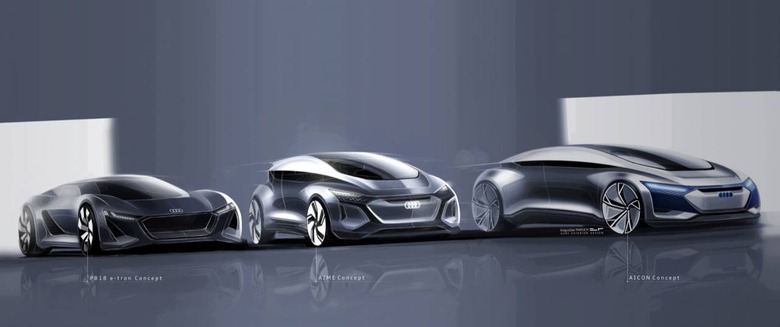 Indeed, there's a lot to like about the style of the AI:ME – and the practicality that its electrified architecture supports. The idea of maximizing interior space by sandwiching the drivetrain underneath the passenger compartment – and thus offering cabin space from the category above – is a good one, and helps further distinguish EVs from their internal combustion predecessors.
Audi's entrant in the compact electric space, in the US at least, is conspicuous by its absence. While the e-tron will soon offer a midsize electric SUV, and the Q4 e-tron is set to do similar in a smaller, crossover form, we're yet to see a truly compact Audi e-tron city car. The automaker could do worse than to look at the punchy, cab-forward aesthetic of this AI:ME concept for inspiration there.