Audi Q4 e-tron concept teases more affordable e-SUV for 2021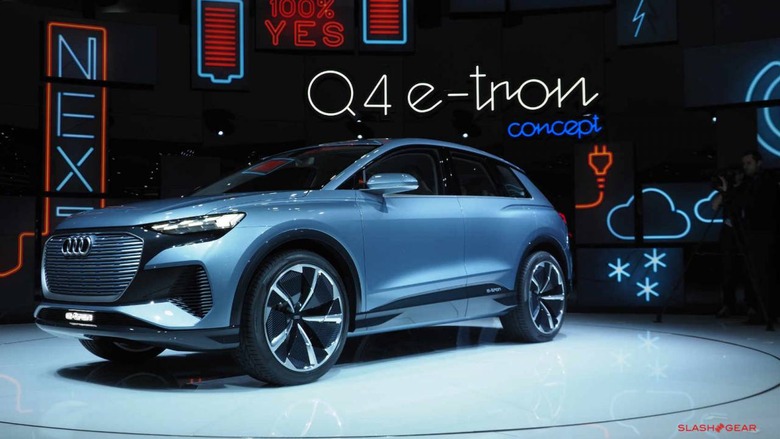 The Audi e-tron SUV may not be for everyone so, freshly unveiled today at the Geneva International Motorshow, is the all-new Audi Q4 e-tron concept. It's a compact four-door SUV, smaller than the existing e-tron, but borrowing its styling and its drivetrain tech. According to Audi's Marc Lichte, this very concept is coming to production form with very few, minor changes, in 2021.
Audi's electric car design language is shaping up nicely. The Q4 e-tron proudly wears the four rings on the Singleframe grille, flanked by the brand's new, dual signature matrix LED headlights. Their illumination extends all the way down to the front apron.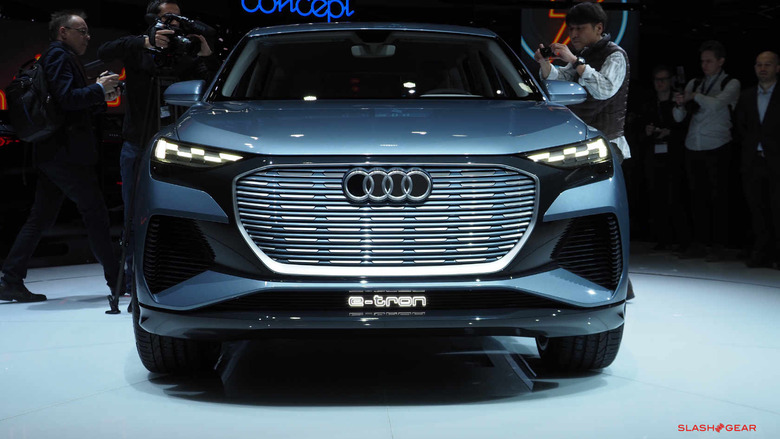 Another significant addition, unique to the Q4 e-tron, is the paint job. Dubbed "Solar Sky," it starts out with a shade of blue, but then changes hue depending on the angle of the light. It doesn't just look good, it has a practical purpose as well. Audi developed it to reflect short-wave fractions of sunlight, in order to cut down the build-up of heat. The result should be a reduction in the amount of energy needed to cool the car down, meaning less energy will be spent on the HVAC system.
Instead, it'll be used for keeping the Q4 e-tron moving. The SUV is powered by a pair of electric motors, yielding a total of 225 kW of power. Audi says it should do an estimated 450 km by European WLTP standards – approximately 280 miles, though US EPA test figures are likely to be lower – with its 82 kWh battery strategically placed between the front and rear axles. Top speed is electronically limited to 112 mph, with acceleration from 0 to 62 mph in 6.3 seconds.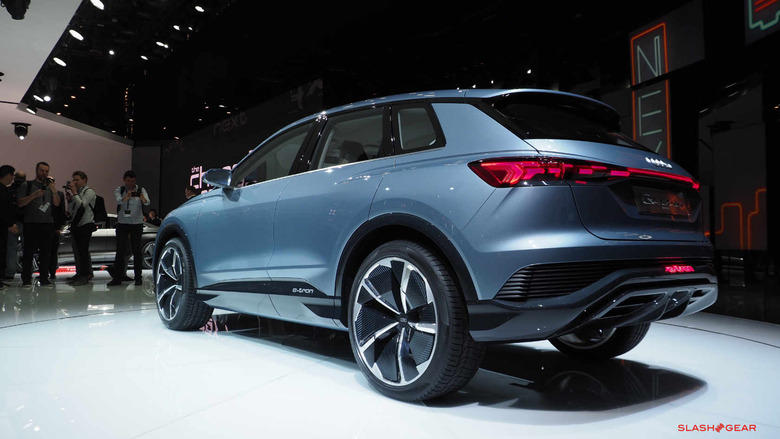 Though there's no mechanical connection between the front and rear axles, Audi's electronic quattro system can shift power front to rear depending on traction requirements. For the most part, it's rear-wheel biased, to maximize efficiency.
While that's noble and all, we're also getting addicted to the unique driving feel of electric motors. EVs are all about immediate torque, and as expected, the Q4 e-tron shouldn't disappoint with 310 NM in the rear and 150 NM in the front. The 150 kW rear motor is expected to do all the heavy lifting to keep the Q4 e-tron moving while the front motor's 75 kW kicks in for additional support when required.
Fast charging of an EV is super-important, so owners can expect to charge from 0 to 80-percent in roughly 30 minutes. Audi will have the Electrify America charging network to tap into when the production version of the Q4 e-tron launches.
Inside, Audi's virtual cockpit is included, as you'd expect. There's also a 12.3-inch central touchscreen for the MMI infotainment system. A strip of dedicated buttons for the HVAC runs beneath that. Audi is flirting with unusual materials, too, including multi-layer paint instead of chrome, frosted plexiglass trim, and various colors of microfiber where you might typically expect to find leather. How much of that will make it to production, we don't yet know.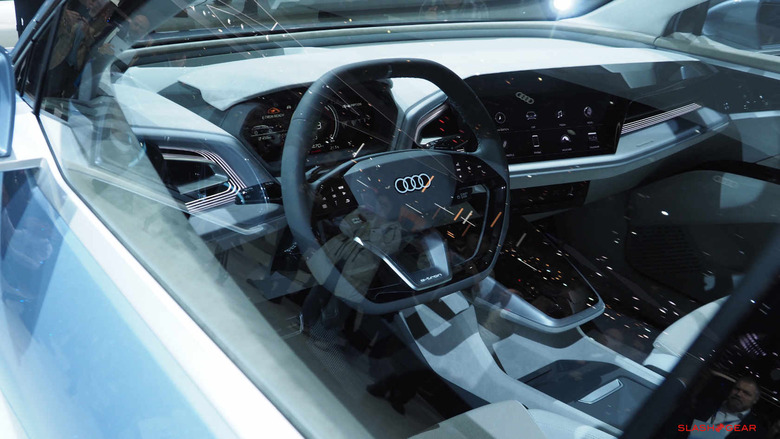 All-in-all, the Q4 e-tron is meant to be the ideal EV for city dweller seeking a more agile transporter with long range, yet sportier looking vehicle. That's an ambitious goal, and a lot will hinge on pricing. Of course, that we won't know until closer to the production Q4 e-tron's launch at the end of 2020, with deliveries expected to kick off in 2021.