AT&T LG Thrill 4G (aka Optimus 3D) and HTC HD7S with Super LCD announced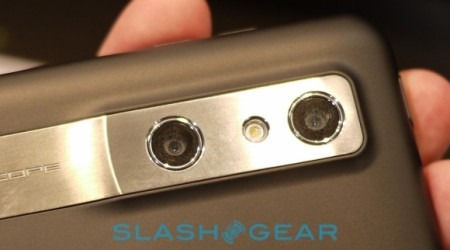 You certainly can't accuse AT&T of holding back this morning. Not only is the carrier shouting about the potential benefits of its T-Mobile acquisition but it's also got a pair of new devices: the Android 2.2 based LG Thrill 4G, complete with 4G connectivity and an autostereoscopic 3D display, and the Windows Phone 7 HTC HD7S.
The LG Thrill 4G is basically AT&T's branded version of the LG Optimus 3D, complete with a 4.3-inch glasses-free 3D display, dual 5-megapixel stereoscopic camera for shooting 3D stills and video, and a 1GHz dual-core processor. Due "in the coming months" the handset will have access to the LG 3D Space for 3D downloads, and come with 8GB of onboard storage and a pre-loaded 8GB microSD card slot. For more on the LG Optimus 3D, check out our hands-on coverage.
As for the HTC HD7S, that's AT&T's version of the HTC HD7, until now only available on T-Mobile in the US. It will be preloaded with AT&T U-verse for on-device video downloads, and have a new Super LCD display for improved usability; considering we criticized the HD7's display in our review that's a good thing. It will be available "in the coming weeks" with pricing for both tba.
Press Release:
AT&T TAKES SMARTPHONE CUSTOMERS INTO A NEW DIMENSION

Pair of 4.3-inch Smartphones For Best-in-Class Portfolio Include the LG Thrill 4G With Glasses-free 3D Experience, in Addition to the HTC HD7S, an Exciting Addition to the Windows Phone Portfolio

DALLAS, March 21, 2011 —

Key Facts

· AT&T* announced two new leading-edge smartphones, the LG Thrill 4G and the HTC HD7S, will be added to the industry's best portfolio of mobile phones.

· The LG Thrill 4G is the first U.S. smartphone that will feature a "glasses-free" 4.3-inch stereoscopic 3D display plus 4G speed capability on the nation's fastest mobile broadband network.

· Beyond its 3D screen, the LG Thrill 4G features a dual-core, 1 GHz processor, and a 5-megapixel dual-camera that allows you to shoot and share high definition videos and images in 3D.

· The HTC HD7S adds to the best portfolio of Windows Phones with its 4.3-inch, WVGA, super LCD display, 1 GHz processor and 5-megapixel camera with dual-LED flash.

LG Thrill 4G

The LG Thrill 4G will be exclusive to AT&T customers and reach AT&T stores in the coming months. Running the first dual-core, dual-channel 1 GHz processor in the U.S. and based on the Android 2.2 platform, LG Thrill 4G will be among the first to deliver a glasses-free 3D experience to U.S. customers and will allow users to shoot 3D video and 3D stills with the dual 5-megapixel stereoscopic camera. In addition to apps and games from Android Market, LG Thrill 4G will offer 3D content via the "LG 3D Space," which houses 3D games, video clips and images for quick, convenient access.

Preloaded with 16 GB of memory (8 GB onboard plus an 8 GB MicroSD card), the LG Thrill 4G will record 3D video at 720p resolution and 2D at 1080p quality. The smartphone will be able to play video back in high definition through the HDMI-out port on the device or stream content wirelessly through DLNA technology.

HTC HD7S

The HTC HD7S will be the largest screen on a Windows Phone from AT&T and will include the latest version of Windows Phone software that offers many new benefits including the ability to copy and paste text. A powerful 1 GHz processor will power the unique Windows Phone experience and any of the more than 10,000 applications available for download or purchase from Windows Marketplace. In addition, with the preloaded U-verse® Mobile application, qualifying AT&T U-verse customers can download and watch hit TV shows on their Windows Phone. Non-U-verse customers can subscribe to U-verse Mobile for $9.99 a month and choose from a broad selection of programming to watch on their Windows Phone. This new AT&T smartphone will be the first HD7 model from HTC in the U.S. with an improved super LCD high resolution display. The HTC HD7S will be available in company-owned AT&T retail locations and online at www.wireless.att.com in the coming weeks.

Quotes

"AT&T customers know that we offer the best lineup of cutting-edge smartphones in the country. Our first 3D phone plus a new, leading Windows Phone underscore our commitment to continue to offer the best," said Jeff Bradley, senior vice president, Devices, AT&T Mobility and Consumer Markets. "2011 is going to be another landmark year for us with more best-in-class devices."

AT&T Smartphone Portfolio

AT&T is the leader in smartphones and expects to widen that lead in 2011. The LG Thrill 4G is the latest proof point in AT&T's commitment to an industry-leading Android portfolio in the U.S., including 12 new Android smartphones in 2011. For further details please visit www.att.com/thrill4g. AT&T is the leader in Windows Phones, offering the only portfolio of Windows Phone 7 devices, now including the HTC HD7S with its 4.3-inch screen. For further details visit www.att.com/htchd7s.

The LG Thrill 4G is one of more than 20 4G devices AT&T plans to deliver in 2011. AT&T has completed the deployment of HSPA+ to virtually 100 percent of its mobile broadband network, which enables 4G speeds when combined with Ethernet or fiber backhaul.

4G speeds delivered by HSPA+ with enhanced backhaul. Available in limited areas. Availability increasing with ongoing backhaul deployment. Requires 4G device. Learn more at att.com/network. Actual speeds experienced will vary and depend on several factors, including device, location, capacity, facilities, and other conditions.

Important Information about 3D. Response to viewing 3D content varies by individual. Some viewers may experience discomfort (such as eye strain, eye fatigue, dizziness or nausea) while watching 3D content. If you experience any such symptoms, immediately discontinue use of the 3D function and do not resume until the symptoms have subsided. Viewing 3D content for an extended period of time may increase the likelihood of the above symptoms. Frequent breaks are recommended when using 3D functions. Parents should speak to a physician before allowing children under the age of 5 to view 3D content.

Geographic and service restrictions apply to AT&T U-verse services. Call or go to www.att.com/u-verse to see if you qualify. U-verse Mobile: Download and watch capability available for select content and requires select devices, Wi-Fi connection, and qualifying U-verse TV plan or monthly subscription fee. Standard data charges may apply.