LG Optimus 3D hands-on [Video]
LG is the first to admit its 2010 range of devices wasn't exactly the most inspiring; as the company said to us at MWC 2011 today, "we sat there and watched our rivals bring out smartphone after smartphone." For 2011 the Korean company's plans are far more ambitious, hence the LG Optimus 3D and the play for the nascent 3D smartphone market. Hands-on impressions after the cut.
At first glance it's another big, touchscreen slab, and indeed LG are keen to point out that the 4.3-inch touchscreen works just as well as a 2D display as any of its WVGA rivals. The dual-core TI OMAP4430 processor keeps Android 2.2 Froyo moving swiftly; there will be a Gingerbread update around a month after the Optimus 3D's initial May 2011 release. Of course, it's the glasses-free 3D that's the big story here, and with a tap of the dedicated 3D button on the side you boot into a 3D carousel. That has links to media, the camera, games and other apps.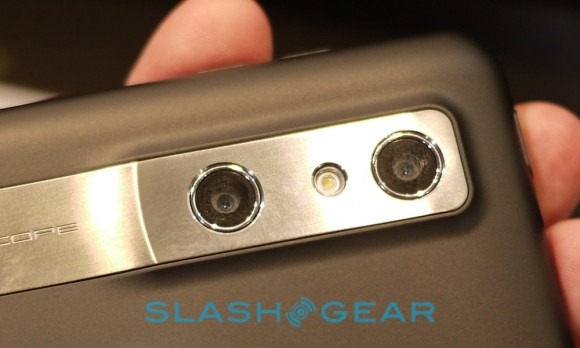 It's the camera which most people will be interested in, a pair of 5-megapixel lenses on the back which can either shoot regular video or 3D footage. Played back on the phone, the parallax barrier display does a solid job of presenting a 3D picture, though unfortunately you can't see it in our video demo. You can also squirt it to a 3D-capable HDTV, either via the HDMI output or wirelessly using DLNA if your set supports it.
Three games, meanwhile, are preloaded, and they also show off the 3D effect reasonably well. You can also play those on a big screen via the HDMI or DLNA; in 3D, too, if your set supports it. The dual-core processor keeps things moving along slickly after a somewhat prolonged boot time.
[vms 7998acd6a5a5254ab2d7]
The question of 3D media remains, however. You can shoot your own videos and photos, but third-party content is in short supply; it's also going to be tricky finding people to share it with, unless you have friends who also use the Optimus 3D. Of course, as LG says, five years ago the company put a touchscreen on a cellphone and people didn't get it; now it's reasonably rare to find a non-touchscreen device. It's hoping that the glasses-free display technology will similarly catch on, spreading throughout the price range and meaning that there's more chance your contacts will be able to see the content.
We'll save our final impressions for the production models – the software on these prototype demo units was relatively buggy, unsurprising given there are still a few months before the Optimus 3D is expected to go on sale. Still, as a differentiator, 3D certainly will help the LG stand out in store displays, and given the number of touchscreen slabs out there, that can't be a bad thing.