AT&T: We'd use T-Mo AWS spectrum for LTE plus double some 3G coverage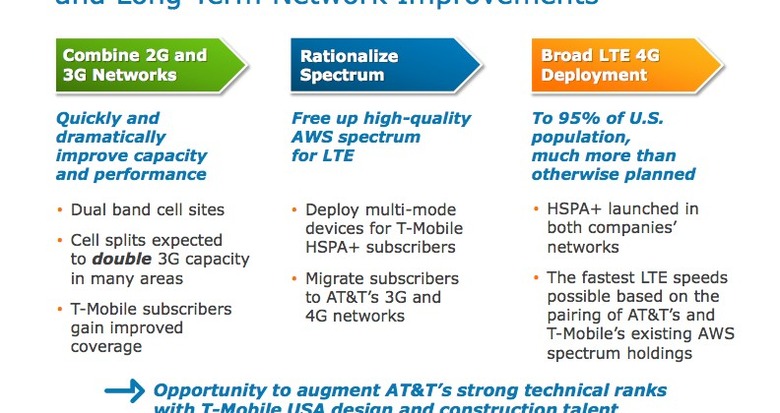 AT&T is doing its utmost this morning to convince investors, regulators and the general public that its proposed acquisition of T-Mobile USA is more than just a good idea for the carrier's shareholders. In the AT&T presentation [pdf link; see gallery after the cut], the carrier promises that AT&T and T-Mobile customers will see benefits within a year of the deal closing; that will include freeing up T-Mobile's 1700MHz AWS spectrum for AT&T to use for LTE roll-out.
That, it's suggested, would mean 95-percent of the US population would be able to get 4G LTE, along with benefits in 3G/4G coverage both in rural and urban areas. By combining the dual-band cell sites, AT&T reckons it can double 3G capacity in many areas, boosting coverage for subscribers on both networks, with Chicago, San Francisco and New York highlighted as particularly benefiting.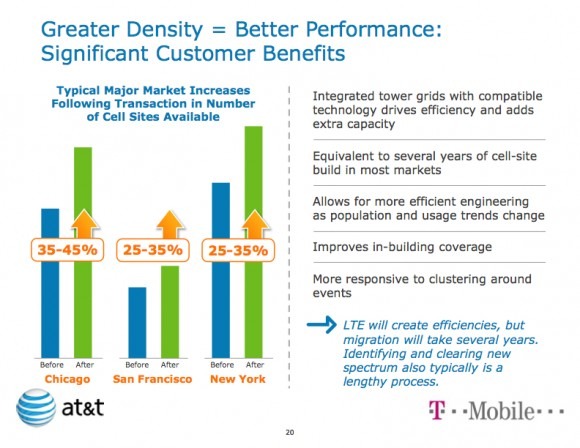 As for complaints from rivals like Sprint that the acquisition would negatively impact competition, AT&T denies that would be the case. In fact, it's claimed, US wireless prices have historically fallen when carriers have combined their efforts; AT&T flags up the Sprint/Nextel and Verizon/Alltel deals as evidence, in fact.