AT&T HTC One X benchmarked with amazing dual-core results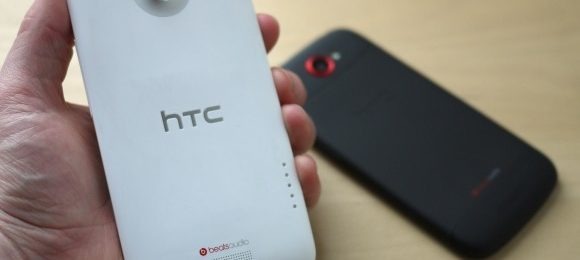 Today we're getting the opportunity to take a relatively early look at the AT&T version of the HTC One X with Quadrant benchmark results. With the release of the HTC One X, HTC opted for the NVIDIA Tegra 3 quad-core processor internationally and the Qualcomm Snapdragon S4 dual-core processor here for AT&T in the USA. This situation provides the perfect opportunity to compare the two next-generation System on Chip architectures from two of the biggest names in mobile processing: Qualcomm and NVIDIA. As you'll see here, Qualcomm may be bringing more of a battle than anyone may have expected from less than four cores.
The reason these results are surprising is how comparable they are to the results of the NIVIDA processor which has twice the amount of CPU cores in it. Qualcomm's S4 processor has two CPU cores while NVIDIA's Tegra 3 has four main CPU cores with an extra CPU core for low-power operations (this setup dubbed 4-PLUS-1 technology). Have a peek at the video of the Quadrant Standard benchmark being run here on the Qualcomm-toting AT&T HTC One X first:
The results this fellow (from iGear360 YouTube Channel) finds are as follows:
Total: 4912, CPU: 8521, Mem: 7266, I/O: 5527, 2D: 1042, 3D: 2196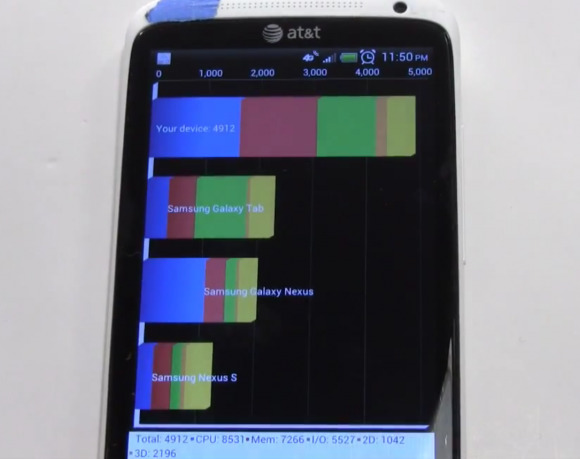 We found the following for the international Tegra-toting HTC One X:
Total: 4217, CPU: 11269, Mem: 2623, I/O: 3829, 2D: 943, 3D: 2420
Compare this then to the HTC One S, a device with a smaller display and the same S4 processor from Qualcomm:
Total: 5190, CPU: 8574, Mem: 7629, I/O: 6472, 2D: 1000, 3D: 2276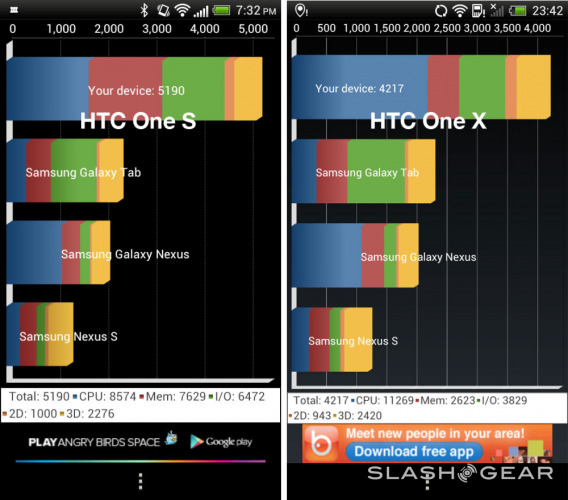 Now if only we could also have the HTC One S with a Tegra 3 in it as well! What we're seeing here is the Tegra 3 out-perform the S4 by a significant amount in the CPU department. On the other hand, compared to the rest of the Android world, both processors seem to clobber the competition by a relatively similar amount.
That said, if you do plan on purchasing an HTC One device here in the United States directly from a USA-based carrier, you'll only have the HTC One X if you're on AT&T and the HTC One S if you're on T-Mobile. So the choices may be made for you already! No word yet from the other carriers what they'll be working with from this line of HTC hero devices!