AT&T GALAXY S 4 16GB pricing updated: $199 on-contract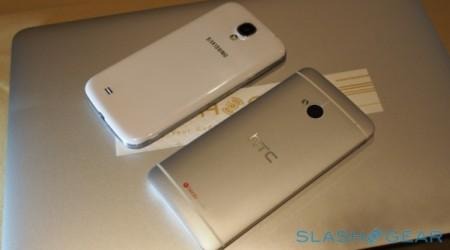 If you were freaking out over the fact that the HTC One would be cheaper than the Samsung GALAXY S 4 on AT&T, freak no more! The company has just updated their listing to be clearer than before – if you want the 32GB version of the GALAXY S 4, you will indeed be paying $249.99. If you want the 16GB version, you'll be tossing down just $199.99 USD instead.
When you're all about the HTC One with AT&T, both it and the GALAXY S 4 being 4G LTE compatible, you'll be paying $199.99 for the 16GB iteration as well. At the moment it would appear that the HTC One will be coming in a 64GB edition to AT&T in the USA and this carrier will be the only carrier inside the USA to bring such a size. If you want a 64GB version of the GALAXY S 4, you may have to look elsewhere.
That said, the GALAXY S 4 does come with a microSD card slot that'll allow you to expand your internal storage space by 64GB – the HTC One cannot claim the same at the moment. Of course if you want to check out the Chinese edition of the HTC One, you'll be getting a microSD card slot where you can jam all sorts of extra storage. But then again and again, you wont be working with that device on any USA radio bands!
See our HTC One Review as well as our Samsung GALAXY S 4 hands-on experience for more information on these two titans! And don't forget our HTC One vs GALAXY S 4 post as well!
Have a peek at our timeline below of recent AT&T posts so you know what you're up against when you're switching from the device you're working with now. The big blue carrier will have essentially every major smartphone from here until the end of time, so you'll have choices, but you'll want to know what you're getting into!
[via AT&T]