AT&T Galaxy Note 8.0 hits the multi-device Samsung bundle June 21st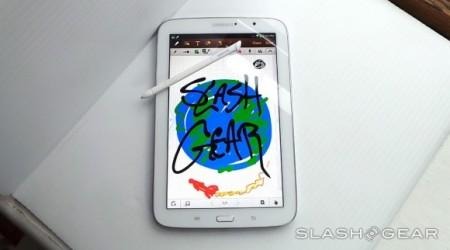 This week the folks at AT&T have revealed the release information surrounding the Samsung Galaxy Note 8.0 along with pricing for the machine on its own. This device mirrors the capabilities of the Samsung Galaxy Note 8.0 Wi-fi edition, here coming with 4G LTE connectivity from the big blue network in the USA. Bundles have been ushered in with this release also, attaching it to the Samsung Galaxy S 4 and the Samsung Galaxy S 4 Active as well as the Samsung Galaxy Note II.
When this tablet was initially released, it was announced that it'd have phone call abilities in its 3G international iteration – for those of you wondering: that holds true today, and this 4G LTE version will not be able to work with AT&T's voice network – you can still hold it up to your head and pretend, if you want!
The Samsung Galaxy Note 8.0 has been announced to be costing a cool $399.99 attached to a two-year contract with AT&T, available starting on June 21st. This device will also be available in multi-device bundles for $199.99, also attached to a 2-year contract. These bundles have the Galaxy Note 8.0 sold with the Samsung Galaxy S 4, Galaxy S 4 Active, or Galaxy Note II, each of them with their own unique pricing attached.
This iteration of the Samsung Galaxy Note 8.0 comes with AT&T Locker attached to a free 50GB of space in the cloud – normally that'd cost the user a pretty penny. For all other bits and pieces, we've got a full Samsung Galaxy Note 8.0 Review prepared for you to see what this machine is all about.
Having been introduced at this year's Mobile World Congress in Barcelona, the Samsung Galaxy Note 8.0 takes on the family aesthetics of the 2013 line of Galaxy S 4 devices, working with an 8-inch display and an S-Pen device built-in for stylus abilities.