ASUS Transformer 2 tablet benchmarks leak with Tegra 3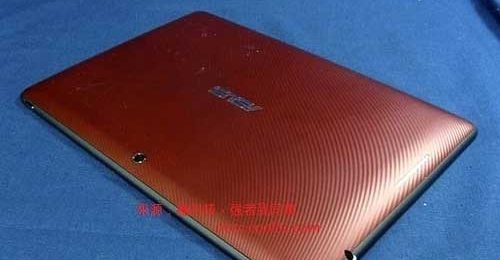 This week we're seeing once more the next generation of ASUS Transformer tablet complete with Android and an NVIDIA Tegra 3 quad-core processor inside. This device today has showed up in some benchmark results as its code-name Transformer TF300T. This coincides with the code for the upgrade to the Transformer Prime, that being the Transformer TF700T which we got a glimpse of earlier this year at CES 2012 – now we're looking at a MWC 2012 release for this mystery!
What this next generation device represents almost certainly is a replacement for the current generation " target="_blank">ASUS Eee Pad Transformer – the original. When the Transformer Prime was announced, ASUS was very clear that its launch did not mean the end of the original Transformer, just that there would be two tiers of tablets (at least two tiers as we would later find out) with the original being priced for everyone and the Prime being priced for the premium crowd. With the original Transformer here getting an upgrade to Tegra 3 quad-core processor for its innards instead of its current Tegra 2 dual-core processor, we're looking at quite the value proposition indeed!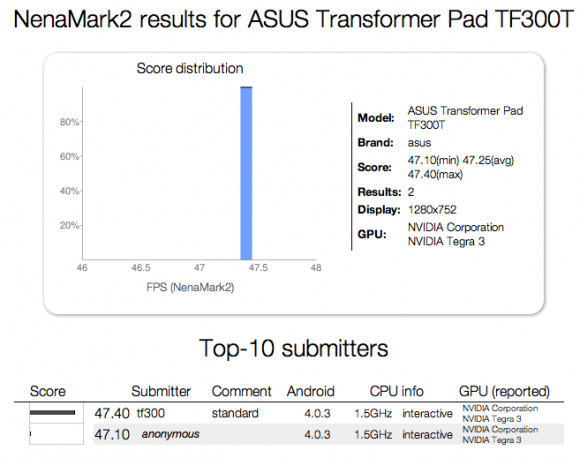 Given the NenaMark2 benchmark results we're seeing here, we can see that the device does indeed have a quad-core NVIDIA Tegra 3 processor, a display of a massive 1280 x 752, and Android 4.0.3 Ice Cream Sandwich. This puts the tablet right in line between the Transformer Prime and its much smaller cousin the ASUS MeMO tablet also announced at CES 2012 – it having similar specifications with a 7-inch display.
Will we see this device showing up at Mobile World Congress 2012 aside the ASUS Padfone and the further developed MeMO tablet? We sure hope so! Stick with us all through the end of the month as we head to Spain and see!
[via NenaMark]