ASUS sends out invites for March 18 ZenFone 2 US launch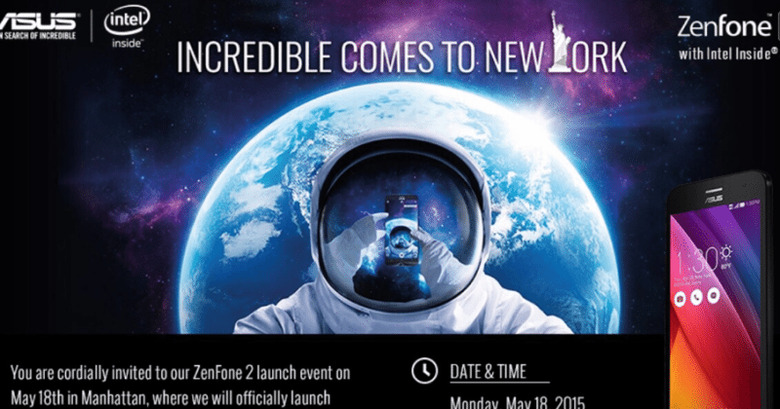 Time to suit up, says ASUS, as it prepares to bring its flagship device to US shores. It has just sent out official invites to its ZenFone 2 launch, which will take place at 1:00 pm on th 18th of May at Manhattan. Being one of the few big smartphones that ASUS is bringing to the US, consider our curiosities piqued. But more than that, our fingers are also crossed that ASUS will actually bring the variant of ZenFone 2 that is one of the more interesting smartphones this half of the year.
The ZenFone 2 isn't just a single device but refers to a whole set of varying models, covering slightly different hardware configurations from low to high end variants. At the most basic, the ASUS ZenFone 2 is decent at best, with a quad-core Intel Atom Z3560, 2 GB of RAM, and a 5.5-inch 1920x1080 screen. The cameras on this thing are 13 and 5 megapixels, back and front respectively. Quite on par with a flagship, aside from the 2 GB RAM, which feels almost too small for comfort.
What we're really gunning for, however, is the particular model ZE551ML, and in particular the one that carries a slightly faster Intel Atom Z3580 and a whopping 4 GB of RAM, one of the highest currently in smartphones. Screen size is still the same, which is quite OK because it means that the hardware will be less taxed over pushing pixels. The cameras, however, might leave some more interested mobile photographers wanting for more.
More RAM means more space for apps to move in, which can be put to good use when it comes to heavy multitasking, as this video demo proves. ASUS has been silent on which exact models it will be bringing to the US, though it has launched the 4 GB model in Taiwan already. Hopefully it will consider American customers equally worthy of such a powerful beast.