ASUS ZenFone 2 launches in Taiwan, 4GB RAM model included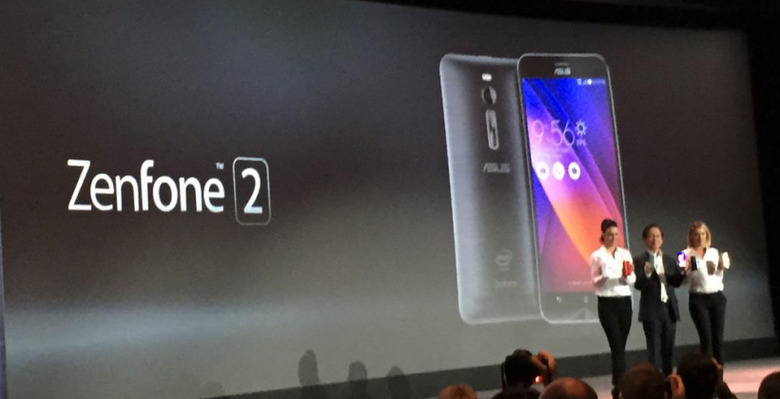 At CES 2015 last January, ASUS made some rather interesting reveals when it came to its smartphone line. It had the ZenFone Zoom, for example, which took a page from Samsung's similarly named line of smartphone cameras. The other highlight, however, was the new ZenFone 2 flagship. In usual ASUS fashion, it married somewhat decent specs with an Intel Atom CPU rarely found inside smartphones. But perhaps more interesting is the 4 GB RAM inside, the highest in any phone. Now that is coming to Taiwan, but it isn't alone.
Just to add an element of confusion, ASUS is launching not one, not two, not even three, but four ZenFone 2 smartphones, all with different prices, naturally. At the lowest rung of the ladder is a 5.0-inch ZE500CL, which has only 2 GB of RAM and 16 GB of storage, priced at 4,990 NTD ($158). A bit higher is the 5.5-inch ZE550ML with exactly the same amount of memory but with a larger screen, it has a higher 5,990 NTD ($190) price tag. Next up is the ZE551ML which actually comes in two variants, both sporting 5.5-inch screens. One has 2 GB of RAM with 32 GB of storage, at 6,990 NTD ($222). The most interesting, however, is the model that has almost the exact same specs except for that 4 GB of RAM, which bumps up the price tag to 8,990 NTD ($285).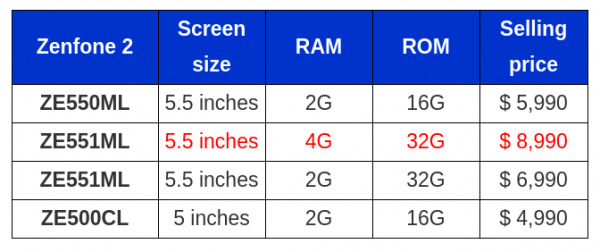 That 4 GB RAM is interesting because it is one of if not the first to offer that amount on smartphones, taking full advantage of the 64-bit Intel processor inside. Even other 64-bit bearing smartphones, like the Samsung Galaxy S6, still stick to the tried and tested 3 GB. The ASUS ZenFone 2 also boasts of a 13 megapixel rear camera which, with ASUS' own PixelMaster tech, claims to automatically brighten up low-light shots up to four times. All that for only $285, which isn't bad at all.
ASUS is also unveling a host of accessories for the ZenFone 2. These include colorful ASUS ZenPower power banks in a variety of battery sizes, ranging from 5,300 mAh all the way up to a gigantic 25,600 mAh. There's also a View Flip Cover with a circular hole, ala LG's Quick Circle case. And last, but definitely not the least, there are two kinds of camera flash. One is a Xenon Flash attachment that connects via microUSB and straps on the back of the ZenFone 2 to deliver 400 times brighter light than an LED flash. But there's also a dual LED flash attachment called LolliFlash, because it looks like a lollipop, that attaches instead to the headphone jack of the phone. Sadly, unlike Lenovo's VIBE Xtension Selfie Flash, there is no element of automation here and you have to manually turn the thing on or off when taking pictures.