Lenovo VIBE Xtension Selfie Flash brightens up your smile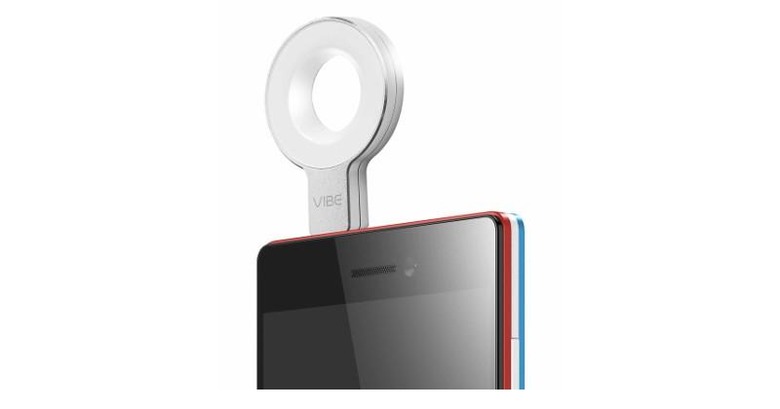 Even with the ever increasing megapixel counts of front-facing cameras, selfies are still hard to perfect, especially when lighting is concerned. To that end, Lenovo's latest accessory here at CES 2015 has you covered. The VIBE Xtension Selfie Flash gives you all the lighting support you will ever need for that perfect selfie or wefie, without overburdening the smartphone itself with it's own LED flash, which might be unnecessary most of the time except for those selfies. It'll be there in your pocket or bag when you need it and out of your way when you don't.
Almost the size of a key fob, the VIBE Xtension Selfie Flash can be stowed away conveniently when not in use. Somewhat amusingly, it attaches to the audio jack of a smartphone instead of the usual microUSB port, but that design isn't based on a whim. Most auido jacks are located on top of smartphones, so the flash pretty much stays on top of the device just like a traditional camera flash. It also frees up the microUSB port for more important uses, like maybe an emergency battery charger.
The flash portion of the accessory itself is made up of a ring of 8 LEDs. This creates a diffused light effect that covers a 1 meter radius range. On a single charge, the flash can illuminate up to a hundred selfies, which is probably a lot more than even the most selfie-crazed person will take in a day. The flash also features 100 percent synchronization with the smartphone's camera shutter so that you're sure to have the best lighting available when you take that shot.
The Lenovo VIBE Xtension Selfie Flash will be available starting April this year for a price of $29. Although designed with the new VIBE X2 Pro in mind, the accessory is compatible with any Android smartphone running a compatible app.