ASUS Eee Slate EP121 hands-on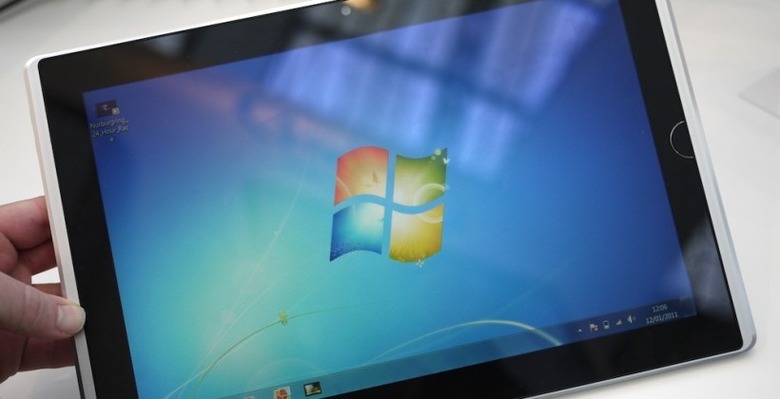 The Eee Slate EP121, ASUS tells us, is the world's fastest tablet, packing an Intel Core i5 processor. It's also going to be expensive among the latest breed of consumer tablets, kicking off at $999 when it arrives later this month. We grabbed some last-minute hands-on time with the 12.1-inch slate to see if it's everything ASUS promise.
Compared to the similarly keyboard-free Eee Pad Transform, the EP121 is a fair amount thicker. That's because it has to fit in a lot more active cooling – three edges have slots for vents and speakers – since the Core i5 processor runs hotter than NVIDIA's Tegra 2 on the new Eee Pad range. It's still surprisingly light, although the sheer width of it means holding with one hand and tapping with the other can get uncomfortable after a while. Better to cradle the Eee Slate in the crook of your arm instead, or use the bundled folio case which flips open to form a stand.
Inside there's WiFi b/g/n, Bluetooth and a 64GB SSD, along with HDMI and USB ports, but you also get a dual-mode touchscreen. That can respond to finger-input – including multitouch pinch-gestures for zooming – as well as an active stylus using a Wacom digitizer. It's a considerable step up from capacitive styluses, and while Steve Jobs may say any tablet with a pen has failed, the Wacom experience is considerably better for art, handwriting recognition (which, in Windows 7, has become quite polished and accurate) and more precise control. It also supports pressure recognition, which is handy for the pre-loaded ArtRage graphics app but will also work in more serious design software.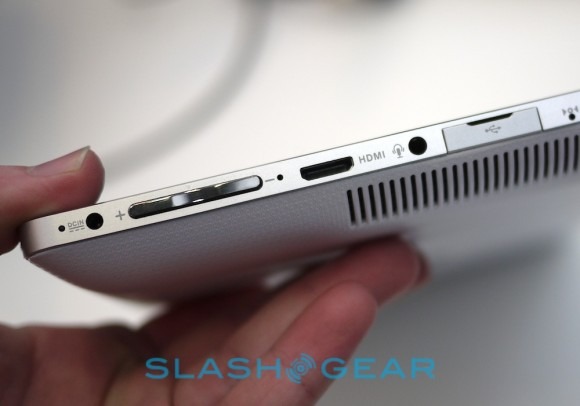 In case handwriting recognition isn't cutting it for you, ASUS will also throw in a Bluetooth keyboard which, we discovered, happens to be Microsoft's well-esteemed Bluetooth Mobile Keyboard 6000. It's compact, but if you're carrying the EP121 in its case, the keyboard and – optionally – a wireless mouse then it's arguably easier to bring a regular laptop (which are available with dual-mode touchscreens as well). Battery life is "up to 8hrs" but the ASUS reps admitted 4-5hrs was more likely if the Core i5 CPU is used in earnest.
Windows 7 remains only partially finger-friendly, however, and there's no custom software or reskinning done by ASUS to address that. The $999 price tag will be the Eee Slate EP121's biggest hurdle when it goes on sale imminently, and ASUS will have to do more than bill it as the most powerful tablet to put that price tag into context.