ASUS Eee Pad Slider & Transform hands-on [Video]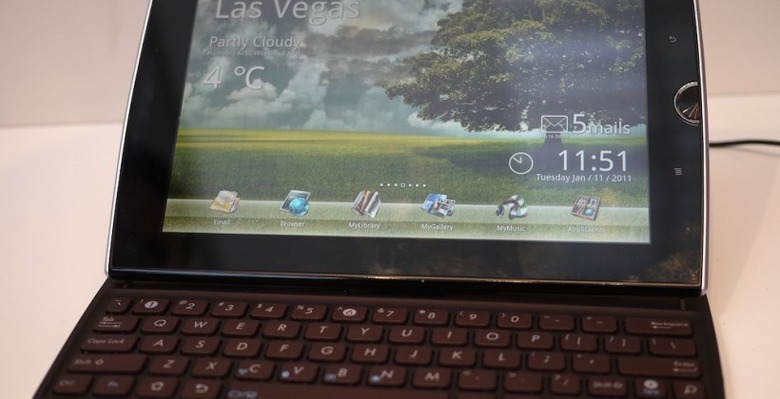 ASUS wasn't taking any chances with its tablet options at CES 2011: the company had two full-size Android models, the Eee Pad Slider and the Eee Pad Transform, to cater to those wanting to do content-creation on their tablets rather than just consumption. We grabbed some last-minute hands-on time with the pair ahead of their return to Taipei; check out our impressions after the cut.
Both pre-production prototypes were looking reasonably well-used from their time as demonstrators, and the Eee Pad Transform had expired altogether. The software experience for both will be the same, however: Android Honeycomb – though Froyo 2.2 was loaded on the demo units – running on NVIDIA's dual-core Tegra 2 chipset. 16GB, 32GB and 64GB models will be on offer, along with 3G variants in Q3 2011, and each has a front-facing 1.2-megapixel webcam for video calls and stills, and a rear-facing 5-megapixel camera for more general photography and video capture. Bizarrely there didn't appear to be a way to flick over to the rear camera in the Android photo app on the prototype.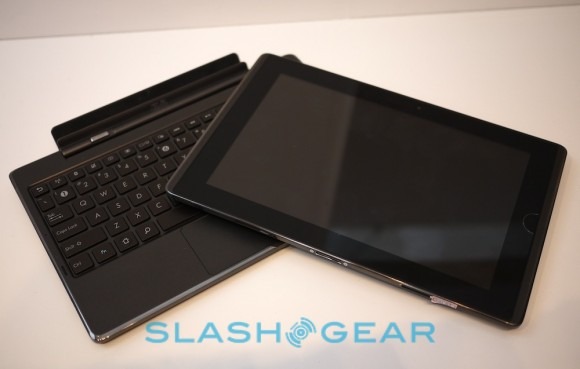 Of the two, ASUS expects the Transform to be the more popular. It has a 10.1-inch capacitive touchscreen in a slimline slate chassis, but then can dock into a detachable netbook-style keyboard for easier text-entry. Rather than being just a dumb 'board, however, the dock section also holds a second battery: ASUS reckons 16hrs of runtime when the two are combined, and while we don't expect real-world use to reach that, the Eee Pad Transform should at least last a whole work-day. Key feel is on a par with a netbook, unsurprisingly, and there's room for a touchpad underneath; we're most reminded of the old HP tc1100, though the 'board unfortunately lacks a swivel hinge so that you can leave the key section attached but still use the touchscreen in slate orientation.
ASUS Eee Pad Slider hands-on:
[vms d5a7f0bf77a1987bcd00]
The Eee Pad Slider, meanwhile, feels a little more like a case of "because we could" from ASUS' engineers, though that's not to say it isn't an impressive little netbook alternative. Closed, it's on the chunky side in terms of thickness, though not too heavy, and open the keyboard is the same size as a regular netbook. No room for a trackpad, however (and ASUS didn't bother with a trackpoint nub either), and you can only have the screen set at the default angle. The prototype was feeling quite precarious in its hinge action – the ASUS reps said they'd already broken another unit – but felt reasonably sturdy once locked open. Expect this aspect to undergo significant tweaking before launch, with a new catch mechanism in the works.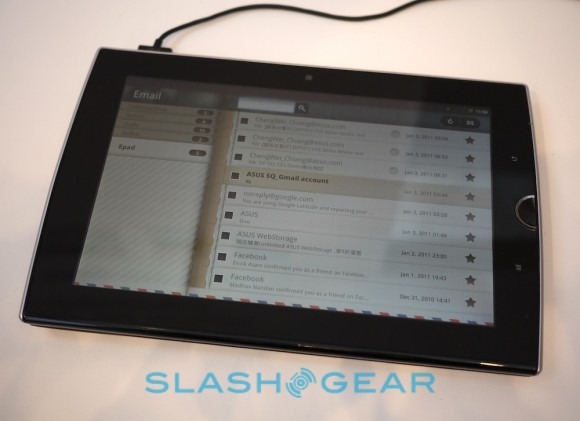 Software is still very much undecided, according to ASUS, and we couldn't draw them on what would make the Eee Pad Transform and Eee Pad Slider content-creators rather than just more Android tablets. The intention is that they'll be ready for use out of the box, rather than requiring further app purchases for things like Office document creation, but they wouldn't say exactly what software would be preloaded. Still, there'll be Android Market access in case the default options aren't to your liking.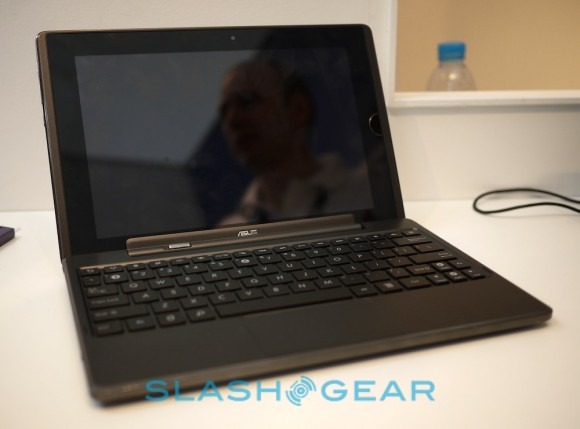 A custom email app looks reasonable, but the system as a whole felt unoptimized; screen rotations could be sluggish, as was touchscreen responsiveness at times, and the accelerometer had trouble figuring which way up the slate was being held. The display itself was bright and clear, though highly reflective, something that could prove frustrating with the fixed angle on the Eee Pad Slider.
Pricing will likely be the deciding factor, and the two tablets suffer a little when compared to ASUS' Eee PC netbook range. The Eee Pad Transform will kick off from $399 when it lands in April, though you'll have to pay extra for the keyboard section; the Eee Pad Slider starts at $499 and goes on sale a month later.