ASUS Eee PC 1005HA Seashell: $390 and 10.5hrs battery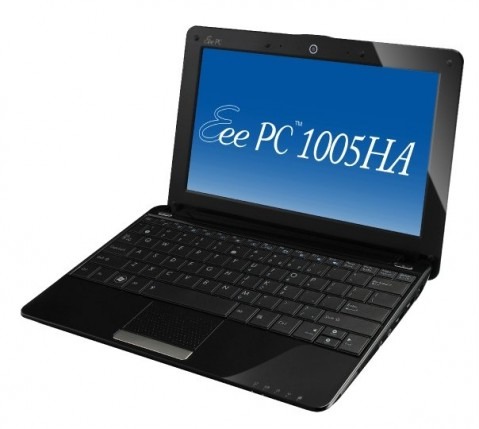 It comes as no great surprise, seeing as we saw the product page back in May, comparison shots with the 1008HA a few days after and an unboxing video a few days ago, but ASUS have now officially announced the Eee PC 1005HA Seashell.  Available to preorder from today, the 1005HA Seashell has the usual Intel Atom processor – in this case the 1.66GHz N280 – paired with 1GB of RAM, but it also offers what ASUS are calling the longest-lasting battery life for one of their netbooks to-date: up to 10.5hrs, in fact.
Now they of course go on to temper that with "subject to system configuration and prevailing usage" but if the 1005HA can manage even two thirds of that time then it's still doing pretty well.  There's also a 160GB hard-drive, WiFi b/g/n and Bluetooth 2.1+EDR, together with a 1.3-megapixel webcam, digital array microphone and 10.1-inch 1024 x 600 LED-backlit display. 

Ports include a mini-VGA connector (we're assuming you get a little adapter, as with the 1008HA), two USB 2.0, ethernet, audio in/out and a memory card reader (MMC/SD/SDHC).  The 1005HA is also the first Eee PC to get ASUS' Eee Docking software, which is basically a shortcut bar to the company's various utilities, online content and services.
The ASUS Eee PC 1005HA Seashell is priced at $389.99, and available to preorder in blue and black.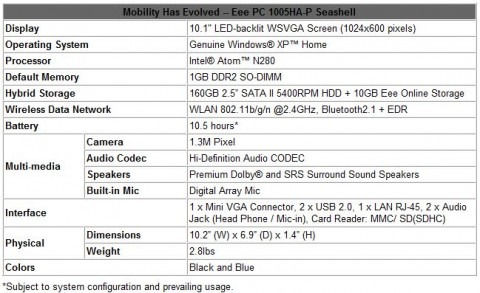 Press Release:
ASUS Announces the Slim and Stylish Eee PC 1005HA Seashell

with Over 10 Hours of Battery Life

– The longest-lasting Eee PC ever is now available for pre-order –

FREMONT, CALIFORNIA (June 23rd, 2009) – ASUS, a global leader in mobile innovation, today announces the availability of the long-lasting Eee PC 1005HA Seashell in North America. The new model is the first Eee PC to offer over 10 hours of battery life for true all-day computing. The 1005HA, which is the successor to the award-winning Eee PC 1000HE, also boasts all-new Eee Docking software in addition to an elegant design inspired by the graceful curves of a seashell, making it attractive, fun to use, and highly portable.

All-Day Computing

The 1005HA is the most energy-efficient Eee PC yet, thanks to the ASUS-engineered Super Hybrid Engine (SHE), LED-backlit display and Intel Atom processor. These technologies combine to allow the 10005HA to run all day long, lasting up to 10.5 hours on a single charge.* The 1005HA also features a user-replaceable battery and an upgradeable RAM slot.

Extra-large Keyboard and Multi-touch Trackpad

The 1005HA employs a large 92% keyboard with full-size shift keys for an extremely comfortable typing experience. The large keyboard is complimented by extra-wide palm rests and a seam-less touchpad with a dimpled surface that supports multi-touch gestures.

All-New Eee Docking Software

The 1005HA is the first Eee PC to offer ASUS' new Eee Docking software, which provides easy access to utilities, software and digital content. It consists of the following: Eee Vibe, Sharing, Xperience and Tools, and all of these suites are easily accessed as the software "docks" to the top of the screen and is semi-hidden when not in use.

Pricing and Availability

The ASUS Eee PC 1005HA Seashell is available immediately for pre-order. Please go to http://promos.asus.com/US/eeepc1005/preorder.html for more information and a list of participating launch partners in North America. More information on the pre-order promotion can also be found through the ASUS Facebook Group: http://www.facebook.com/pages/ASUS-Official-Page/115494032177. The introductory MSRP of the Eee PC 1005HA-P Seashell is $389.99 USD.