ASUS Eee PC 1005HA Size-Comparison With 1008HA Seashell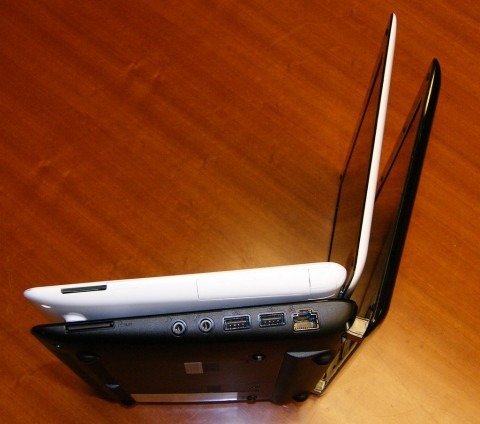 Cover the children's eyes, it's a pair of Eee PC's getting close and snuggly.  In actual fact, this is the ASUS Eee PC 1008HA Seashell – in white – and the Eee PC 1005HA – in black – showing that a removable battery does not a porker make.  NetbookNews grabbed some comparison shots of the two netbooks, basically identical machines aside from a few millimeters thickness.
More comparison shots after the cut
The 1008HA Seashell grabbed headlines thanks to its skinny profile: less than one inch thick, despite packing the usual netbook ports and Intel Atom N280 processor.  ASUS achieved all that by following Apple and making the rechargeable battery non-user-removable, only to follow up the 1008HA with the 1005HA series.  Slightly thicker, at 25.9 to 36.5mm, they come with a choice of swappable three or six cell batteries.
Looking at these photos, I reckon most people would have trouble telling the difference between the two netbooks seen in isolation.  Flipping them over does reveal the slightly-protruding battery, but it doesn't seem to intrude much more than the rubber feet do anyway.  More 1005HA details here.