ASUS dates Eee Pad/Eee Slate tablet range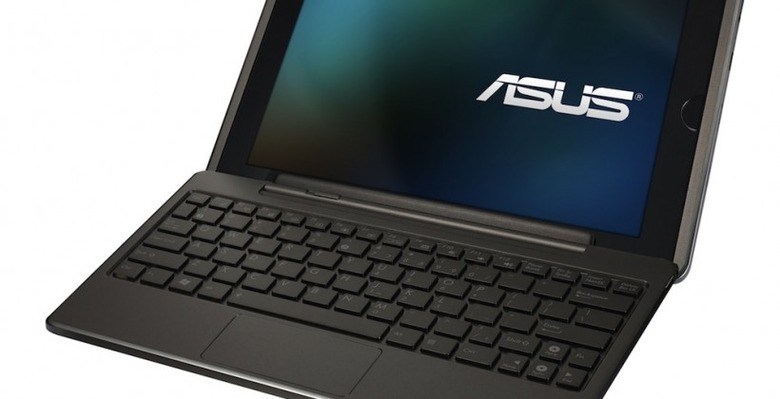 ASUS has confirmed availability for its 2011 tablet range, having brought the various slates out to play at CeBIT 2011 this week. We're still most interested in the ASUS Eee Pad MeMO, the 7-inch HTC Flyer rival, which the company says will be out in Q3 2011.
Meanwhile, the Eee Pad Transformer and Eee Pad Slider – which we played with back in January – will arrive in the UK come mid-April. They'll run Android 3.0 Honeycomb at launch, as will the MeMO, unlike the demo units we've seen so far that have been based on Froyo.
Finally, ASUS' sole Windows 7 tablet, the Eee Slate EP121, will go on sale from early April; in the UK it will be sold through "selected" PC World and Currys stores. No pricing at this stage, though ASUS Germany has said that the Eee Pad MeMO is expected to kick off at €499.
Press Release:
ASUS Tablet Computers — Providing Choice through Innovation at CeBIT 2011

A wide range of innovative tablet computers provide

variety of choice for consumers and businesses alike.

CeBIT, Hanover, Germany — ASUS today presented a live

demonstration of the four tablet devices announced earlier this

year: the Eee Slate EP121, Eee Pad Transformer, Eee Pad Slider

and Eee Pad MeMO. Designed for a wide range of users and

applications, the models will be available with three screen sizes,

and a choice of either Windows® 7 Home Premium or Google

Android® operating systems for the ultimate in mobile flexibility

and productivity.

Consumer choice is essential when selecting innovative and

technologically advanced personal computer devices. When it comes

to tablets, there is a clear need for devices that can deliver a full

multimedia experience using HD video, broad connectivity options,

gaming, plus the broadest range of media compatibility with

standards like Adobe Flash, all in a neat compact package. In

short, there is a demand for tablets that enable users to both

consume and create content in order to learn, work or play.

ASUS Eee Slate EP121

The Eee Slate EP121 is designed for users who require a highly

portable handheld device that can also run standard office software

while multitasking with other applications. Powered with an Intel®

Core™ i5 dual-core processor, the Eee Slate features a 12.1" LEDbacklit display with a 1280 x 800 resolution and a wide 178° viewing angle, making it perfectly suited for both productivity applications and multimedia entertainment.

Windows® 7 Home Premium ensures full compatibility with a wide

range of popular applications controlled by flexible input options

thanks to the Eee Slate. The capacitive touch-screen responds

instantly to fingertip control for day-to-day use, while the

electromagnetic stylus offers fine precision input and control. An onscreen keyboard is also complimented by support for an external

Bluetooth keyboard for traditional desktop use.

The Eee Slate is available with 32GB or 64GB of SSD storage

(expandable via SDXC), and up to 4GB of DDR3 RAM. All models

have 802.11n Wi-Fi, Bluetooth 3.0, a 2-megapixel camera, plus two

USB 2.0 ports that provide full support for a wide range of standard

PC peripherals, along with a mini-HDMI port that is ideal for

connecting to external displays.

The Eee Slate EP121 was recently honored with a CES 2011

Innovation Award in the Personal Electronics category, and initial

sales figures showed it reaching the 3rd best-selling item in the

Computers and Accessories category at Amazon.com.

ASUS Eee Pad Transformer

Slated for release in April, the Eee Pad Transformer comes with a

slim lightweight design and 10.1" capacitive touch-screen. It is the

perfect pad computer for people who want to enjoy multimedia on

the move, but still wish to have easy access to the web, email and

other productivity applications. A custom user interface provides

easy access to the many features of the Android® 3.0 HoneyComb

operating system, while the NVIDIA® Tegra™ 2 chipset provides

full support for Adobe Flash, smooth HD video conferencing and

playback, a lightning fast web experience and incredible mobile

gaming performance.

An optional docking station turns the Transformer into a full-fledged

notebook with a QWERTY keyboard for desktop use, while extending

battery life up to 16 hours. As with the Slider, front (1.2MP) and

rear (5MP) digital cameras make for easy video chat and digital

photography, while a built-in mini-HDMI port makes for easy

connections to external displays for full 1080p HD video playback.

ASUS Eee Pad Slider

Mobile users who want the best of both tablet and traditional

notebook worlds will be well served by the Eee Pad Slider. This pad

computer not only features a 10.1" IPS touch-screen for fingerfriendly use, but also a slide-out QWERTY keyboard for comfortable,

use-anywhere typing. It is powered by the NVIDIA® Tegra™ 2, the

world's most advanced mobile processor with a dual-core CPU and

NVIDIA® GeForce® GPU for never-before-seen experiences on a

mobile device.

Built-in digital cameras on the front (1.2MP) and rear (5MP) of the

Slider allow for easy video chat and digital photography while the

Android® 3.0 HoneyComb operating system makes sharing photos

by internet, email and social media sites a breeze. The intuitive

interface provides user-friendly control via the capacitive touchscreen and optional onboard 3G allows for go-anywhere internet

access, making the Slider the ideal device for mobile professionals

with work-oriented needs.

ASUS Eee Pad MeMO

The Eee Pad MeMO provides the ultimate in mobile flexibility. Its 7"

capacitive touch-screen makes it small enough to slip into a jacket

pocket, yet still perfect for taking handwritten notes using the

supplied stylus pen. The Android® 3.0 HoneyComb operating

system with Qualcomm®'s dual-core Snapdragon™ offers a wide

range of productivity and entertainment software, while a Micro

HDMI port means the MeMO can even connect to an external

display for full 1080p HD video playback. Built-in digital cameras on

the front (1.2MP) and rear (5MP) of the MeMO also allow for easy

video chat and digital photography, making it a convenient travel

companion.