Archos 101 XS Review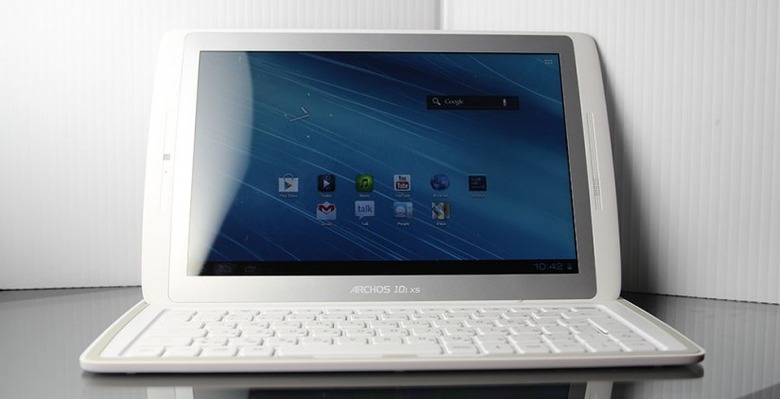 This week we've got our hands on the Archos 101 XS tablet (part of the G10 series) with included keyboard dock, featuring a dual-core OMAP 4470 processor and a 10.1-inch display as well as Android 4.0 Ice Cream Sandwich. This tablet brings on a nearly completely vanilla version of Android, here bringing on an un-skinned version of the software essentially the same as the Google Nexus lineup of tablets and smartphones. The unique build here is the star though, this tablet being rather unique with its keyboard dock that connects magnetically and protects the display when you're not using the device.
Hardware
This device rolls out with a 10.1-inch 1280 x 800 pixel resolution 10.1-inch display surrounded by a rather unique looking bit of chassis. You'll be working with this device in white with slightly darker gray nearer the display, and the device brings on Archos' own "Coverboard." This Coverboard is both a protector for the display and a keyboard dock.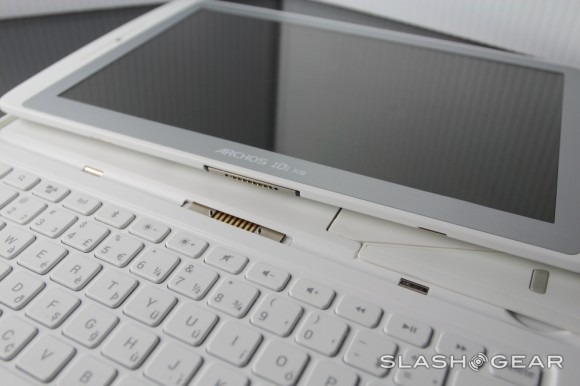 The Coverboard's keyboard is made up of a collection of chiclet-style keys that are easy to type with when compared to the touchscreen interface. It'll be difficult for you to get used to this keyboard if you're used to a MacBook or if you're using a keyboard on a desktop computer with massive keys – they are indeed physical keys here, so you'll be able to do real typing, but beware their connection to Android.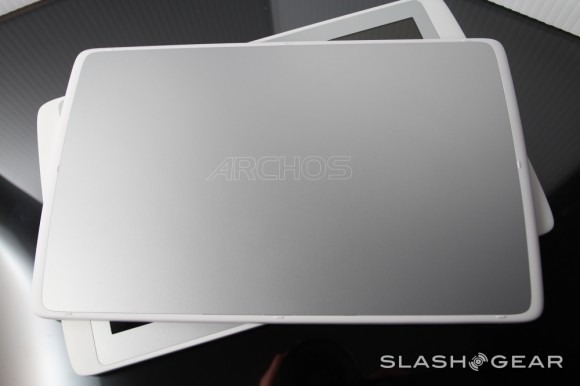 While Android does accept the connection to Bluetooth keyboards and has for some time, there's always a bit of lag that you'll be dealing with. It's certainly not the fault of Archos hardware, as we've had this situation occur many times with devices using Android, it's simply the place that Google's mobile software build is at right this minute. That said, this device is the closest to a real everyday typing machine using Android that we've seen thus far.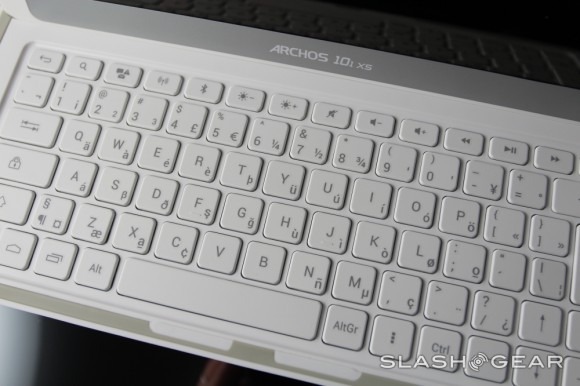 The Coverboard connects to the tablet using a magnetic interface and a kickstand that rises up from the board itself. This kickstand works well, but you should be careful with it – make sure you're not letting your kids work with this device as there is a chance that said stand will snap off – watch out!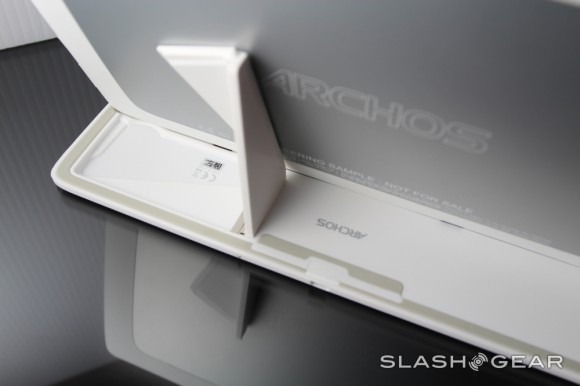 Archos lets us know that this tablet is 21 ounces light and 0.31" thin, quite small by any tablet's standards. The Coverboard adds 0.2" of thickness and holds tight with magnets to the tablet when you're ready to put it in your backpack. The Coverboard also has a strange combination of power abilities: when the tablet is docked and the dock is plugged in to the wall, the dock will charge the tablet. When the dock is not plugged in, however, the tablet will charge the dock. Strange stuff!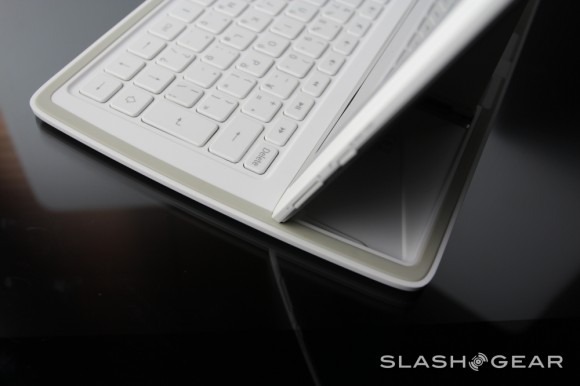 This device will also be working with accessories in the future with the same docking technology including an ARCHOS Speaker Dock, an ARCHOS Docking Station, and ARCHOS Pouches. We'll have a peek at those when they're ready for the market. This device also comes with 16GB of internal storage and a microSD card slot that's able to take up to SDXC 64GB cards. You've also got a miniHDMI port, charging and PC access via a micro USB port, and both Wi-fi and Bluetooth 4.0 for wireless connectivity.
[vms 33905293aab661fcf8dd]
Software
This tablet comes with a nearly vanilla version of Android 4.0 Ice Cream Sandwich. It's got all your Google favorites like Google Play for digital media purchases, Gmail, Google+, and access to Google Drive right out of the box. Of course all of these apps (minus the Google Play store) are available to download by any Android device just so long as you've got the Google Play store and support for said store on your hardware.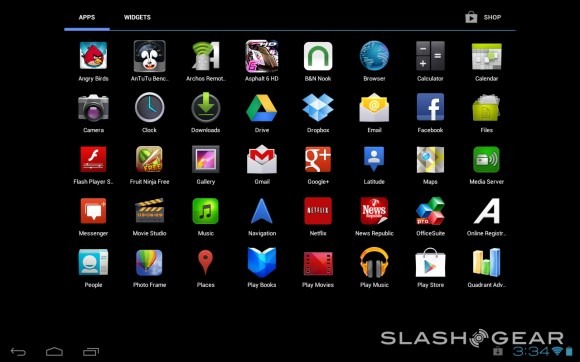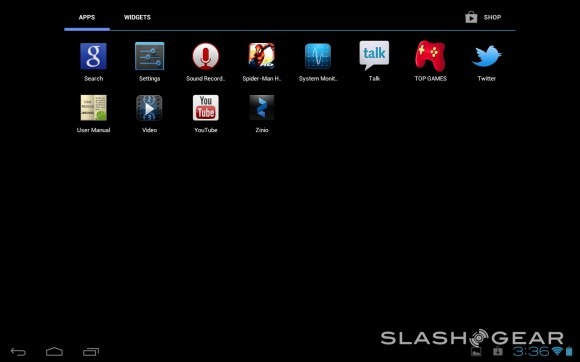 Android 4.0 Ice Cream Sandwich is in full effect with multi-tasking via your recent apps button on the screen in the dock and we've been told that Archos will be updating this device to Android 4.1 Jelly Bean by the end of the year. Archos has also added a collection of Media Center apps so you can see codec and format information on your movies and photos. Seeing your codec and format information also allows you to search items like title, series, actor, subtitle, and other information at will – just so long as your media has that information in the first place.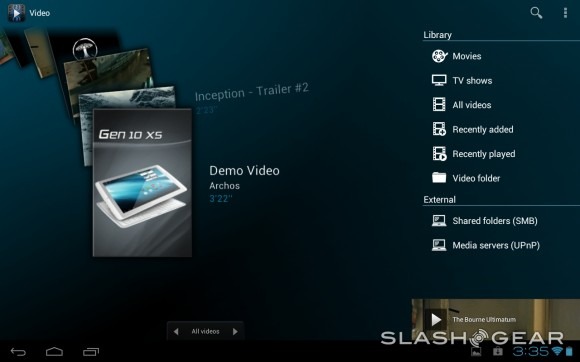 This device also comes with OfficeSuite Pro 6 for your Microsoft Office documents. This app allows you to read and edit Word, Excel, and PowerPoint documents as well as read PDF documents at will. Also have a peek at a benchmark or two below to see how this device performs with the OMAP 4470 CPU with PowerVR SGX544 GPU. Note that we're working with an Engineering Sample here, so these might not be perfect final numbers: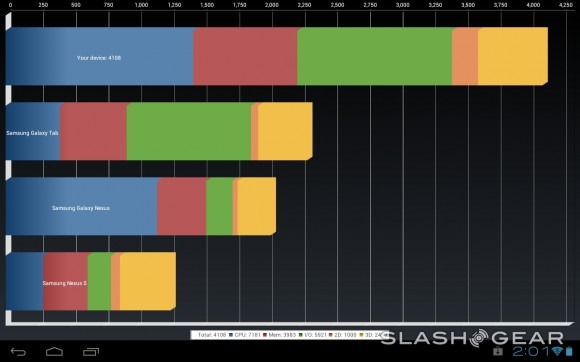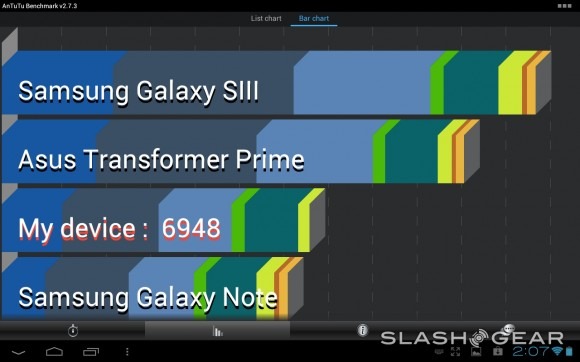 Battery Life
This device works well to bring on an abundance of battery life, that's for certain. We've not yet seen a tablet in the Android universe that didn't last a full day even with heavy usage, and this Archos slate doesn't disappoint. With the Coverboard you've also got an extension of your battery life- with both, you've got at least 10 hours of action even if you're playing games.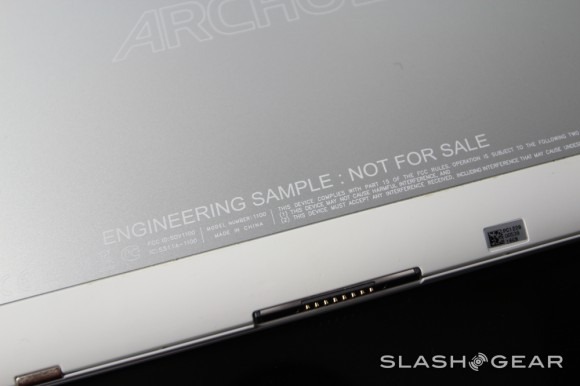 Of course you've also got to note that we're still using an Engineering Sample, so final results on the battery may differ in the end. Standby time, though, will likely remain largely the same. If you're not using the device at all and leave it to sit on its own, with the display off, you'll have days of battery time – we're currently at more than four days without needing to charge – what a whopper!
Wrap-Up
This device presents a rather interesting – and certainly unique – offering to the Android tablet universe. Compared to the ASUS Transformer Prime with keyboard dock, this device doesn't quite seem as high quality a final product – but it's a lot less expensive at the same time at $399, dock included. We're also thinking about how this device is currently set for a November release: this doesn't bode well for a tablet that's already slightly behind the times for specifications when compared to devices such as the Samsung Galaxy Note 10.1, for example.
If the Archos 101 XS is released in November sporting Android 4.1 Jelly Bean and essentially the same build we're seeing here, it might be worth $399. It's still a slightly surprising combination though now that the 7-inch wave is upon us.
If you'd like to know anything we've not covered above about this device, please feel free to let us know in the comments area below!