Apple's Tim Cook is up for auction again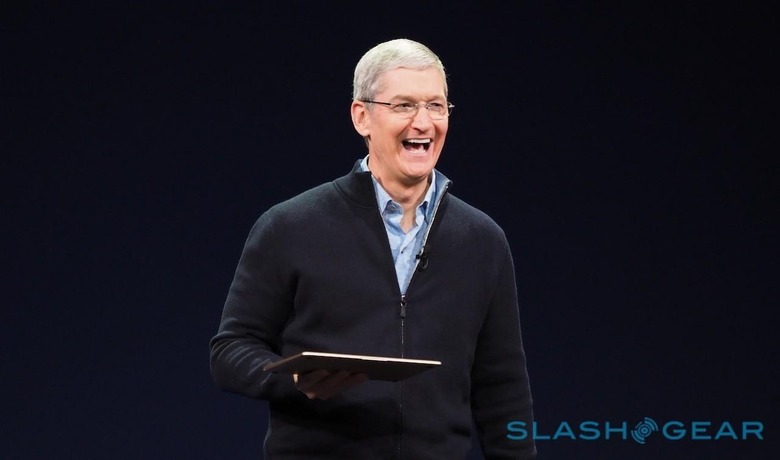 Tim Cook is up for auction, or at least an hour of the Apple CEO's time, along with the opportunity to attend a future keynote for those with suitably deep wallets. The chief executive – who has been increasingly outspoken on equal rights, marriage equality, and other topics in recent months – is again offering a chunk out of his busy day in the name of raising cash for charity, and with bids already well in excess of the estimate and still twenty days to run, it could even end up eclipsing Cook's previous blockbuster sale of his company.
Charitybuzz estimated the lunch date as being worth $100,000, but the eighteen bids at time of publication have already pushed the total to $165,000.
In return for your money, you and a friend get lunch on Apple's Cupertino campus. Cook is also throwing in a pair of tickets to an upcoming Apple keynote, where the auction winner will "be his guest" at the high-profile event.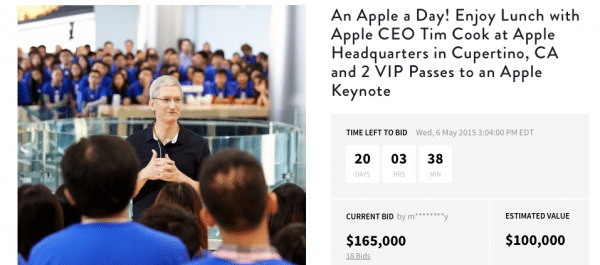 Cook will even pay for lunch, though given his tight schedule the meeting could happen anywhere between the auction closing on Wednesday, May 6, and twelve months from then.
However much is raised will go to the Robert F. Kennedy Human Rights campaign. It's an unsurprising choice for Cook, who stormed into the discussion on gay rights late last year when he publicly outed himself, following that up with a scathing critique of "religious freedom" laws that "go against the very principles our nation was founded on."
It's not Cook's first time as the prize in a charity auction. Back in 2013 the CEO raised more than half a million dollars for a coffee date.
Whether this hour-long lunch will end up raising twice the amount of that thirty minute chat-over-caffeine remains to be seen.
SOURCE Charitybuzz