Tim Cook Coffee Date Auction Ends At Over Half A Million

The CharityBuzz auction that would see a lucky bidder win a coffee date with Apple CEO Tim Cook has now ended, and after 86 bids were placed, the winning bid came in at a whopping $610,000, which was placed within the last half hour of the auction, after the price remained steady at $605,000 for quite some time.
The auction listed an estimated value of $50,000 for an hour-long coffee session with the Apple big wig, but it seems many fans thought it would be worth way more than that to hang out with the man. What's perhaps even more impressive, is that all the funds are going to charity. Specifically, Cook is sending the money to the RFK Center for Justice and Human Rights.
The auction first went live last month, and the highest bid almost immediately skyrocketed to over its estimated value of $50,000, prompting many people to rethink just how high the auction would go. At the pace that the auction kept early on, we almost thought that it could exceed seven digits, but once the auction surpassed $500,000, bids started to slow down tremendously, with the final price landing on just over $600,000. That is still mighty impressive, however, and it makes the auction the highest-priced auction ever on CharityBuzz.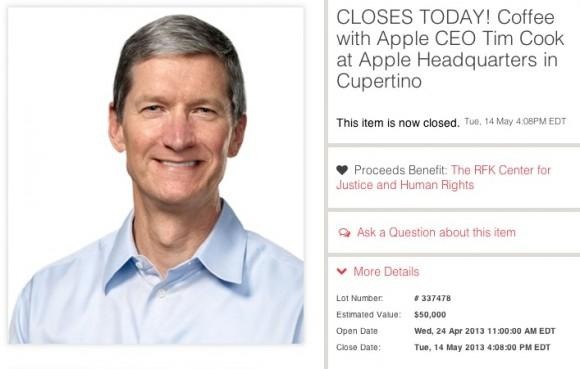 According to the auction details, the highest bidder will be able to bring one guest, both of which will go through background checks before meeting up, and each meeting will last between 30 minutes to one hour, although we're not sure what factors will lead to a shorter or longer meeting with the Apple CEO. The auction listing also says that "polite manners and respect for the generous donor and adherence to any rules or parameters are a must," so it seems like you won't be able to give Cook a hard time over when the iWatch or iTV will launch.
VIA: The Next Web