Apple's Thinner 13, 15 Inch MacBooks Tipped For June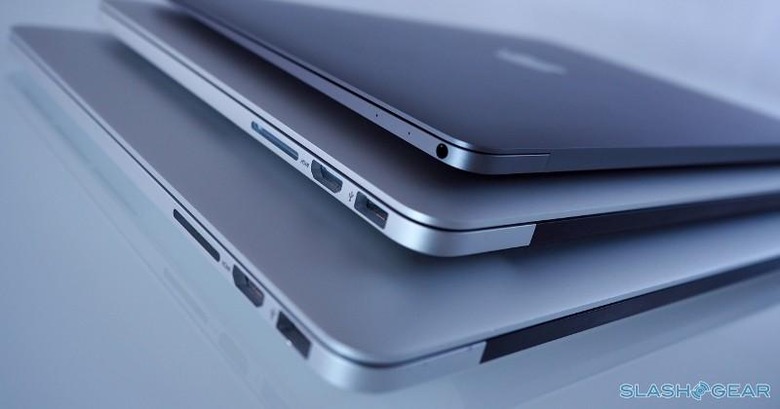 Apple's event earlier this week wasn't exactly surprising, given how the iPhone SE and 9.7-inch iPad Pro have been leaked to death. Still, the reality of those products proved to be even better than the rumors. Not everyone, however, is sold. Those people can probably start turning their attention to Apple's next batch of new devices. Chinese new site DigiTimes reports that Apple will be revealing "ultra thin" Macbooks, in 13 and 15 inch sizes, at WWDC, which may be schedule smack in the middle of June.
We've heard about this way back in November and, like the iPhone SE and iPad Pro, it is a mixture of deduction and wishful thinking. The MacBook line is definitely in need of a new generation. Aside from the extremely thin 12-inch MacBook, there hasn't been any new significant movement in that area. Sure, Apple did refresh the 13 and 15 inch MacBook Pro early and mid 2015, respectively, but nothing for the thin department where the MacBook Air rules.
It isn't known yet what sub-category the new ultraportable might fall under, aside from being described as "ultra-thin", thinner than even the current generation of MacBook Airs. Now that would definitely be an accomplishment. Then again, the non-Air 12-inch MacBook does fit the bill, so anything goes at this point. What is, perhaps, more intriguing is that the yet to be named MacBooks are noted to come in 13 and 15 inch sizes. Apple has definitely not released a 15-inch MacBook Air, keeping the sizes in 11 and 13 inches. This could very well mean we might be looking at new MacBooks instead of Airs.
Regardless of size and thinness, a new MacBook, Air or not, is expected to be upgraded to the latest Intel Skylake generation of processors. What other new technologies will come with that has yet to be leaked. We've already heard speculation about blazing fast Optane SSDs and TrulyHandsree voice recognition being possible candidates. Given the slight lull in last year's MacBook selection, this might indeed be the opportune moment for Apple to introduce something radically new and exciting.
As for when, DigiTimes points to an end of second quarter shipping date for the new MacBooks. That would mean an announcement earlier on, possibly some time in the middle of June. That happily coincides with some hush hush schedule reserved at the Moscone Center, where Apple regularly holds its annual WWDC event.
VIA: MacRumors