Apple WWDC 2011 In 120 Seconds - Mac OS X Lion, iOS 5, iCloud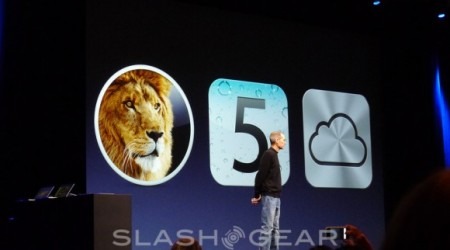 If you still haven't caught up with all the news from Apple's major WWDC 2011 keynote on Monday, then you should take a look at our super wrap-up. But, if you'd rather watch the actual keynote but don't want to sit through the full two-hour video, then here's another option. Someone has kindly edited down the keynote to a mere 120 seconds.
The video cuts out all the demos, jokes, and pauses taken for applause and transitions to give you the most essential points. And if after watching, you realize you actually want more details, then be sure to read more here on SlashGear for information on Mac OS X Lion, iOS 5, and the iCloud. In fact,
we just did a SlashGear 101: What is the iCloud that will be a good read.
Other developments since the keynote, include rumors that iOS 5 may get enhanced voice command via partnership with Nuance and as a result of the acquisition of Siri. It's been said that the feature was supposed to demoed at WWDC 2011 but did not complete in time. And there's been an early comparison of the iCloud to Amazon's Cloud Drive and Google's Music Beta.