Apple iCloud vs. Google Music Beta vs. Amazon Cloud Drive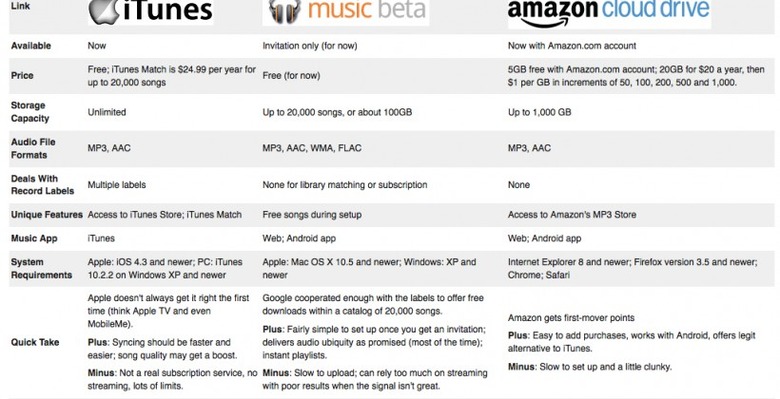 Apple's new iCloud was just unveiled at yesterday's WWDC 2011 keynote, and one of the company's main services to go to the cloud is its iTunes store. It's two main rivals will be Amazon's Cloud Drive and Google's Music Beta. So, which one is best for you? Continue after the cut for a nice comparison chart.
Apple's new iTunes with iCloud will certainly be a tough one to beat. iTunes already leads far ahead of the pack when it comes to music downloads, and now it has full record label support plus a unit iTunes Match feature. The feature lets you scan and match your music to Apple's library for music syncing rather than requiring you to upload your entire collection in order to stream it. The option even scans and matches songs not purchased from iTunes, but it costs $24.99 a year for this service.
Amazon's Cloud Player was the first one out the door, but functions mainly as a digital music locker. The giant online retailer chose to forgo licensing deals with record labels and therefore cannot sell songs directly via its Cloud Drive. But, they can sell songs in their MP3 Store, from where you must download the song and then upload it to your Cloud Drive.
Google's Music Beta works like a digital music locker much like Amazon's Cloud Player. Without record label support, Google cannot directly sell or distribute music through its Music Beta service. Instead, users much upload their existing music collection to the service for streaming.
You can click on the image below for an enlarged version of the chart. So, which cloud music service are you going with?
[via 9to5 Mac]