Apple WWDC 2009 keynote video released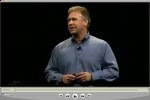 Apple's WWDC 2009 keynote was certainly packed full of announcements, as you'll know if you followed along with our liveblog yesterday.  As is usually the case, Apple have now made the whole thing available to stream, so if you're curious about the TomTom iPhone OS 3.0 demo, new MacBook Pro range or want all the details on the iPhone 3G S, head over to watch the full 2hr video.
TomTom's may have been the most memorable demonstration, but there were also iPhone OS 3.0 software appearances from Line 6, and ScrollMotion with their Iceberg ebook reader that supports in-app downloads of magazines, papers and over 1m ebooks.  Not all of the demonstrations went quite to plan, though, so if you have a dark, secretive urge to see Apple keynotes fall a little flat, then this is the video for you.
We'll have hands-on time with Apple's new 13-inch and 15-inch MacBook Pro notebooks in a few hours time, so make sure to check back later for all our first impressions.  As to the iPhone 3G S, are you considering upgrading?  Let us know in the comments.