iPhone 3G S official: 16GB $199, 32GB $299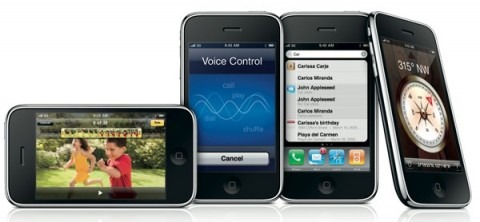 Apple have announced the iPhone 3G S, a super-fast version of the iPhone 3G where the "S" stands for "Speed".  Packed into the same casing as the existing 3G model, the 3G S has a 3-megapixel camera with autofocus, auto white-balance and the ability to record VGA resolution video at 30fps.  It also supports 7.2Mbps HSDPA, network depending, and has a faster processor that, Apple say, makes everything on-average twice as fast.
Specifically, messaging is 2.1x faster, games are around 2.4x faster, Excel is 3.6x faster, Javascript is 3x faster and the NY Times loads 2.9x faster.  Battery life is rated at 5hrs 3G talktime, 9hrs WiFi internet browsing, 10hrs video playback, 30hrs audio playback, or 12hrs 2G talktime.
Videos are saved in with photos in the Pictures app, and can be played, edited and sent by email or MMS.  There's also a built-in digital compass and Nike+ support, while Apple have also boosted hands-free usability by introducing a voice control mode.  Holding down the home button calls up a new voice control menu, which allows voice dialing together with control of iTunes.  You can instruct the iPhone 3G S to play certain tracks, play "more tracks like this" and ask for a verbal confirmation of what music is currently playing.
The iPhone 3G S will go on sale alongside the iPhone 3G 8GB, which has a price cut – effective today – to $99 in the US on AT&T.  The iPhone 3G S arrives in US, Canada, France, Germany, Italy, Spain, Switzerland and UK on June 19th; in the US, it'll be priced at $199 for the 16GB model and $299 for the 32GB model.
[vms bcfe8450a1a41c200364]