Apple Wins Patents For MagSafe On iPad, Multi-Touch Displays, Original iPod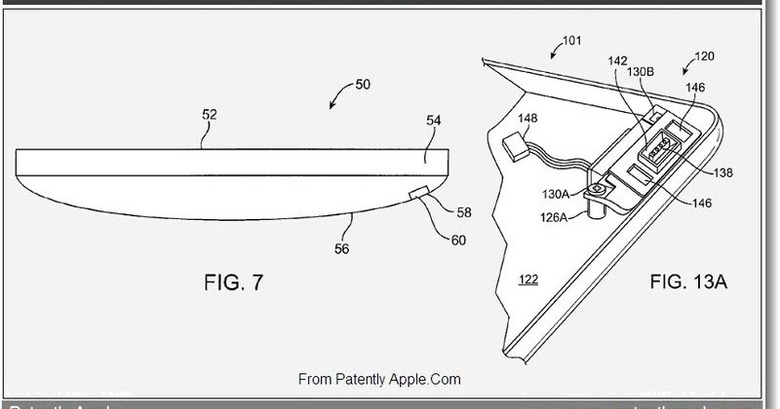 The patents are flying over at the US Patent and Trademark Office, a series of 20 of them running their way through the "granted" process this week putting some smiles on the faces of the Apple crew. The biggest news here appears to be that the MagSave magnetic charge port system we've been using on our MacBooks and MacBook Pros and MacBook Airs for a while now has been patented for use on the iPad. That means that when you've got your iPad plugged into the wall and uncle Frank goes flying by, tripping on the cord, your iPad will safely unplug with just the first *plink* of force, leaving the cord itself to sustain the bulk of the damage.
For the MagSafe on the iPad patent, Apple gives credit to Chris Ligtenberg, John DiFonzo, Bret Degner and John as the inventors of Granted Patent 7,997,906 originally filed in Q2 2010. Whether or not this means they'll eventually add this MagSafe power port is still up to the gods. Next there's a patent for a Double-Sided Touch Sensitive Panel and Flex Circuit Bonding. What on earth could this be used for? Maybe some behind-the back iPad action so we can do some secret Ouija board action? Things could get weird with double-sided touch-sensitive panels. But wait, this patent was filed for in Q1 of 2007 and revisited in Q1 2011, and the second half of the "double-sided" touch panel conducts the signal to the computer which in turn says "ok, sounds good boss." This is patent 7,999,795 and Apple credits Mark Hamblin and Steve Hotelling as the inventors.
Then the last big bid win from Apple here on a patent finally completed is the original iPod, the iPod Nano, and two user interfaces for iTunes. That's the first one, arguably the start of the golden age of Apple, the mobile digital music player by the name if iPod. It won the day and paved the way for the iPhone. Believe that!
The original iPod is credited to CEO Steve Jobs, VP Industrial Design Jonathan Ive and team members Bartley Andre, Daniel Coster, Daniele De Iuliis, Richard Howarth, Duncan Kerr, Matthew Dean Rohrbach, Peter Russell-Clarke, Douglas Satzger, Calvin Seid, Christopher Stringer and Eugene Whang and is numbered D643,403. The rest of the patents go to D643,402, D643,437 and D643,436, and cover Apple's "Shuffle" feature and iTunes "Downloads" screen." Engaging stuff!
This means that Apple can finally eat the top of that iPod wedding cake and frost it with brand new iPod nano frosting and plug it in with a MagSafe!
[via Patently Apple]