Apple Watch Nike+ hits the ground running later this month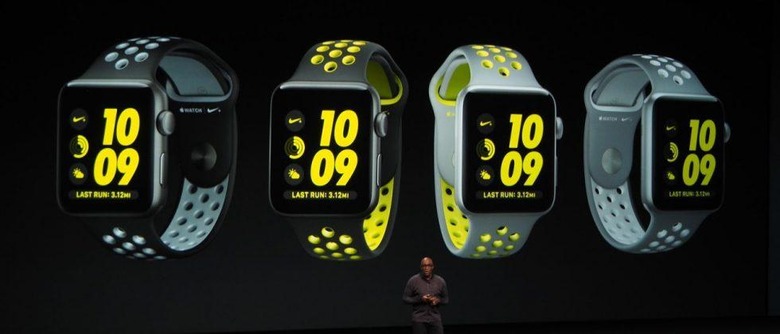 Back when Apple revealed its latest round of Apple Watches, the company showed off a variant with Nike+ branding. There was just one small issue with the reveal: while the rest of the watches had solid release dates, the Apple Watch Nike+ model had a rather vague "late October" launch window. It would appear that Apple and Nike have decided to get more specific, updating the Apple Watch Nike+ landing page with an actual release date.
The Apple Watch Nike+ edition will be releasing on October 28. It's arriving a little late to the party, as the other devices in Apple Watch Series 2 launched back in the middle of September. Still, better late than never for the fitness-focused Apple Watch variant, which will be launching at the same price as its Series 2 counterparts.
The Nike+ edition Apple Watch will come in four different colors, all a little more vibrant than the standard Apple Watch devices. In keeping with the fitness-centric theme, it also ships with a rubberized sports band. Additionally, the watch comes with two Nike-themed watch faces which give easy access to the Nike+ Run Club app.
Read More: Apple Watch Nike Plus first-impressions and hands-onOther than those features, the Nike+ model isn't all that different from the Apple Watch Series 2 devices. It has the same internals, which includes water resistance – not waterproofing, keep in mind – at depths of up to 50m. It also comes in 38mm and 42mm varieties, just like the other Series 2 watches.
So, while there isn't much of a difference between the Nike+ version and the rest, what the Nike+ offers might be good for someone who plans to use their watch more for fitness tracking than anything else. That's especially true if you need motivation to workout, as the Nike+ is capable of sending you workout reminders through Run Club.
If you think this is the version for you, you'll be able to grab one starting October 28. The 38mm variant will cost $369, while the larger 42mm version will set you back $399.
VIA: Macworld
SOURCE: Apple