Long-standing rumors of a standalone Apple TV set continue to percolate, with suggestions that Foxconn parent Hon Hai's display deal with Sharp, along with fresh Apple panel patents, lend weight to the HDTV whispers. The Cupertino company is apparently working on an advancement of Fringe Field Switching (FSS) systems suitable for HDTV-scale panels, with Patently Apple flagging up a recently granted patent for the TFT LCD display technology. FSS is currently used in Apple's smaller devices, and relies on IPS display technology of which Sharp is a notable patent holder.
That collision of Apple large-scale display research, Sharp technology and long-term Apple production partner Hon Hai investing in LCD production has reignited talk of a serious push into television.
Although some reports have pegged a Q4 2012 launch for the fruity standalone set, not all analysts agree that the TV will arrive this year. Asian research group CLSA fired out a note to investors this week suggesting a 2013 release was more likely, Business Insider reports, citing the Hon Hai Sharp deal and highlighting toughened-glass manufacturer Corning's stake in the endeavor too:
"We continue to view Apple TV hardware as a 2013 event. The timing of Hon Hai/Foxconn's equity stake and partnership with Sharp along with Hon Hai Chairman Terry Gou's separate 46.5% investment in Sharp's Sakai City plant lends further credibility that Apple TV is in the works. This also follows reports that Apple is investing ~$1.3bn in equipment destined for Sharp facilities. The fact that Hon Hai is investing rather than just procuring panels from Sharp underscores a deeper level of integration which Apple/Hon Hai are accustomed to, increased reliability as Sharp has struggled with iPad3 qualification, and an effort to improve Sharp's financial position before becoming a more meaningful supplier to Apple. We also believe Corning has an 83% market share at the Sakai facility and would ultimately benefit from improving utilization that is expected to happen over time. Sharp accounted for 10% of Corning's overall sales and 25% of its display sales in 2011

Most clients agree that a TV is coming; the critical question becomes how the video providers fit into the equation and how apple's offering would/could differ from current tv's beyond ios/icloud. Biggest commentary yesterday centered on LG Display as the big loser."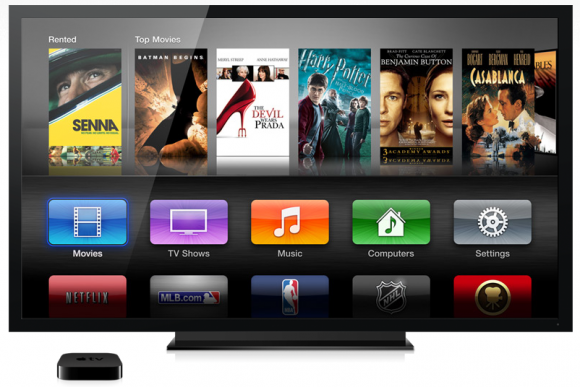 However, ponderings on Apple's television plans by greenpois0n – the Chronic Dev Team responsible for various jailbreak hacks of iOS devices – suggest the plot for the home entertainment system might not be as straightforward as we hope. For instance, Apple has long been expected to add App Store access to the current Apple TV set-top box, but according to the hackers underlying memory design harking back to the early iterations of the STB mean currently all running programs share the same space. That introduces some serious stability issues: should a third-party app crash, the whole system would follow.
As we discovered in our review of the new Apple TV, the reworked UI seems almost tailor-made for broader app support, so it's entirely possible Apple could be working on an update that addresses the memory space issue. Still, there's plenty of work to be done before the way is paved for a new Apple push for the living room.