Apple iTV Components Shipping To Suppliers, Due For Q4 Launch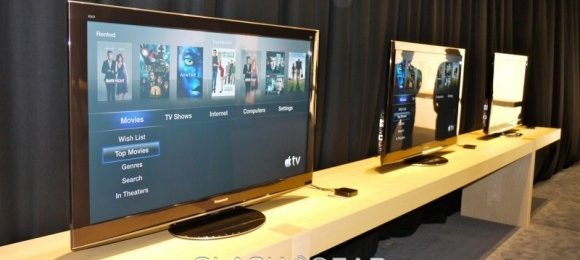 Ready for yet another Apple television rumor? Good. According to a new report from analyst Peter Misek, Apple's television is expected to enter production in May or June, and will launch in the fourth quarter of this year. Supposedly "specialty components" have begun shipping from Asia that would allow Apple to finally build the mythical and mysterious high-definition television.
Misek claims to have met with sources while in Asia that say parts are shipping to Apple's display panel partners. In the report, Misek says: "Specialty components have begun to ship to Apple's Asia panel suppliers with polarized films, filters, and IGZO components starting to move in small quantities." Misek also expects that Apple will build between two million and five million units for a launch later this year.
This isn't the first time we've seen the rumor that Apple will employ IGZO panels, with a report in Feburary indicating production of the television had been pushed back due to a lack of IGZO panel supplies. Currently IGZO panels are employed in the new iPad, supplied by Sharp. They're designed to be thinner than traditional TFT panels, as well as allow increased brightness.
Building the television is only part of the equation – rumors have previously indicated that Apple are hoping to secure subscription deals with various television and movie studios. Just recently, the CEO of CBS, Les Moonves, said that Steve Jobs had approached him in the past to participate in Apple's plans, although he declined. Apple are also expected to provide a new and unique user interface in which to interact with the television, which could include Siri intergration.
[via MacRumors]